If you ever have the opportunity to visit Dominica, the Boiling Lake hike is an absolute must.  It's not an easy hike, but the scenery is absolutely stunning and unlike anything else I'd ever seen.  It's extremely remote and the landscapes are otherworldly, my absolute favourite places to be in. The Boiling Lake itself is also the second largest in the world.  
The trail is about a 12km roundtrip and it took us about 8 hours to complete.  Many suggest going with a guide but I found it very easy to navigate without one.  If you have the offline map downloaded and are an experienced hiker, you should have no problem.  I definitely do not recommend doing this hike alone, as there may be very few others on the trial to help you if something goes wrong.  The hike takes you up and down, climbing near vertical mountains, boulders, through waterfalls, and over boiling streams.  You will be wet almost the entire time so rain gear is a must.  It's a challenging but rewarding journey. 
I almost didn't get to go on this hike.  I had planned to do it not realizing that buses don't run on Sundays and that the following Monday was a national holiday, which also meant no buses. But luckily the day before my last day in Dominica, I met Allan, who just happened to be from Laudat, the village closest to the Boiling Lake.  He offered to take me the next morning bright and early, for whatever I could pay.  A taxi from where I was staying would've been exorbitant and so this was truly a life-saving gesture.  I also happened to meet two others planning to do the hike the next day at his bar, which meant that I now had hiking buddies.  Everything couldn't have worked out better in the end! 
Dominica is known  as the "Nature Isle of the Caribbean" and it is not hard to see why.   The country is not like most other Caribbean islands that have been overrun by tourism. It's raw and untouched, and locals here is super friendly and genuine.  I'm very grateful to have met Allan as I would've been very sad to have left Dominica without doing this epic hike.  It is one of the most amazing hikes I've ever done.  If you ever plan to visit Dominica, Allan has got your back, let me know and I can put you in touch!
I chose not to bring my DSLR camera with me mainly because I was low on space in the small day pack I had.  All the shots below were taken from my iPhone 12 mini.  On one hand, I was extremely sad because this was some of the most amazing scenery I've ever seen in my life.  I had visions of images I would've taken utilizing the features of my DSLR, had I had it with me.  But on the other hand, it rained literally the entire time and it would've been nearly impossible to protect it.  I figured at least my iPhone has some sort of water resistance (but in the end it did end up getting water damage and I had to get the screen replaced, ah well!)  These shots really don't do it justice, but I hope they give you an idea of the spectacular scenery along the trail.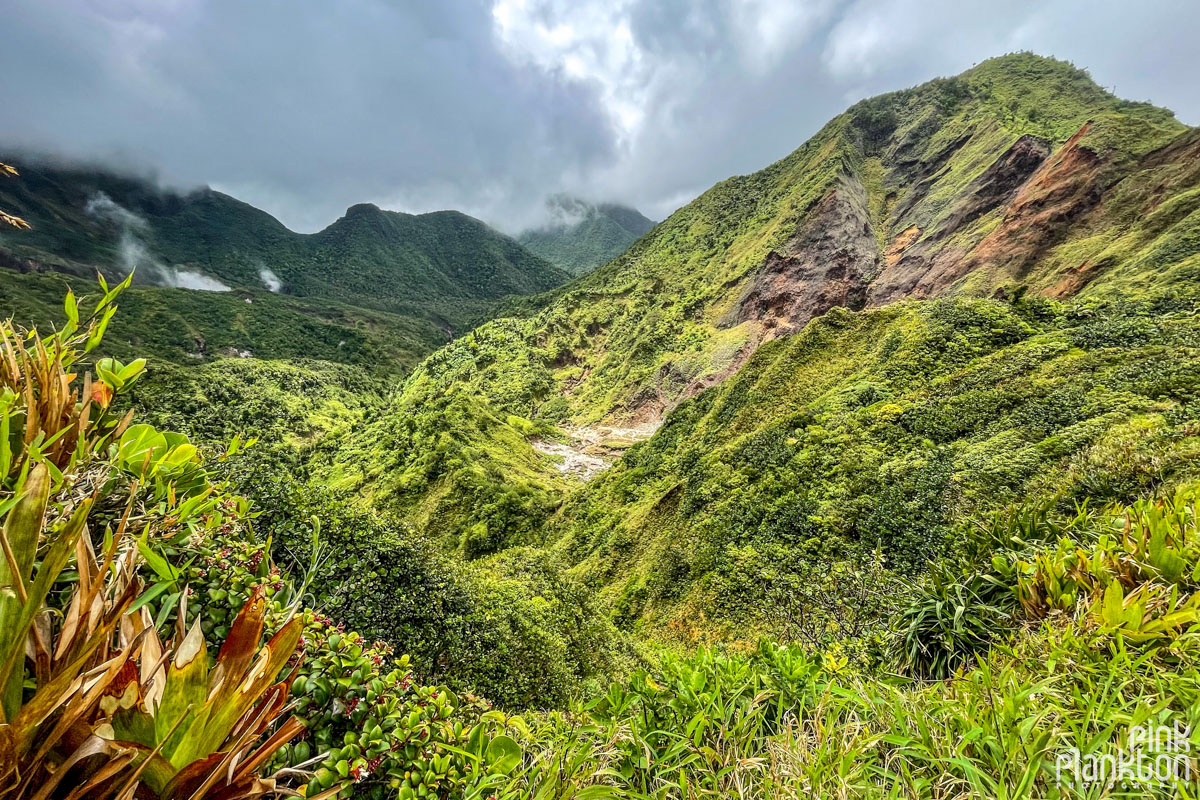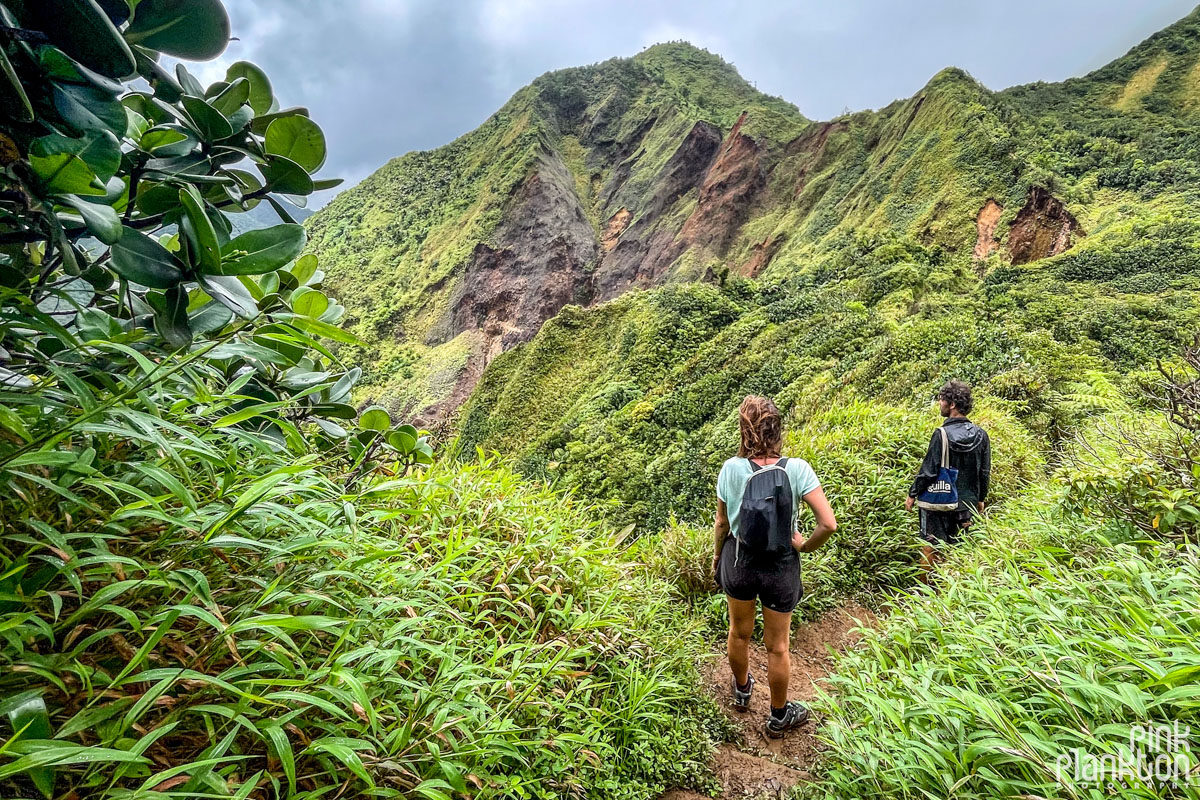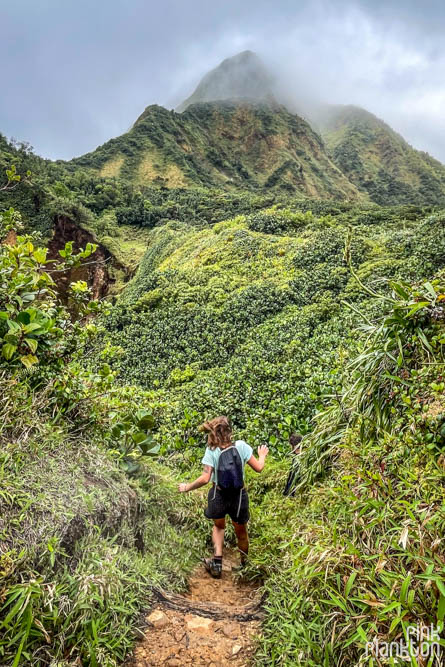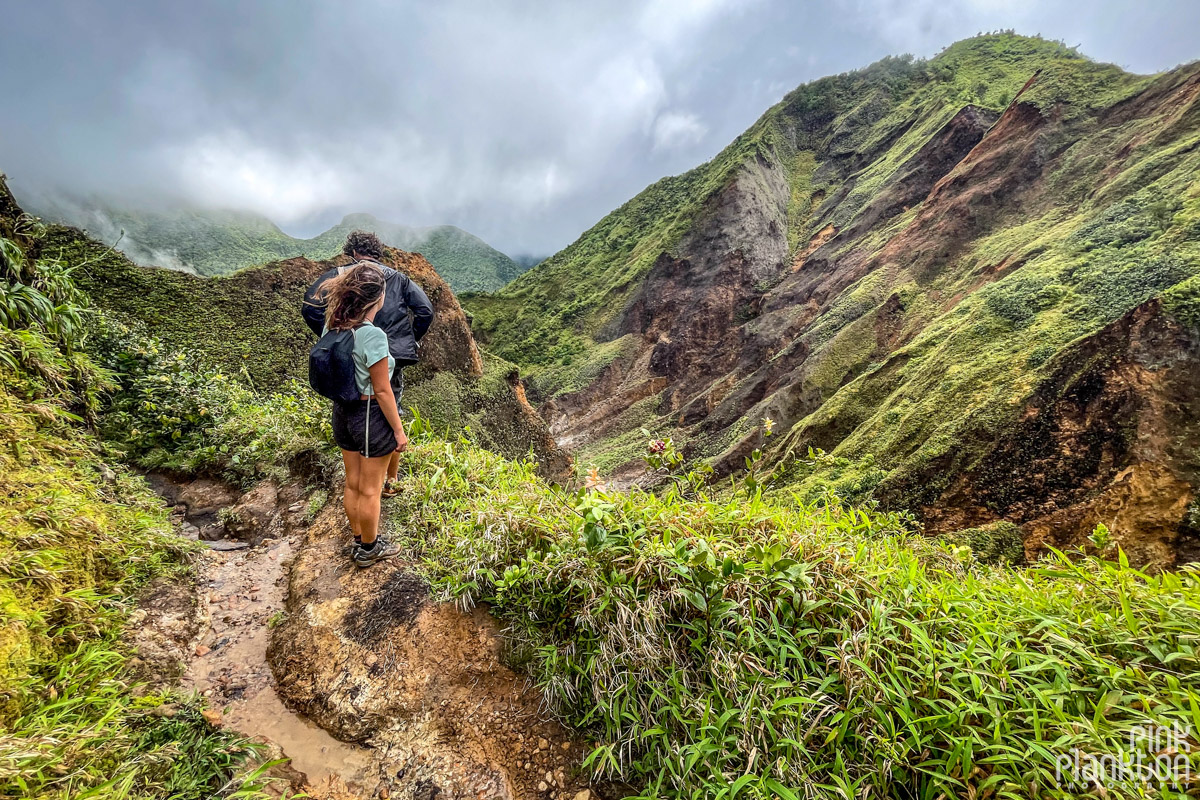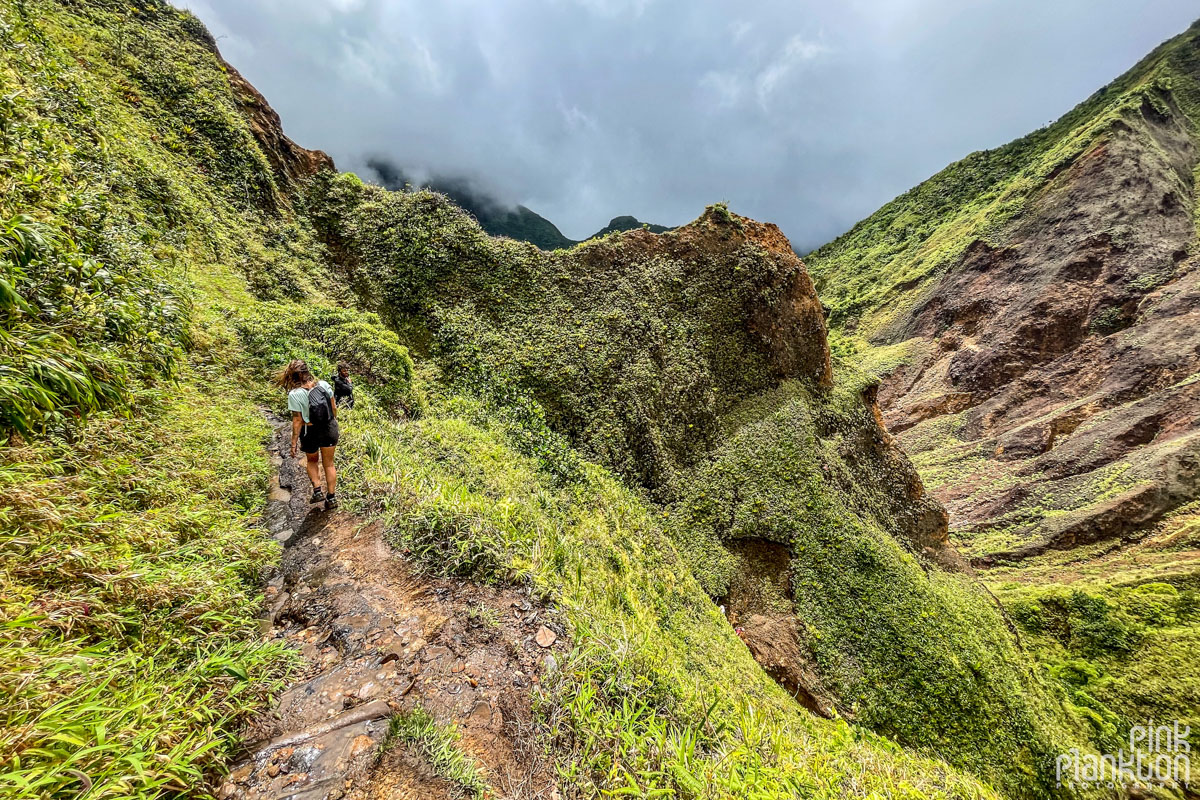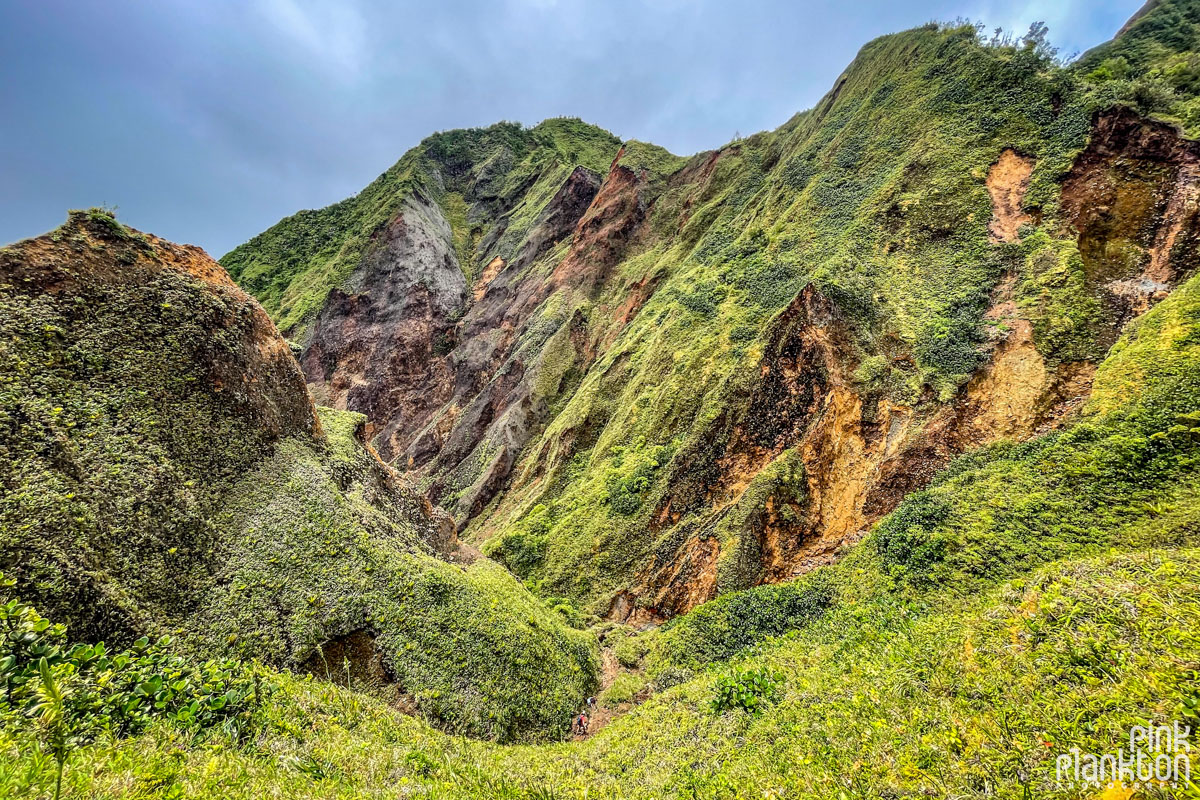 If you look very closely at the bottom of this image there are people down below. I hope that gives an idea of the scale and vastness of these mountains!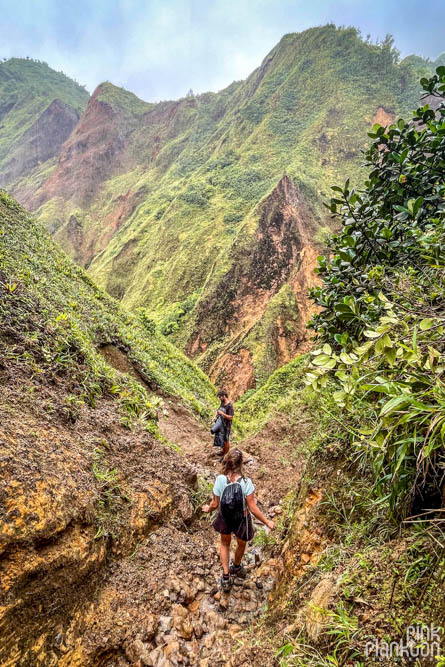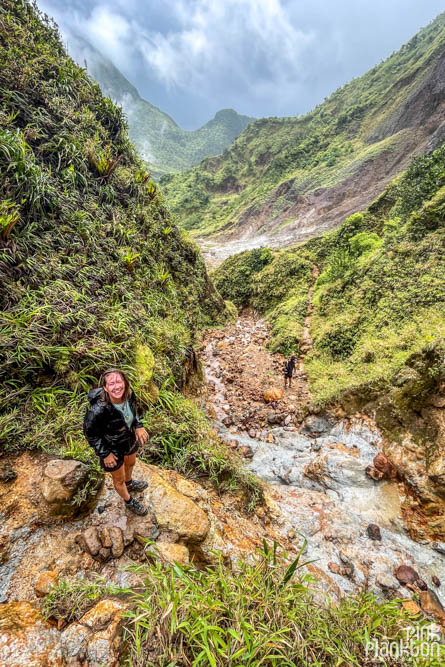 Here we enter the Valley of Desolation, an area of geothermal activity, bubbling hot springs, and colourful mineral deposits.  Standing here, surrounded by thick smoke rising up from the ground is such a cool experience.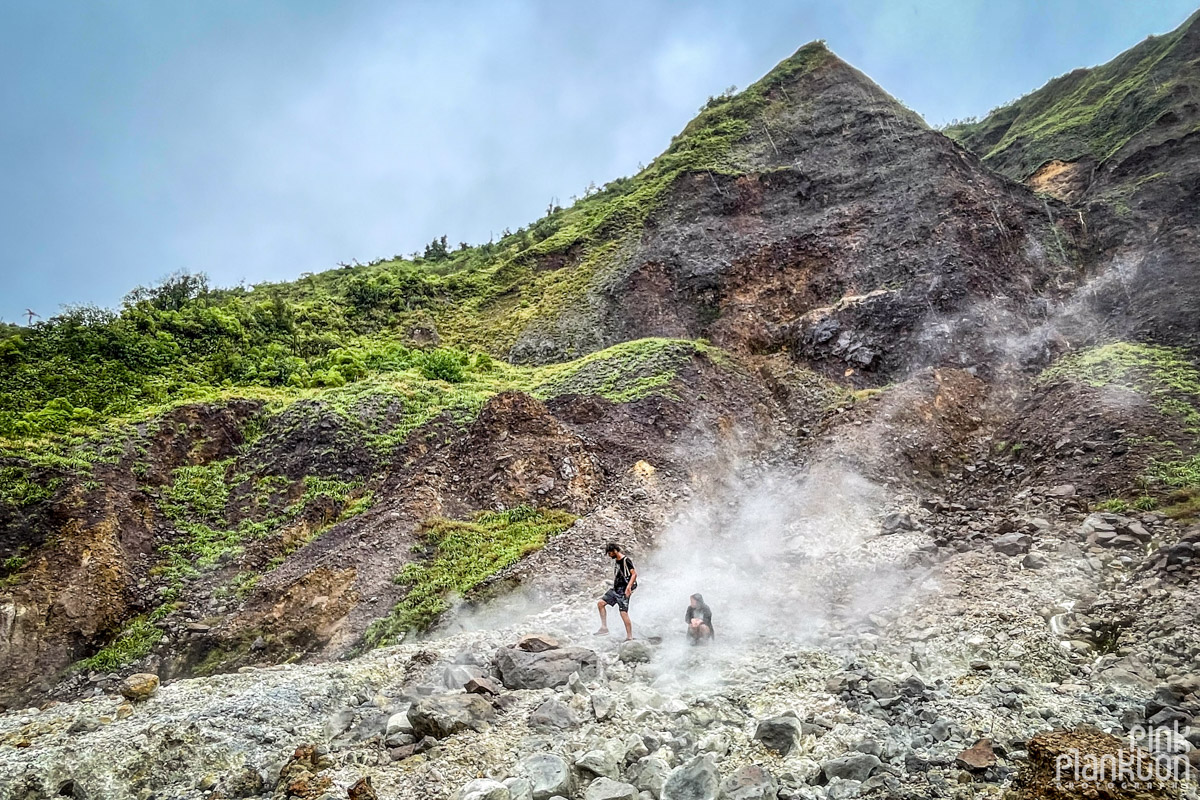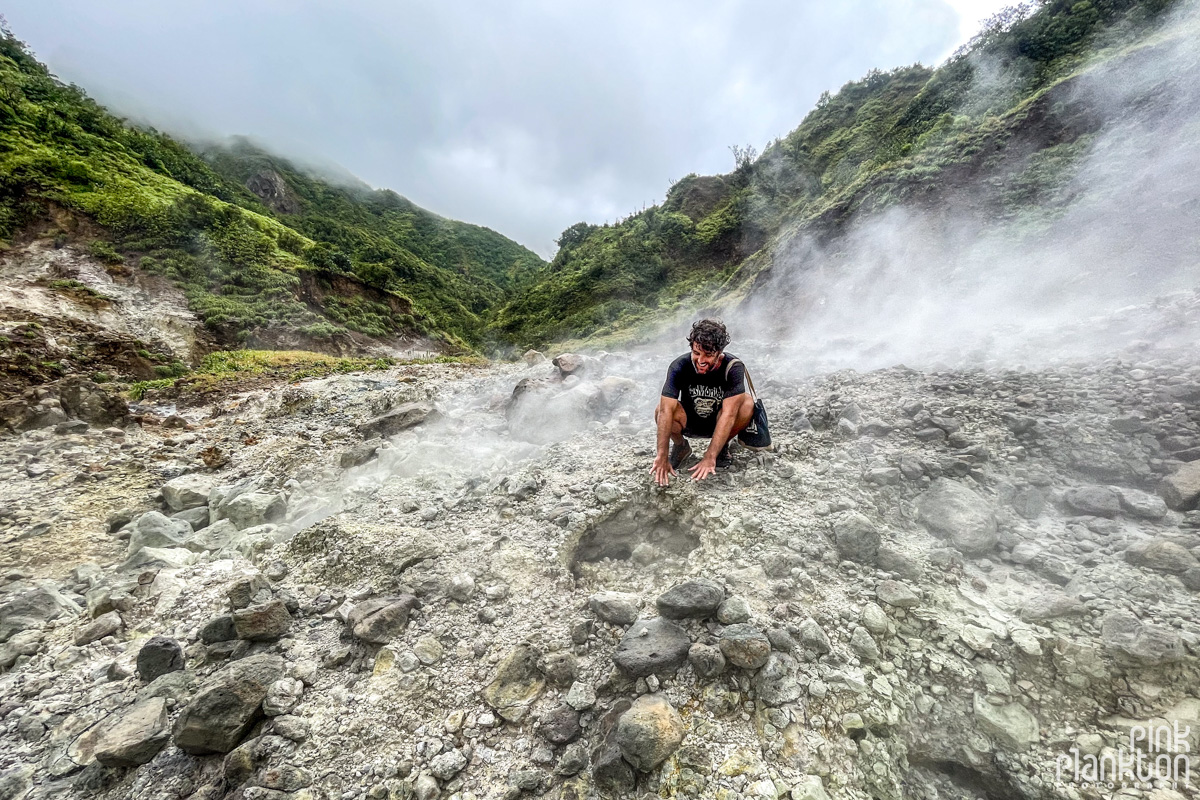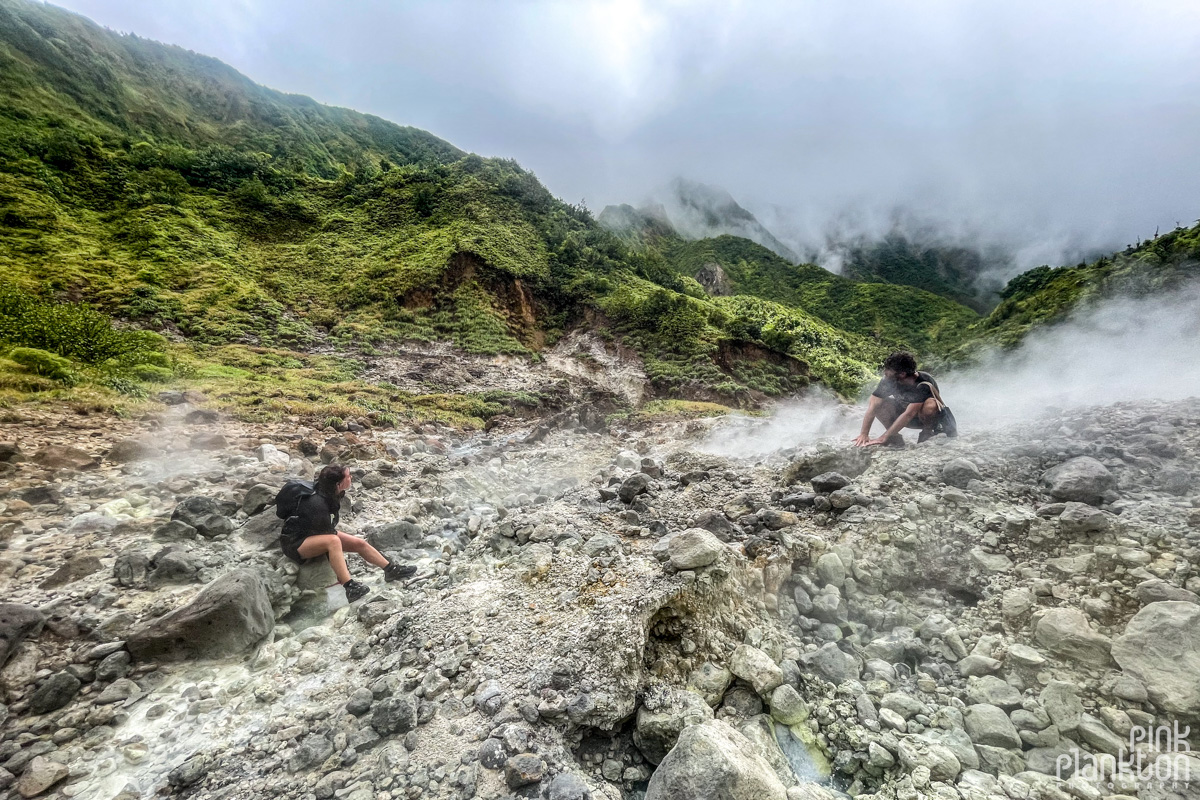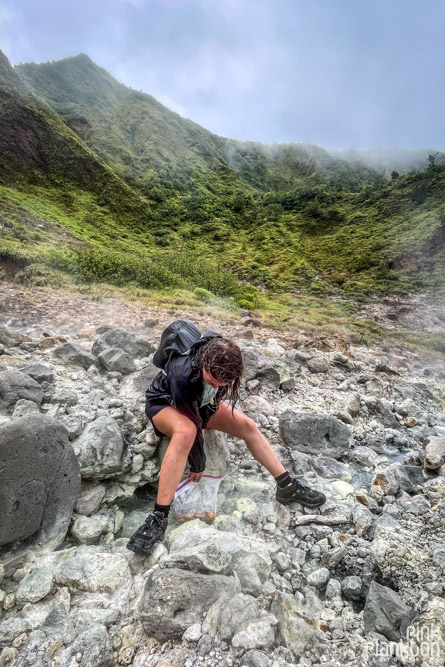 We tried making hard boiled eggs but gave up as it took too long.  We learned later you should put them directly in the water instead of in a ziplock bag.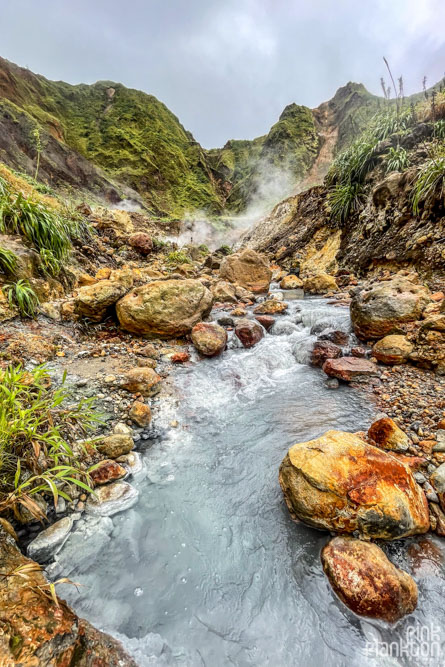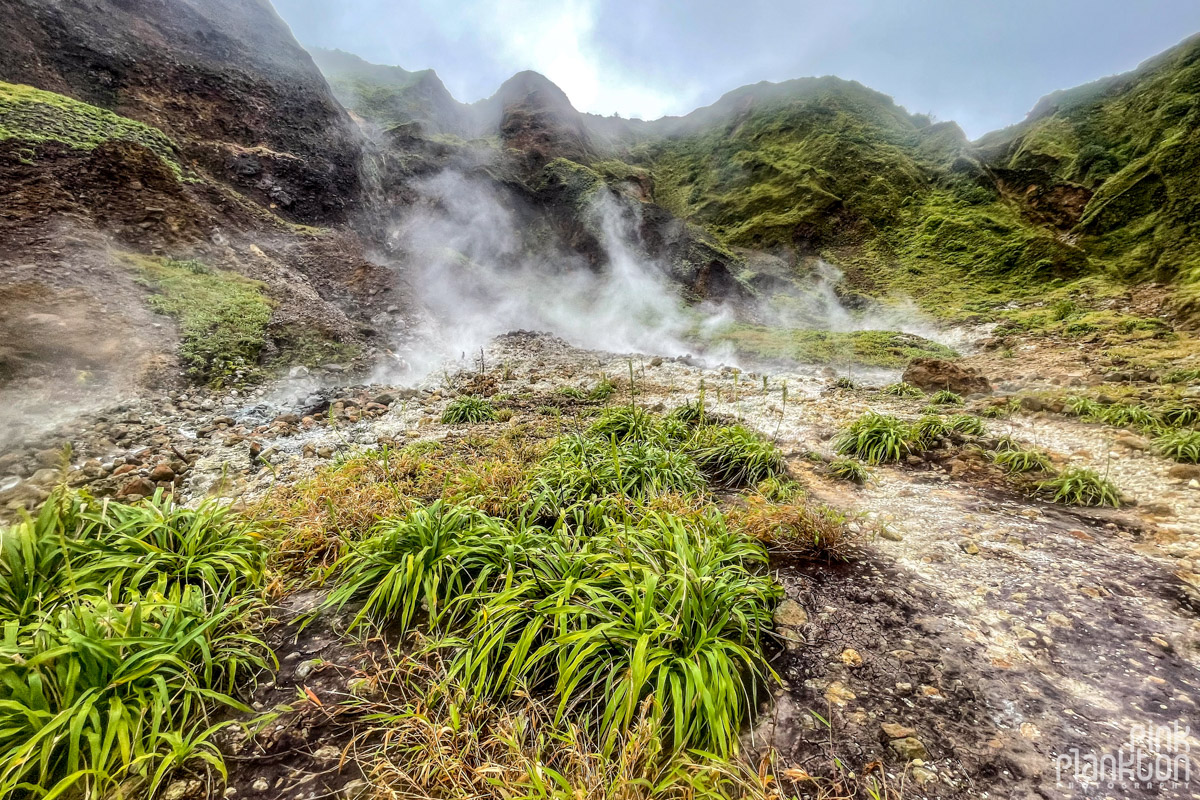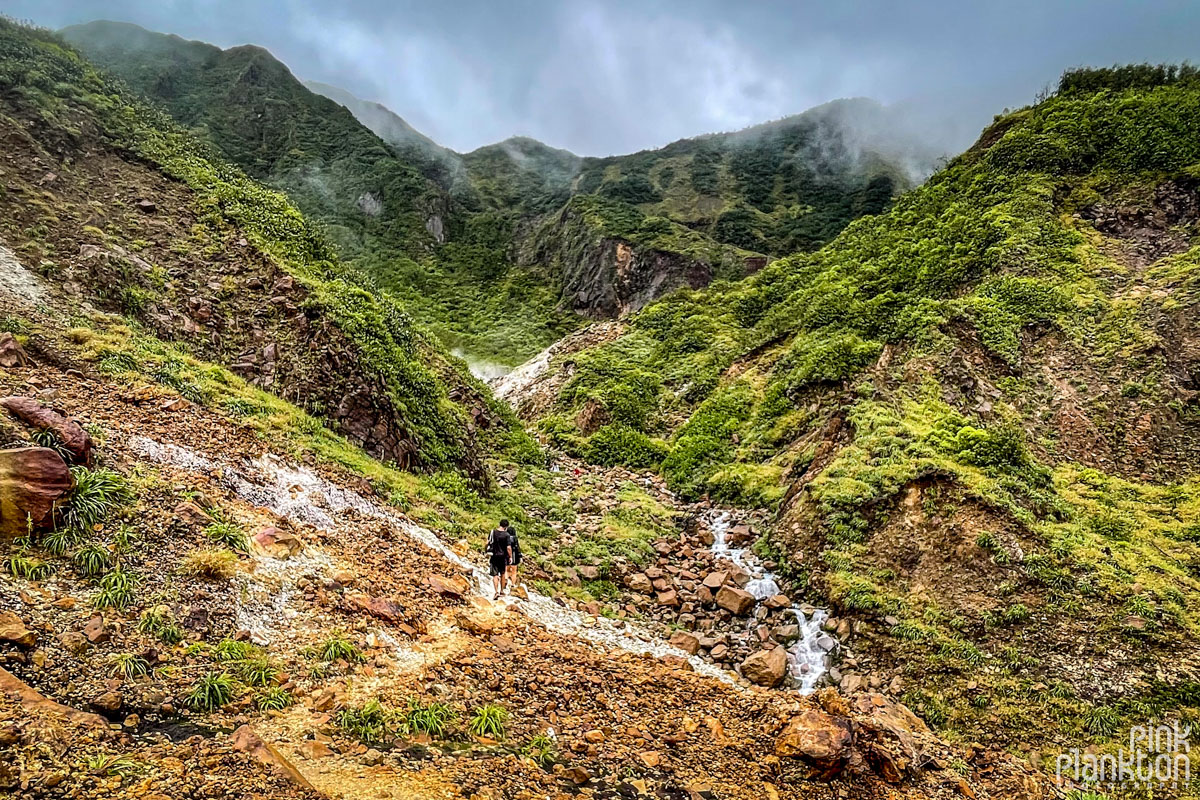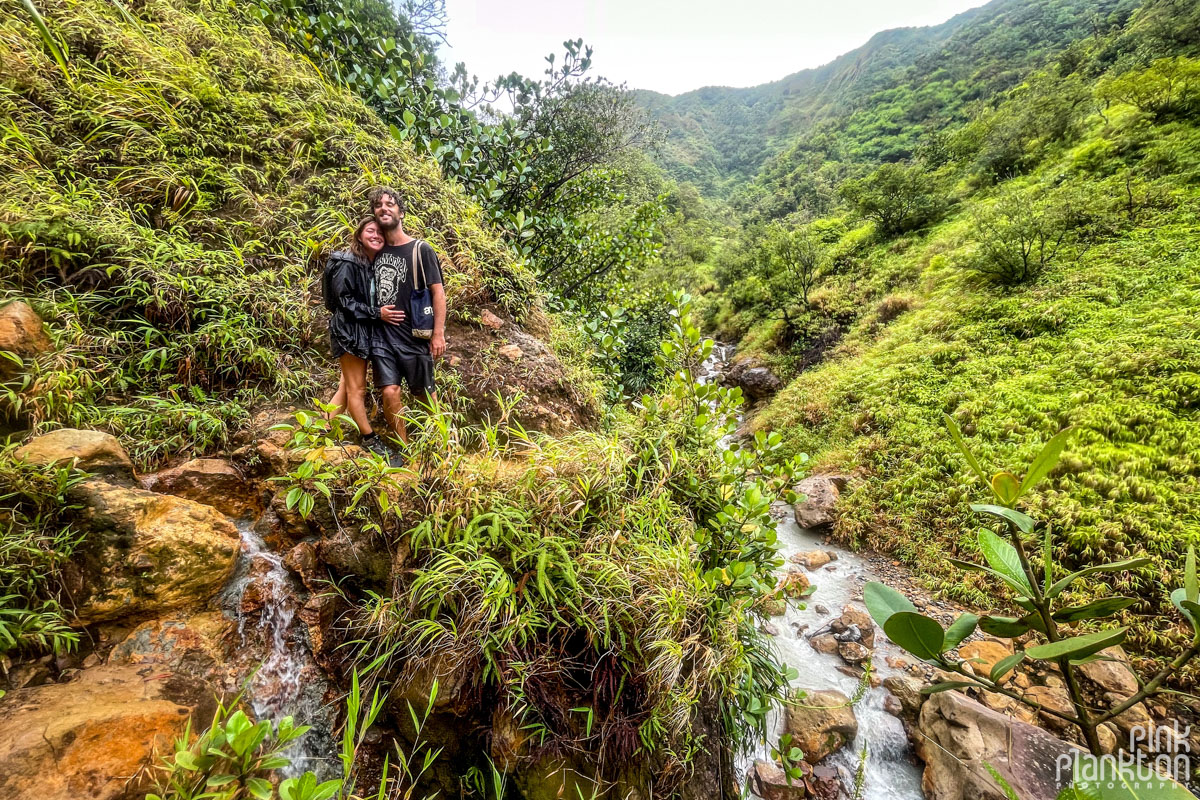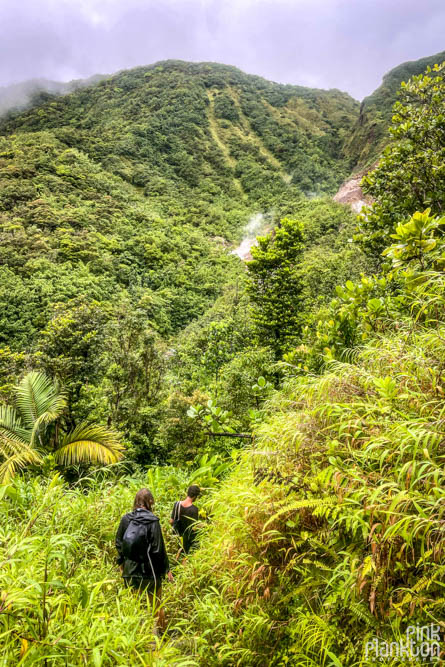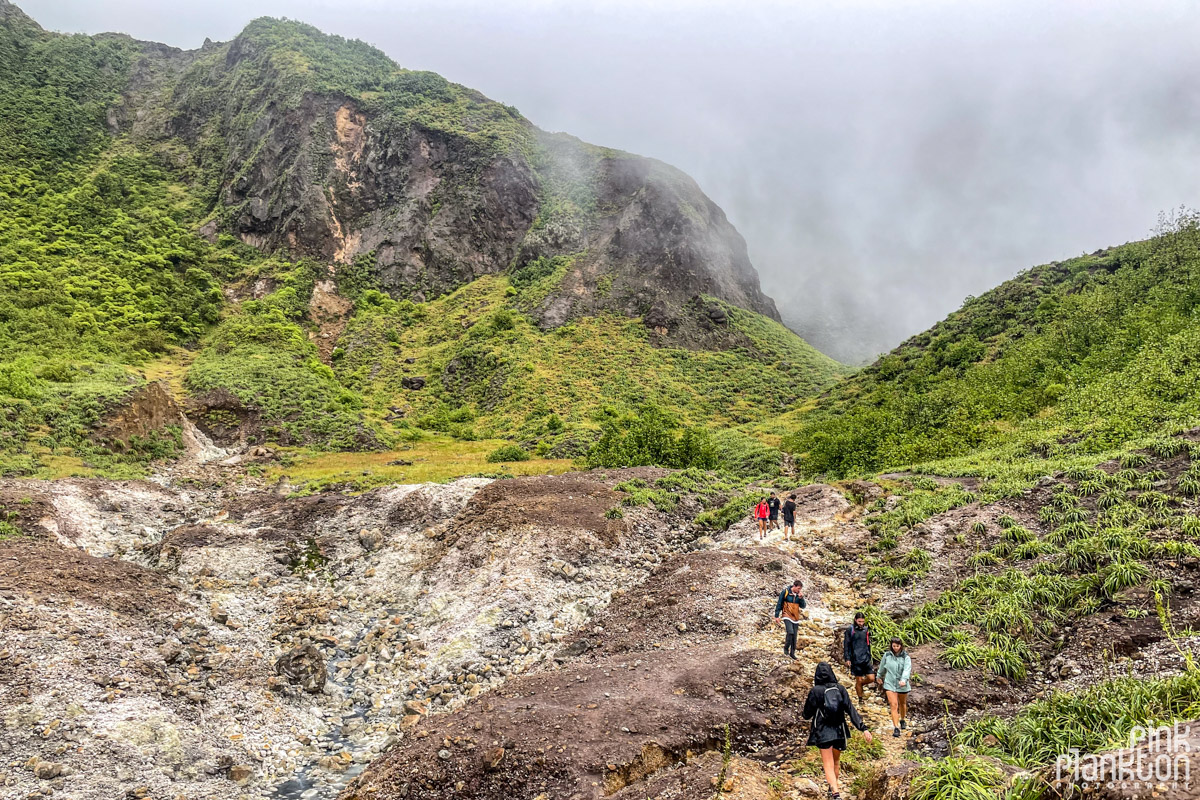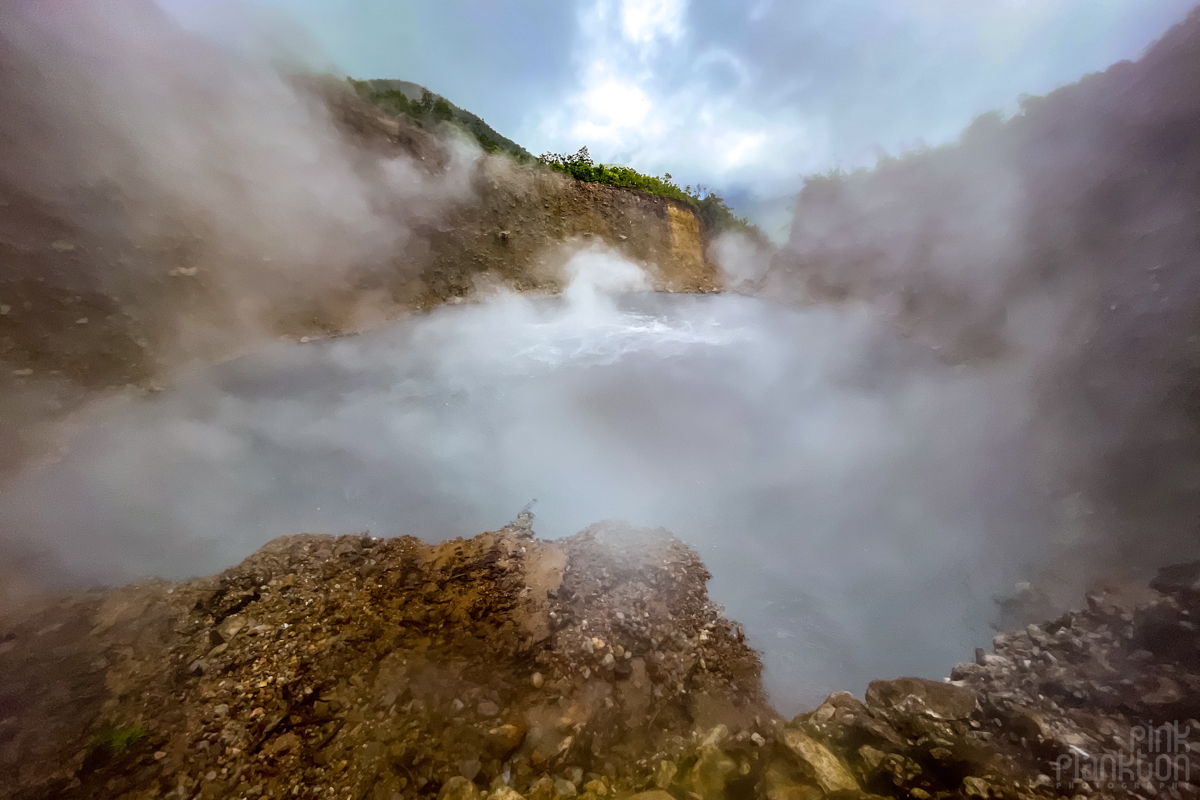 Finally we made it to the Boiling Lake!  It started raining so hard once we got there, we didn't have much time to appreciate it as the wind on the cliff was quite unpleasant, but we did it!