If you live in the Greater Toronto Area, Veld and Digital Dreams are household names when it comes to summer music festivals.  While these types of commercial festivals are a great party, they don't offer the attendee much more than that.
Most aren't aware that there are quite a few alternative, underground festivals, within reasonable driving distance of Toronto. They are known as transformational festivals and they are called that for a reason. You wont see any big names at these festivals, nor will you find that 'mainstream EDM' sound. This is because the main emphasis is not just on the musical lineup; it's also about community, art, and self-expression. Like any commercial festival, they each include stages, music, and dancing, but you will also experience a whole lot more!
---
The Om Reunion Project has been running this week-long festival since 2005. As a result, it is very well organized and there is a strong sense of community present. If there is one festival you make it to this summer, I would recommend this one!
"Om Reunion Project: Solstice is a yearly gathering of creative forces to celebrate the longest day of the year... aimed to inspire creativity and celebrate life. Camp, share, learn, eat, dance, laugh and love. Come with an open mind and dare yourself to pARTicipate in every way you can. We all bring something special, we all volunteer and we all contribute to create something magical."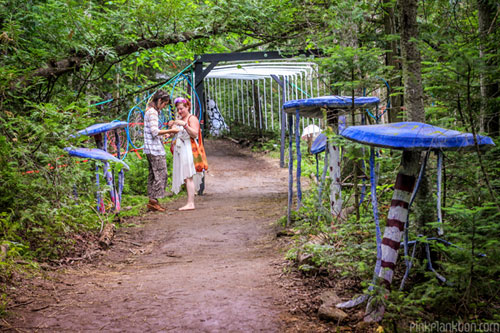 Located in Saint-André-Avellin, Quebec, about a 5 hour drive from Toronto, Valhalla Sound Circus is a great way to spend a weekend!
"Valhalla Sound Circus (VSC) is a non-profit cultural event that evokes an environment of free expression by combining a plethora of live musical performances with numerous visual art installations devoted to unifying and strengthening the bass music community. The communitarian spirit helps encourage participants to get to know each other, inspiring people to highlight their individualism while celebrating together."
Eclipse is located in Quebec, just outside of Ottawa.  The festival is most well known as a psytrance gathering, but over the years, has expanded to include other forms of electronic music.
"Eclectic programming will include over 20 international artists and 100 North American artists on 3 electronic-music stages (psychedelic trance, techno, and ambient/downtempo/dub) in futuristic decors and immersive visuals. You'll also find a rest and healing area offering holistic care and a space for workshops and conferences. Come experience new connections, meet new people and share conscious experiences in a parallel universe!"
Playground is a newer and smaller festival, but don't let this discourage you!  You don't need a crowd of 50 000 people to have fun.  Attending a smaller festival can provide a more intimate experience and a chance to get to know others on a deeper level.
"PLAYGROUND is about music and art, but more importantly it's about the strong community atmosphere and amazing collection of playful individuals."
5. Alweezgrooven: mid-August (although on break for 2018)
Also located in Quebec, just outside of Ottawa, Alweezgrooven is an electronic music, art, and wellness festival that boasts an amazing outdoor location, psychedelic chillout area, total visual experience, workshops (poi, hula hoop, bondage...), Chinese lantern lighting ceremony, healing/recharging (reiki, meditation, yoga...), as well as the expected camping, stages, and amazing music.
Hosted by alienInFlux and Promise, both well known event promoters in the Toronto underground scene, Harvest is always a great way to end off festival season. The festival has been running for over 15 years, and the organizers do an excellent job of providing a fully immersive experience.
"The rolling hills, waters, sculptures and forests of Midlothian Castle is our place to gather and celebrate season's change by the fire, under the stars and on the dance floor as we kiss summer goodbye."
---
Whether you are looking to experience something new, or simply wanting to dance to something other than Avicii and Calvin Harris, I highly recommend trying out one of these transformational festivals.  I guarantee it will alter your perception of what a festival can be.  If you haven't already, please take a look at my post Music Festival vs. Transformational Festival, to learn more.  Happy festivaling!
---