Cappadocia in Türkiye (formerly Turkey) is unlike anywhere else in the world.  It's well known for its unique rock formations and the hundreds of hot air balloons that rise up over them every morning.  These rock formations were created over millions of years of geological activity.  The region was once covered by a shallow sea, and as the sea retreated, volcanic eruptions covered the area in ash and lava.  Over time, the ash and lava were eroded by wind and water, creating unusual formations such as fairy chimneys, cones, and valleys.
The tuff, which is a soft volcanic rock, was carved into houses, churches, and underground cities by early inhabitants of the region. These caves were dug out by hand and used for shelter, storage, and worship. The underground cities also served as hiding places during times of war and religious persecution. 
In August 2022, I had the chance to visit Cappadocia and my mind was blown!  The hiking here was absolutely phenomenal.  Most people only stay for a few days, but if you're into hiking, I highly recommend over a week.  I spent 10 days here, hiked everyday, and still felt like there was plenty more to do.  
During most of my hikes, I barely encountered anyone else on the trails.  I loved the sense of remoteness here and how there was amazing scenery in every direction you looked.  Surprisingly, even in the middle of summer, the weather was quite pleasant, possibly due to the dry heat.  
It's important to note that on most trails, there is barely any signage, or in some cases even incorrect signage.  When hiking in this area it's highly recommended to carry an offline map tool so you don't get lost.  I personally used maps.me and was easily able to navigate through the trails and locate points of interest, while staying on track.  
Here are my favorite shots from my time here:
Goreme Viewpoint and Gorkundere Valley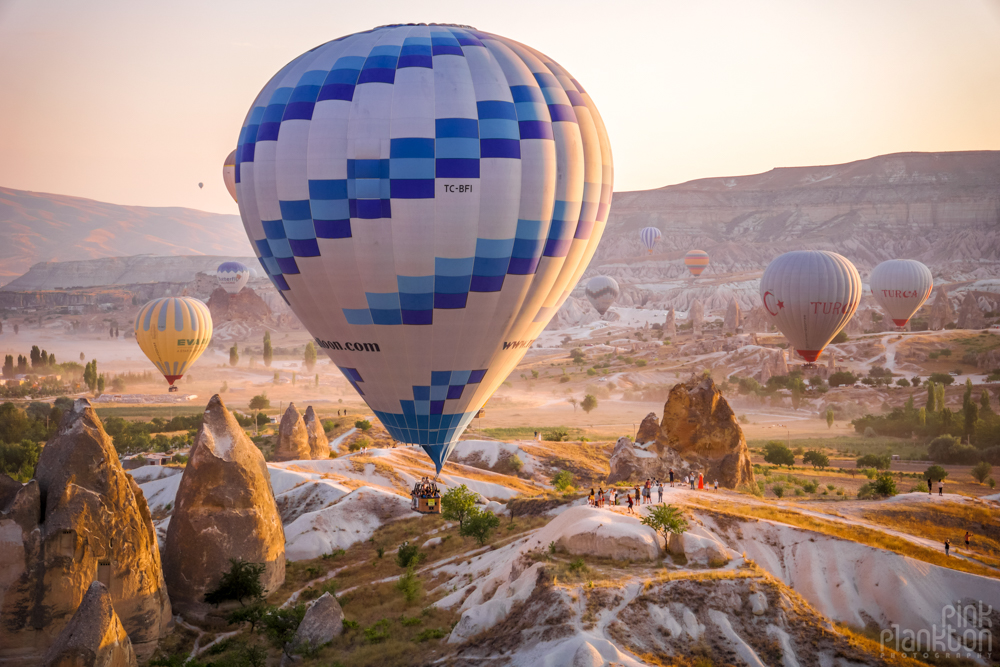 The Goreme Viewpoint is a short hike up a hill.  Because of its close proximity to town, it is one of the busiest places to watch the hot air balloons at sunrise.  But the balloons here come so close that you can practically touch them!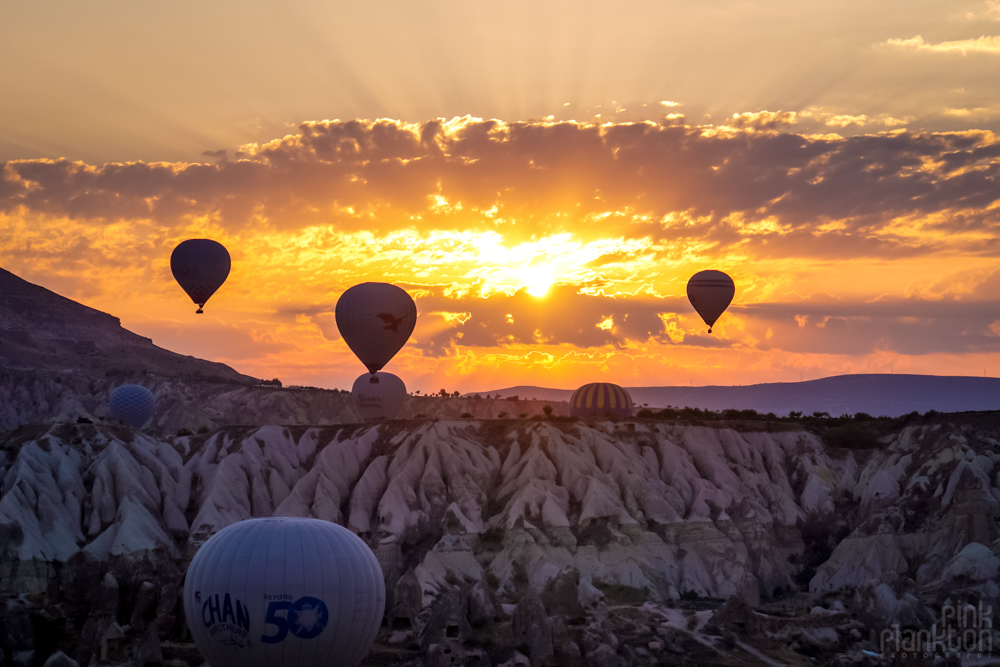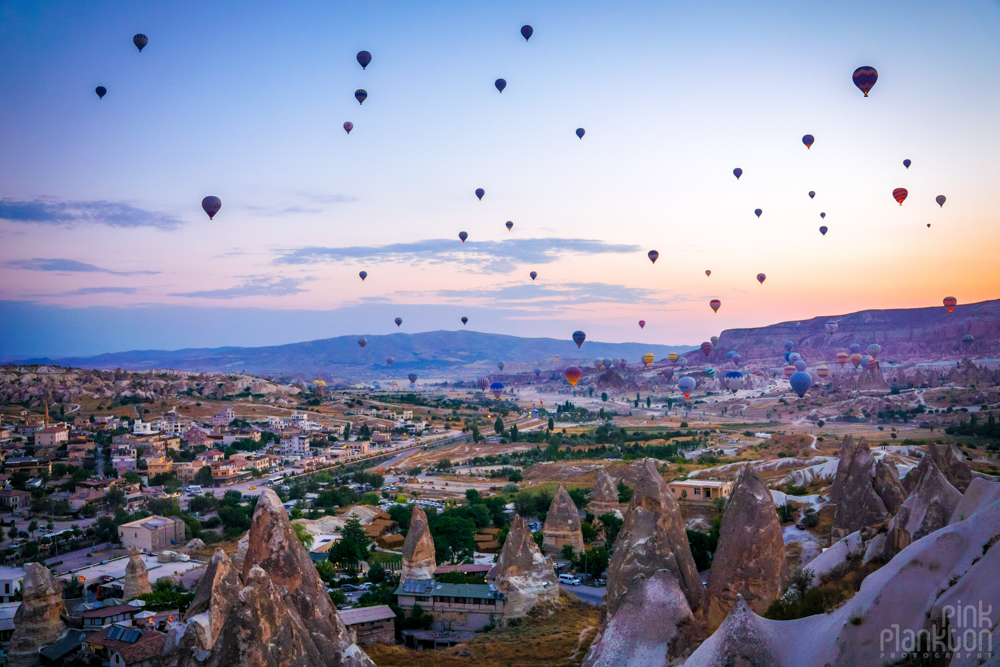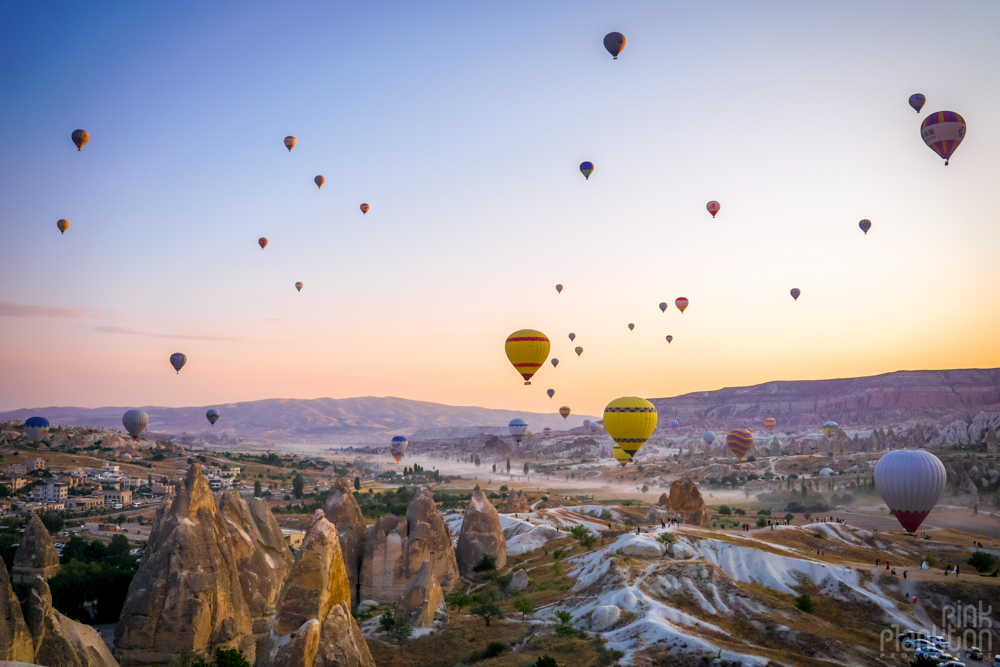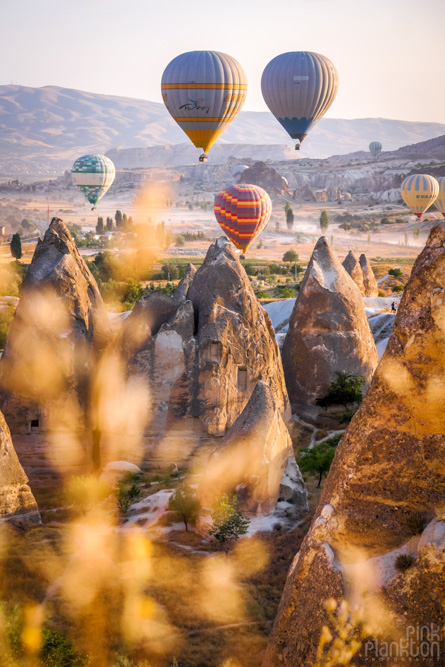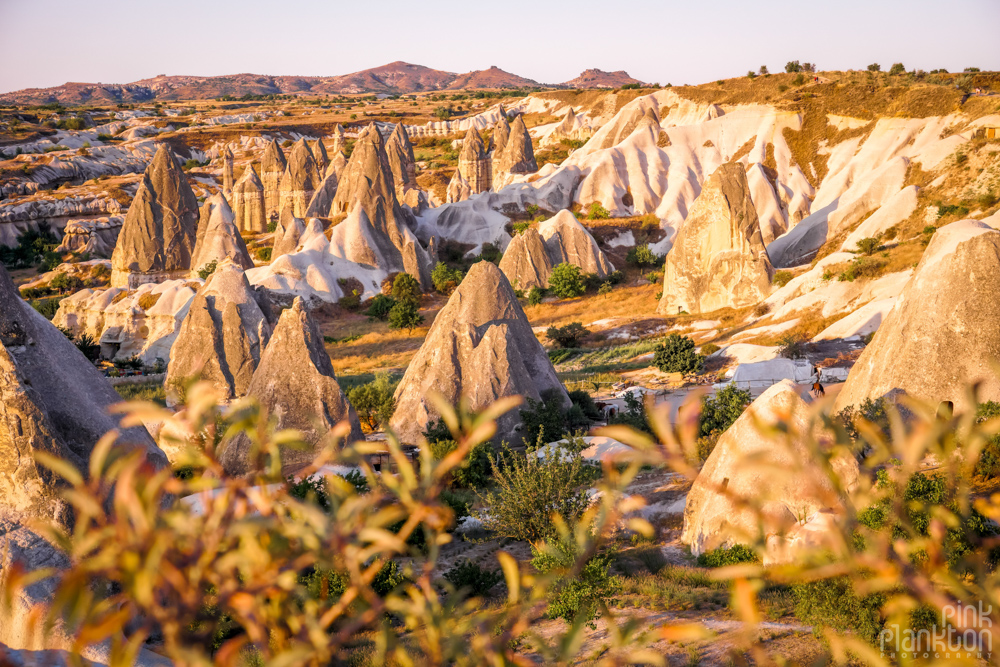 After watching sunrise, instead of heading back into town, I walked down into Gorkundere Valley.  This valley has many  phallic-shaped rocks just like the more popular Love Valley.  I followed this trail somewhat for guidance, although it is mistakenly referred to as on that page as Zemi Valley.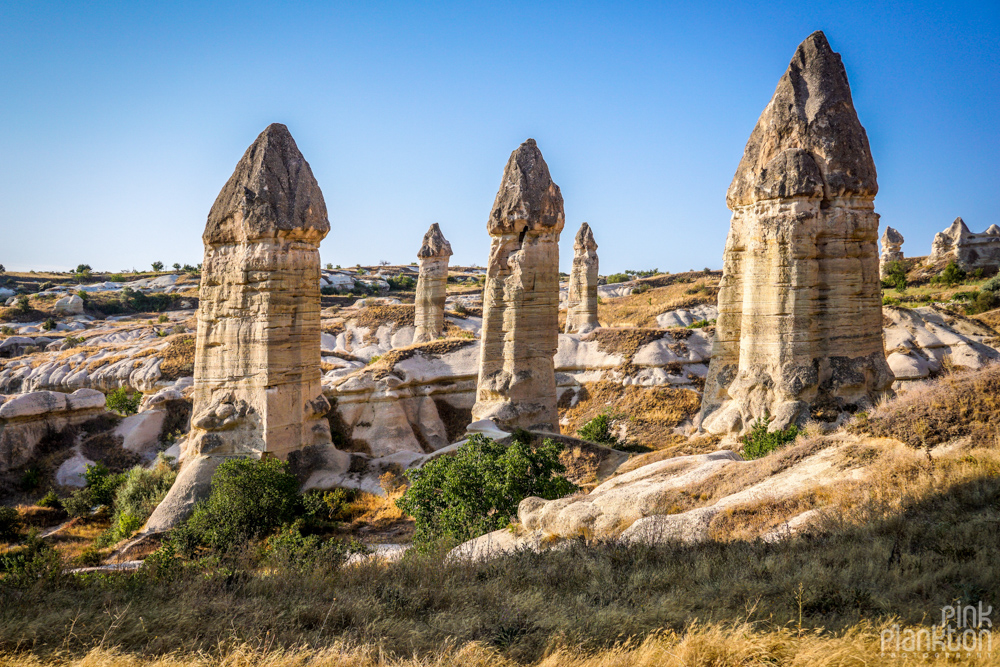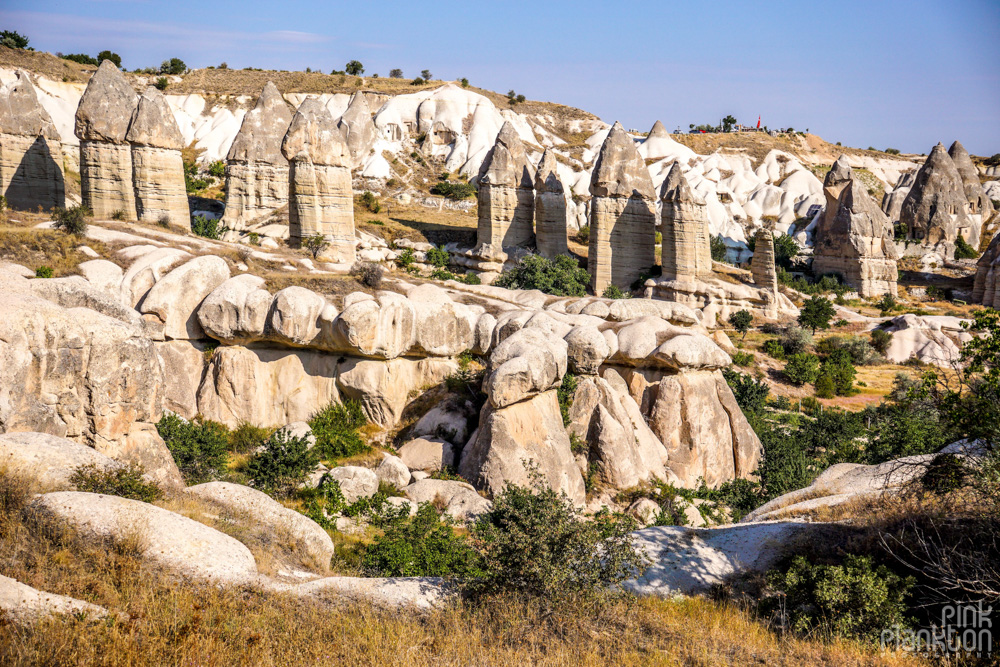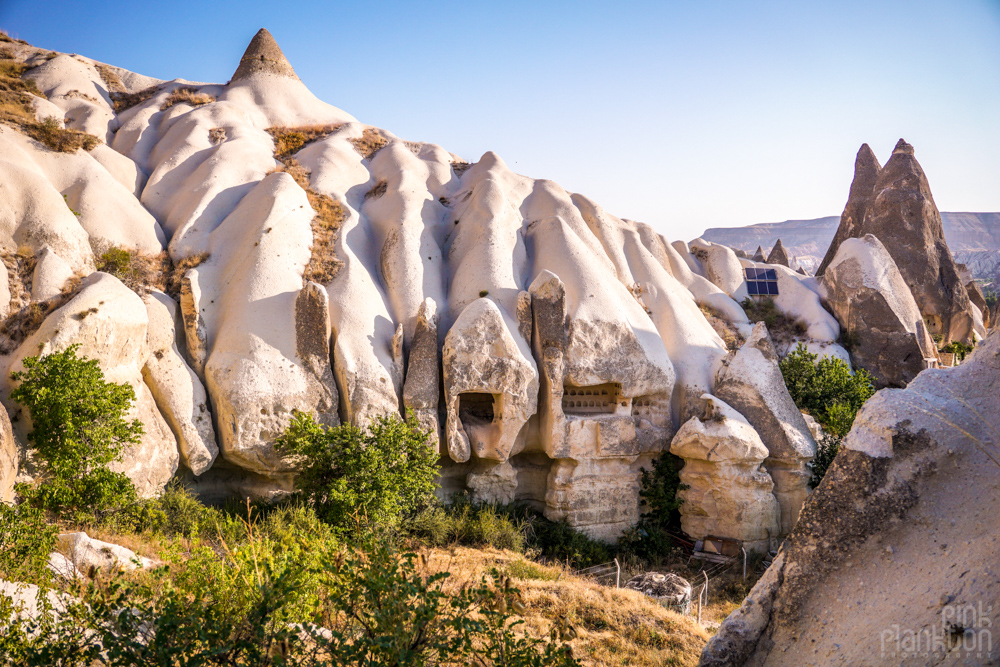 Here is a great example of the pigeon houses carved into the rocks.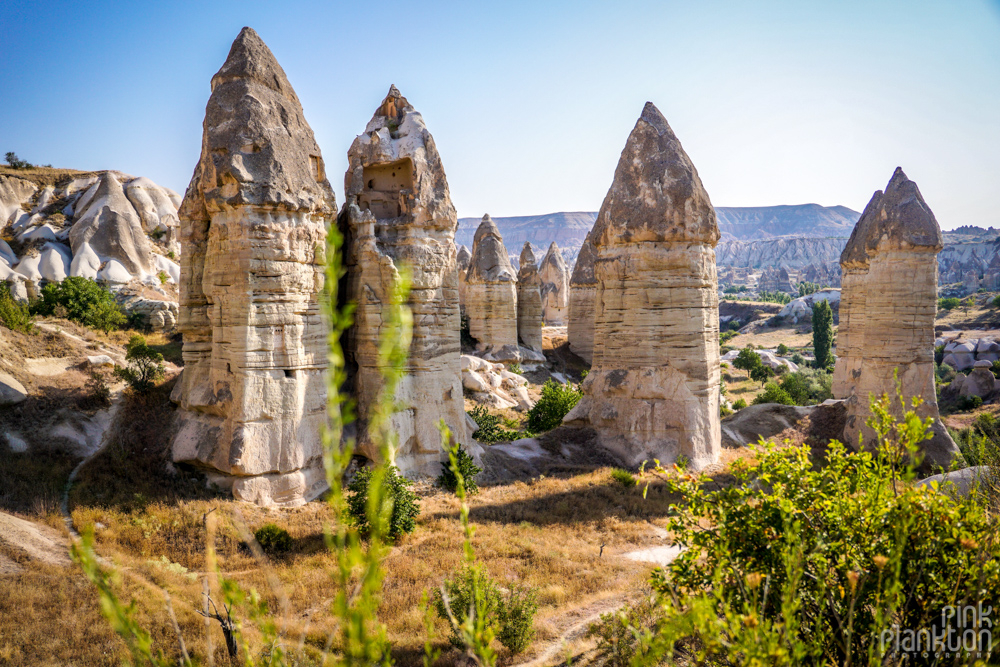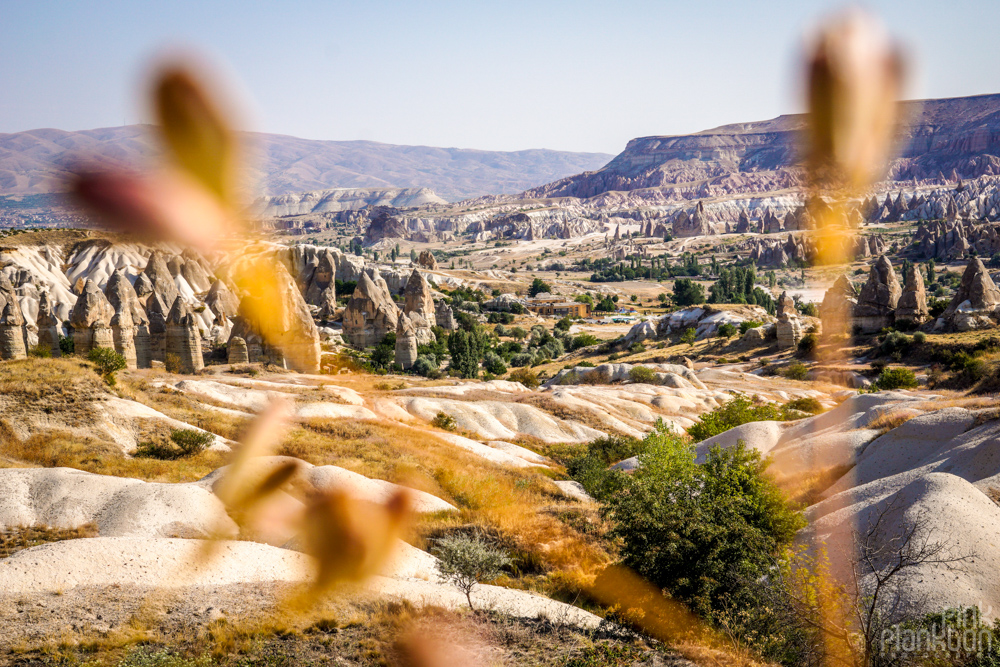 Rose and Red Valley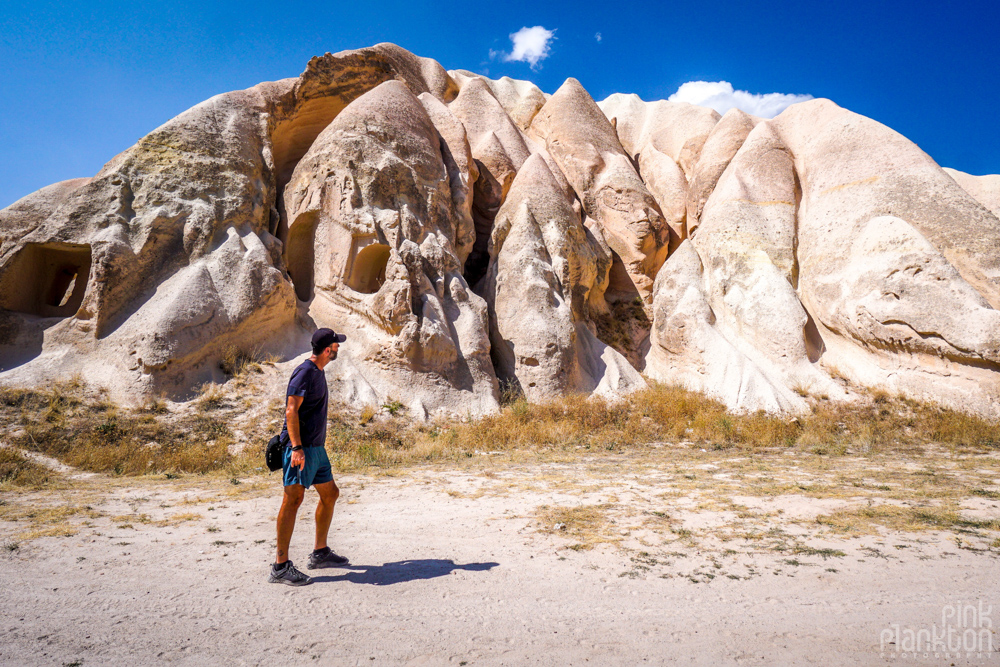 Rose Valley and Red Valley owe their names to the picturesque hues of the rocks when illuminated by the sun.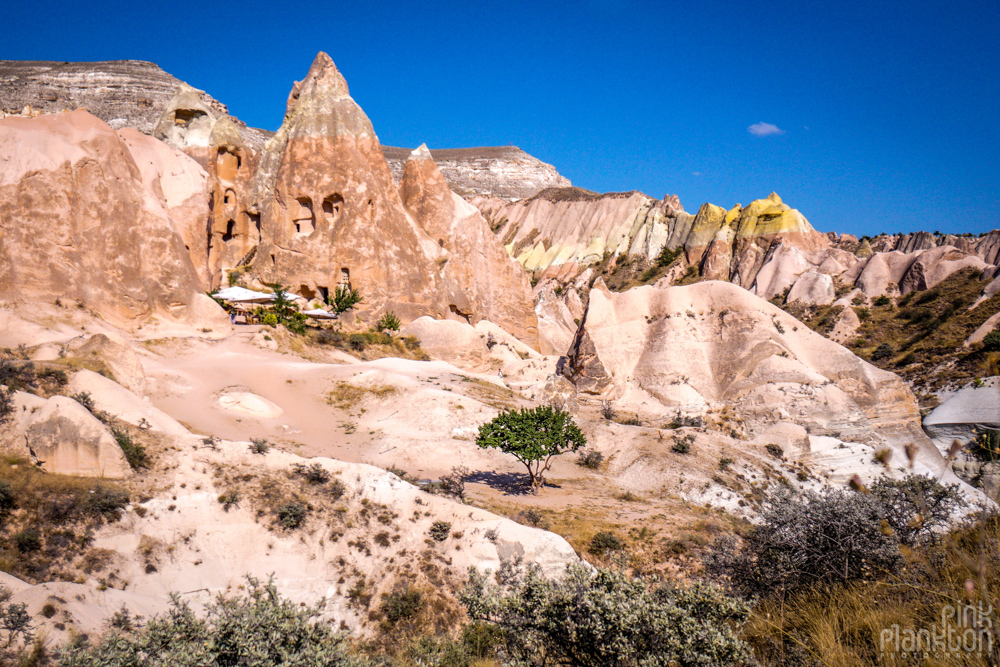 The umbrellas in the distance are a little cafe known as Star Box Cafe, where you can stop for freshly squeezed juice or a cold drink.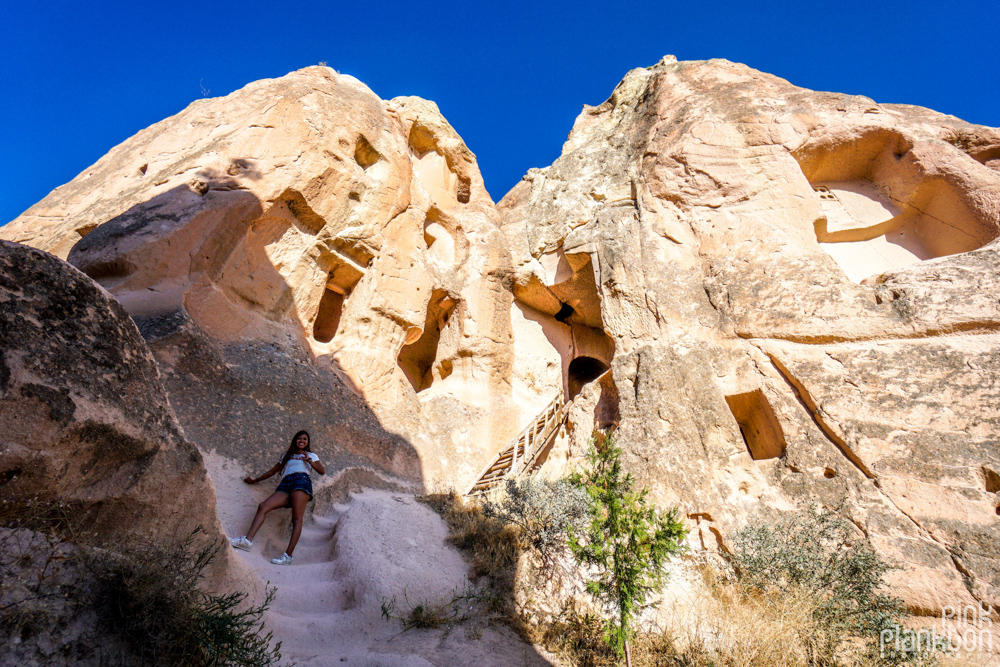 Right by the cafe was this amazing cave. Early Christian communities carved out dwellings, including churches, in the rocks to avoid persecution.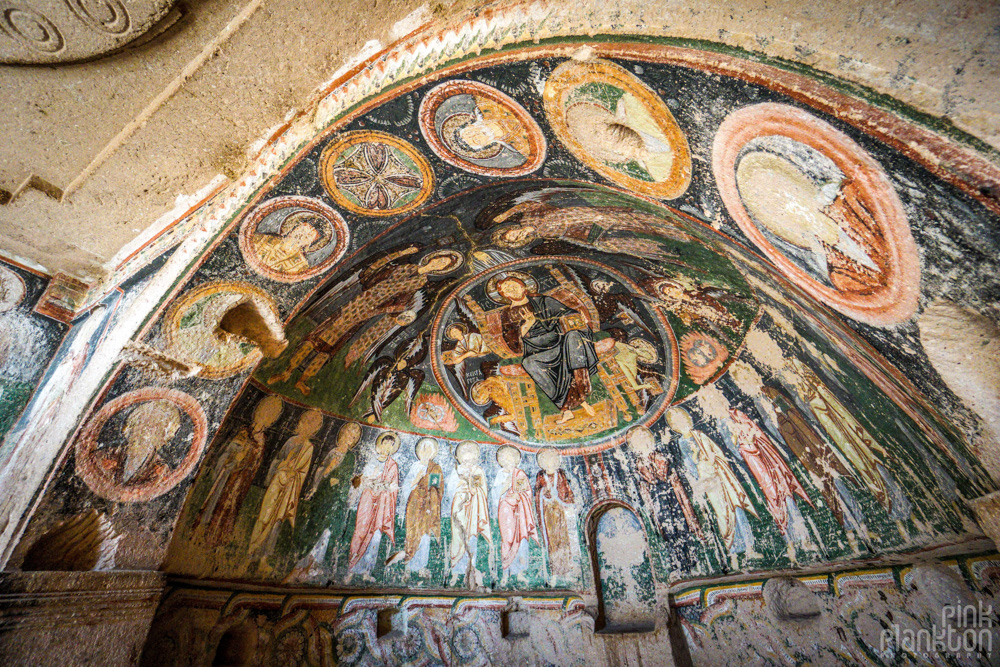 This particular one has a beautifully well preserved fresco painting.  Christians started living in the caves in the 4th century AD to the 13th century AD.  It's crazy to think this painting has lasted so long!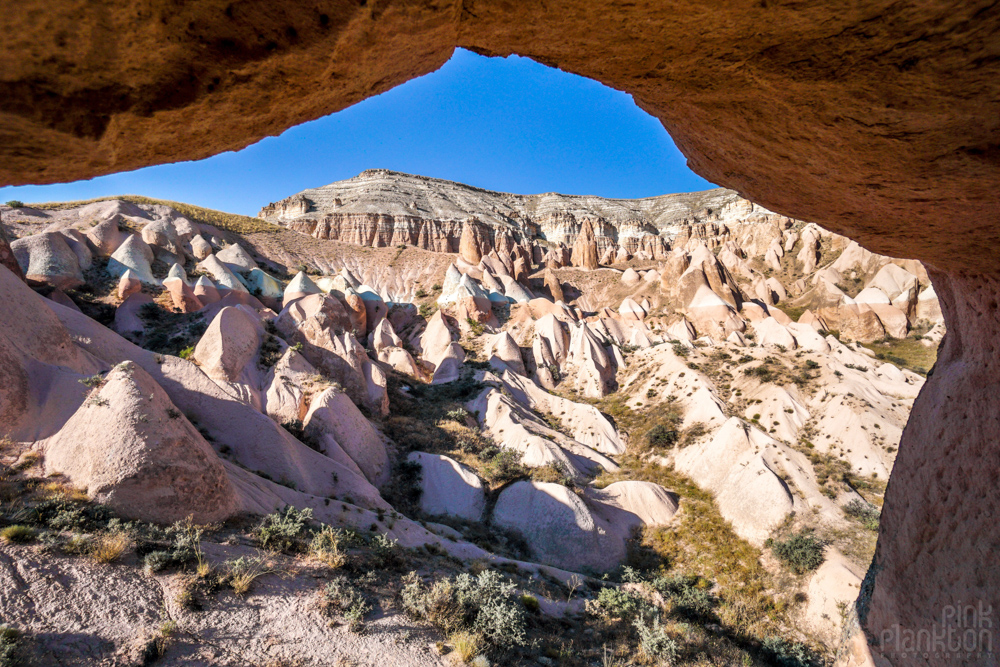 The views of the valley from the cave are amazing!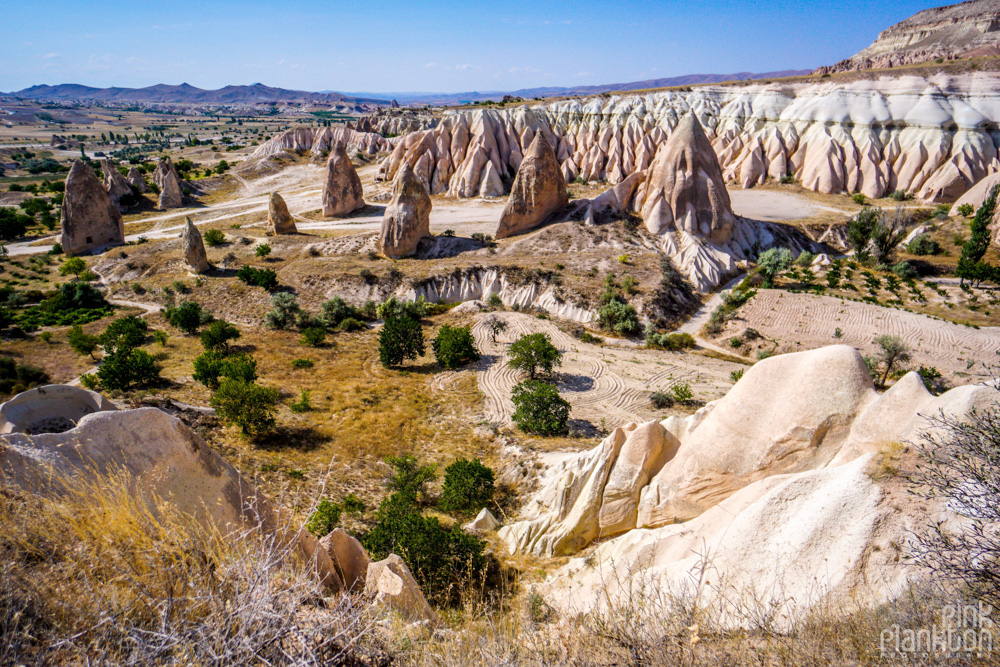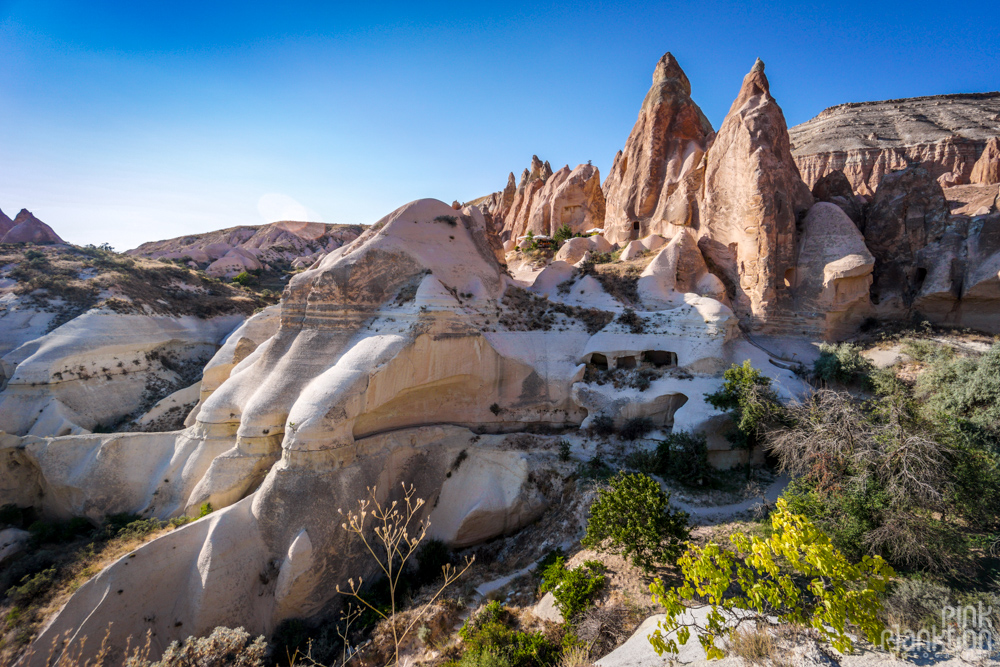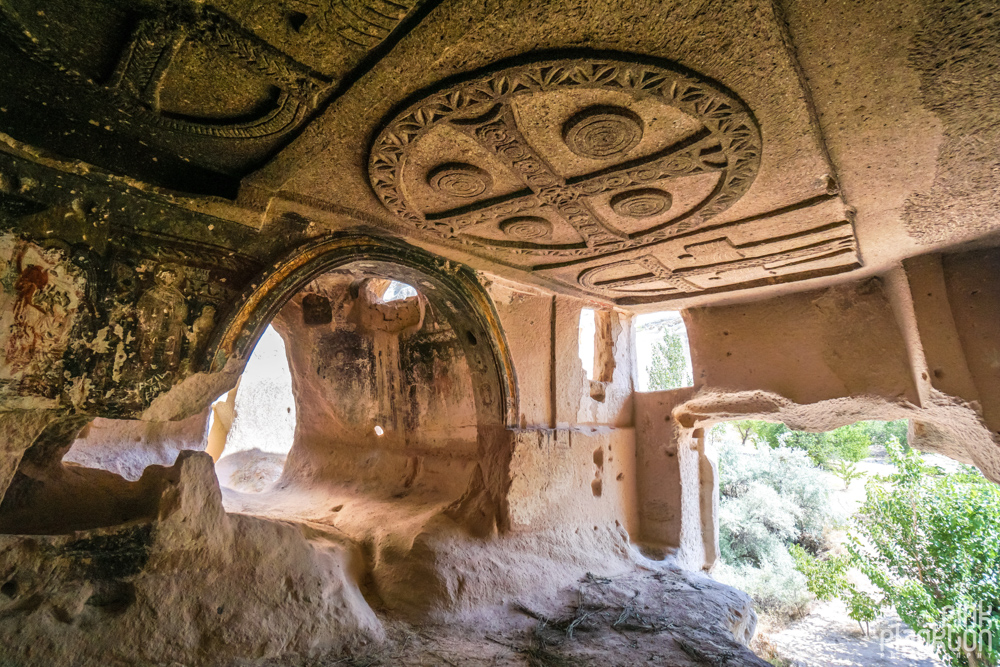 Throughout the trail you'll encounter many more cave homes and churches.  The opportunities to climb in and explore are endless.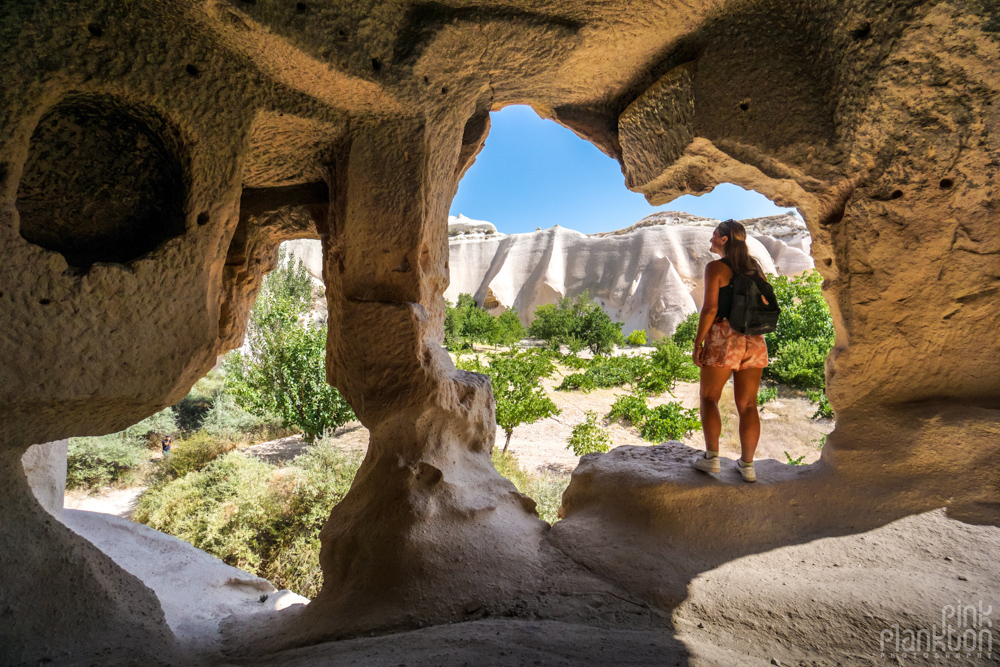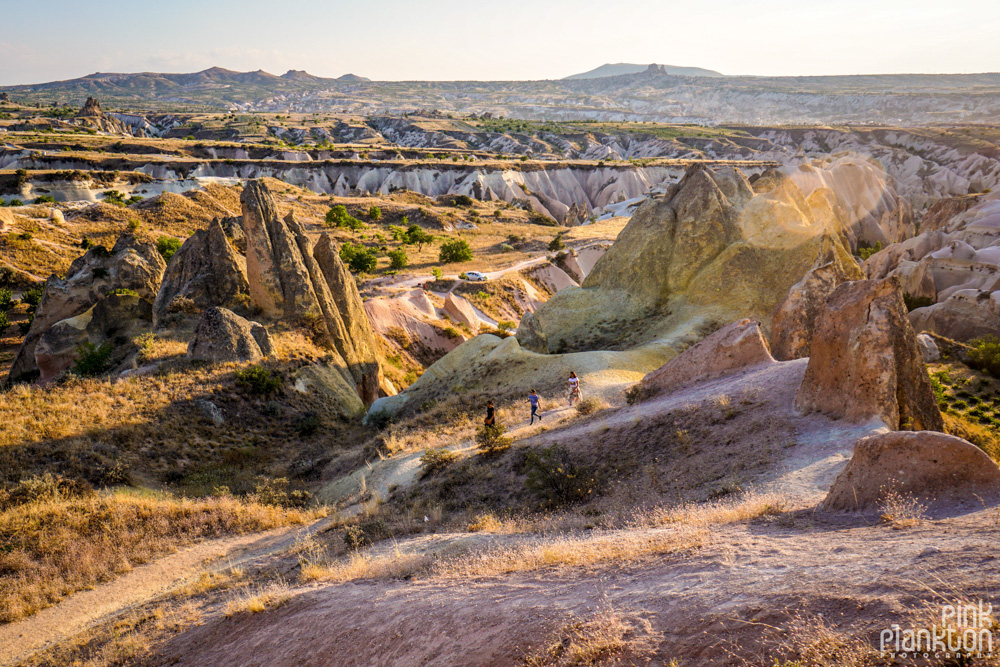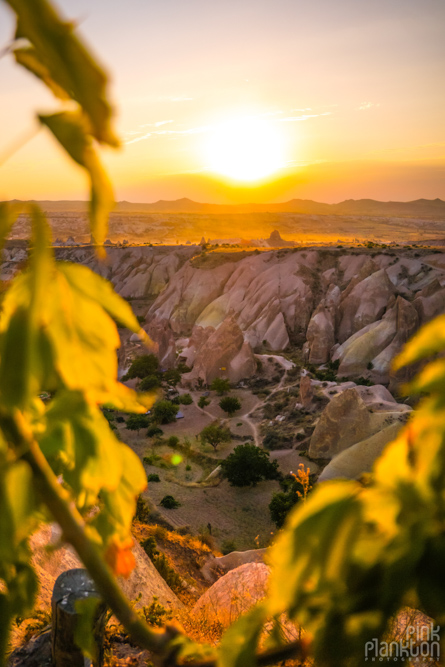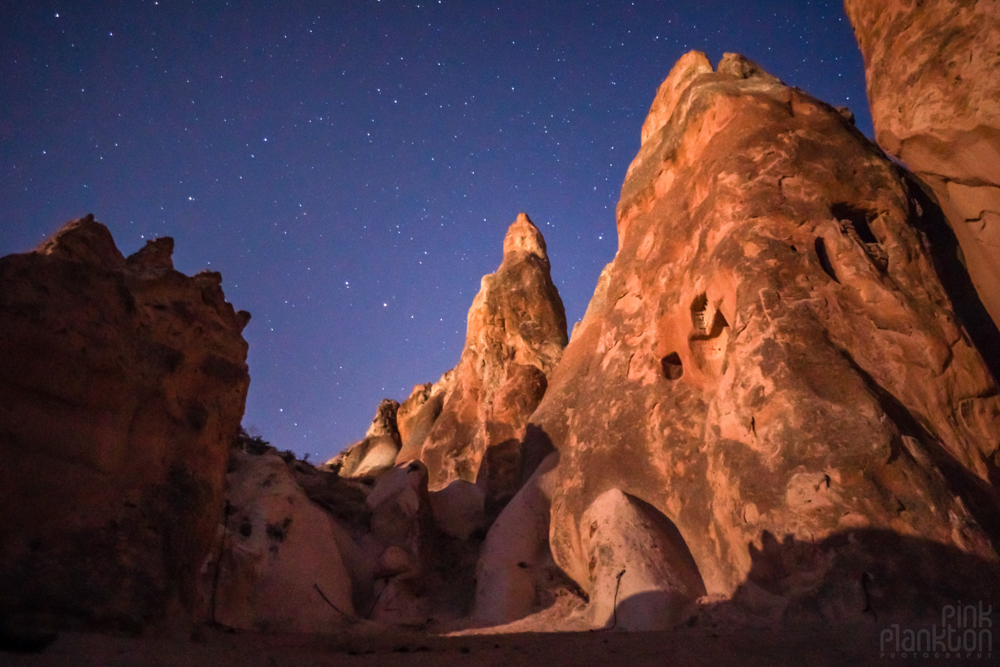 We slept in the valley under the stars one night, which happened to be my birthday!  Being able to explore the landscape at night was simply magical.  Remote, unique landscapes like this are my absolute favorite places to be in, so I couldn't have asked for a better way to spend my birthday.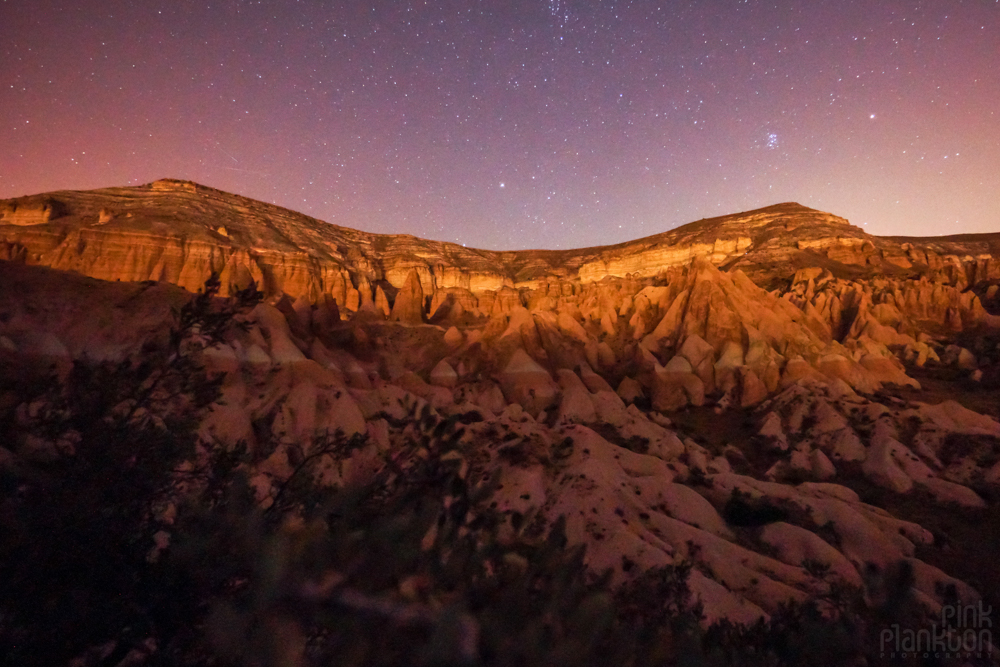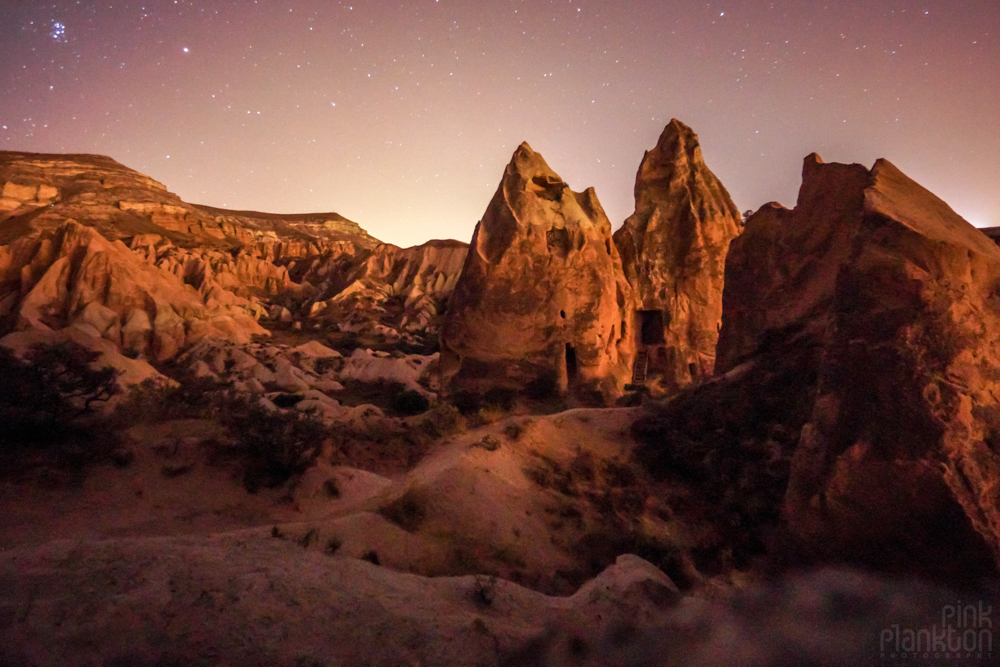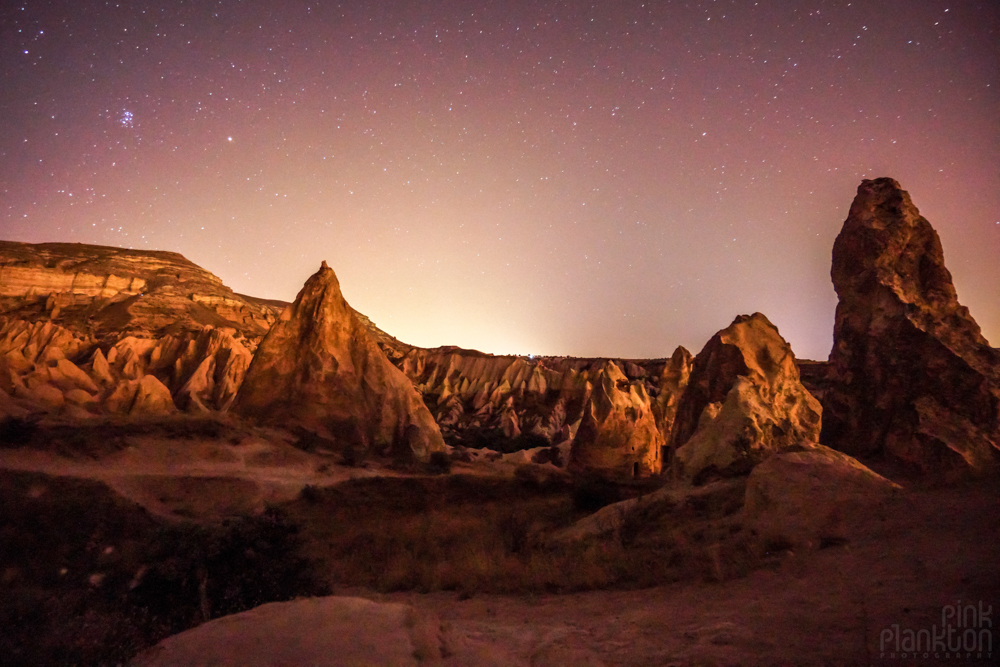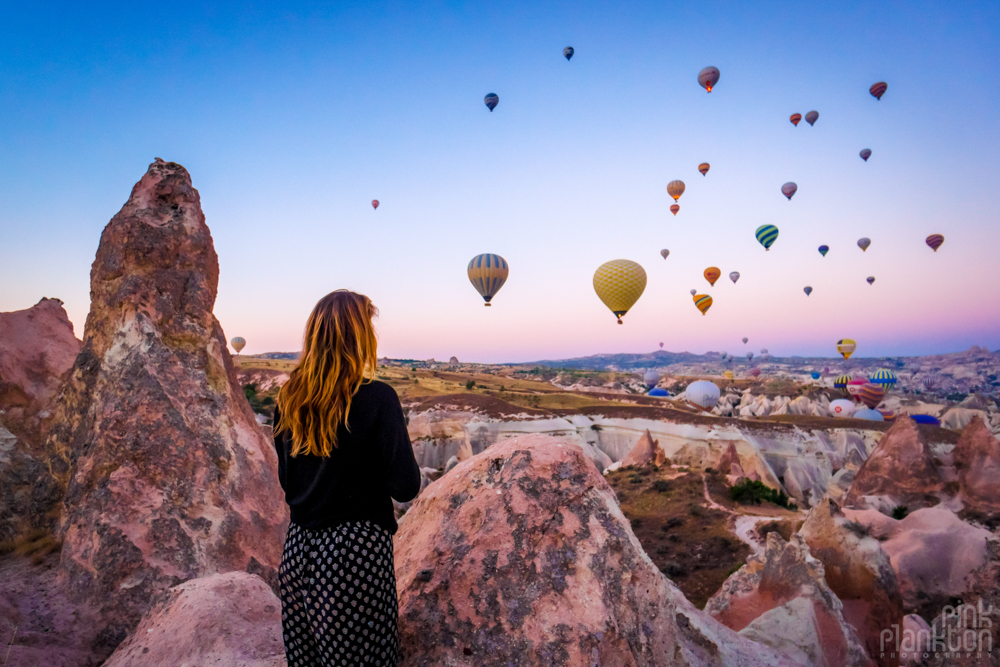 The next morning we had this secret sunrise spot all to ourselves, with no one else around.  This was one of the most beautiful experiences of my life.  (I saw this sunrise before the Goreme sunrise so it was even more special).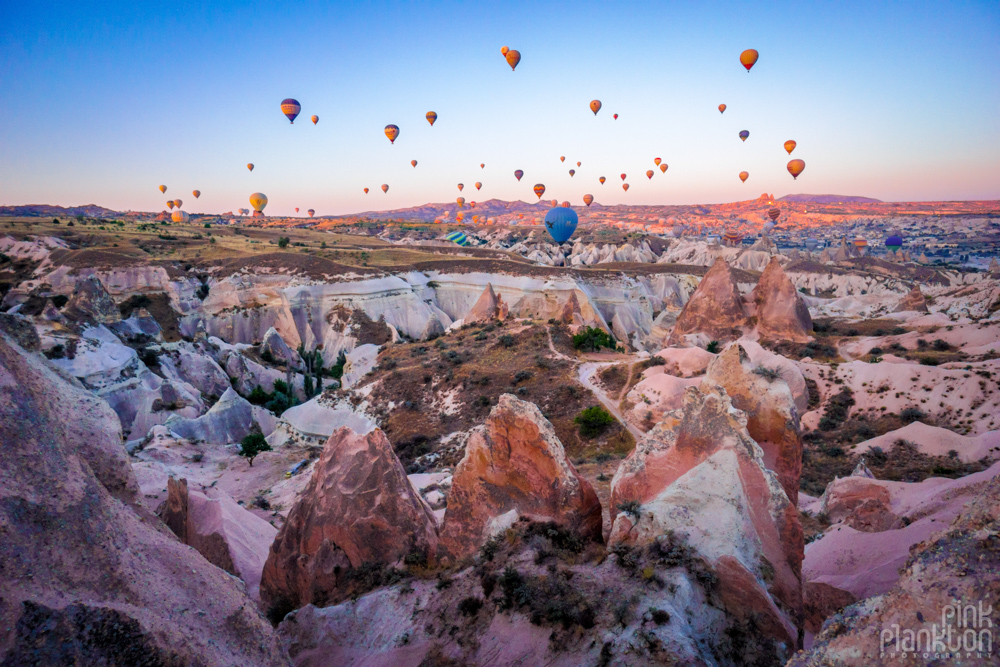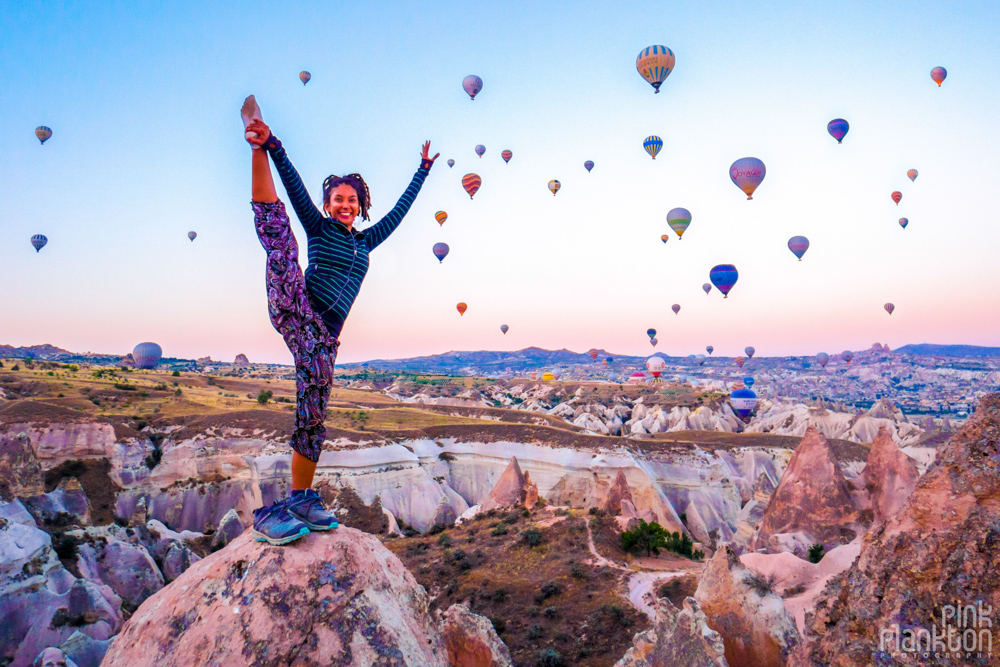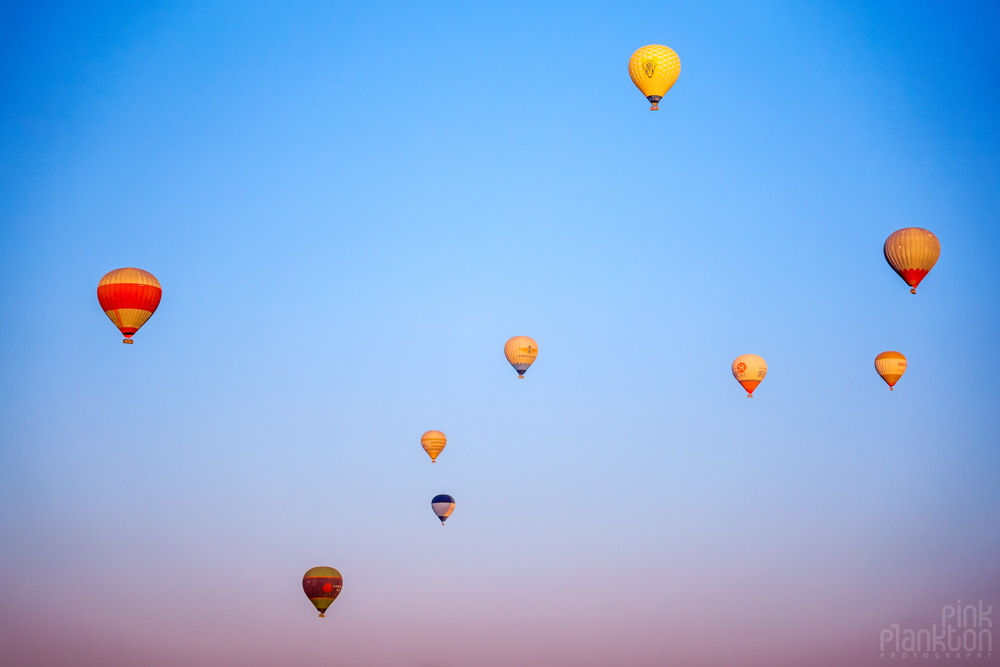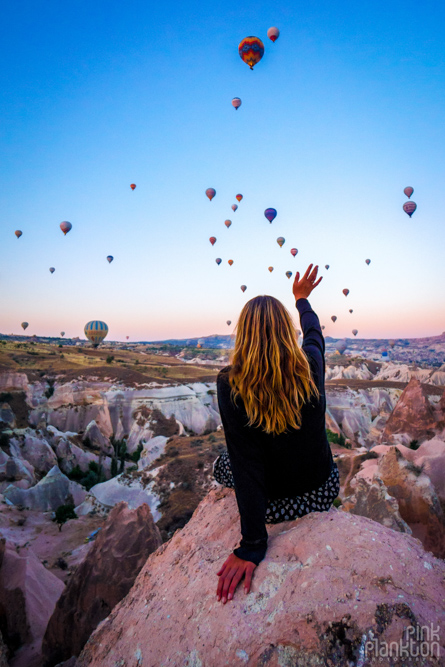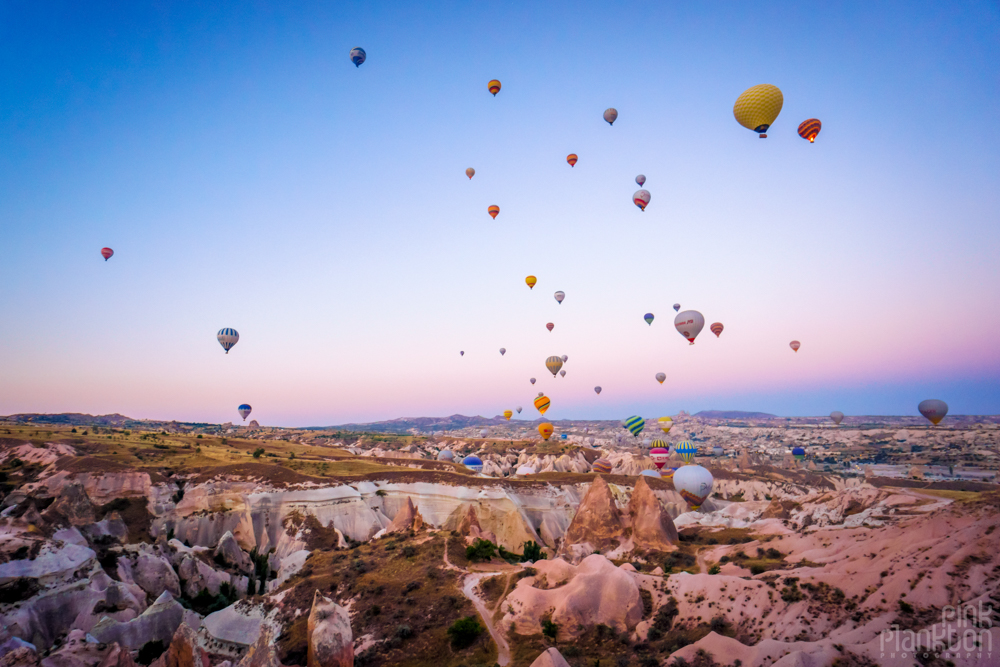 Love Valley, White Valley, Uchisar Castle, Pigeon Valley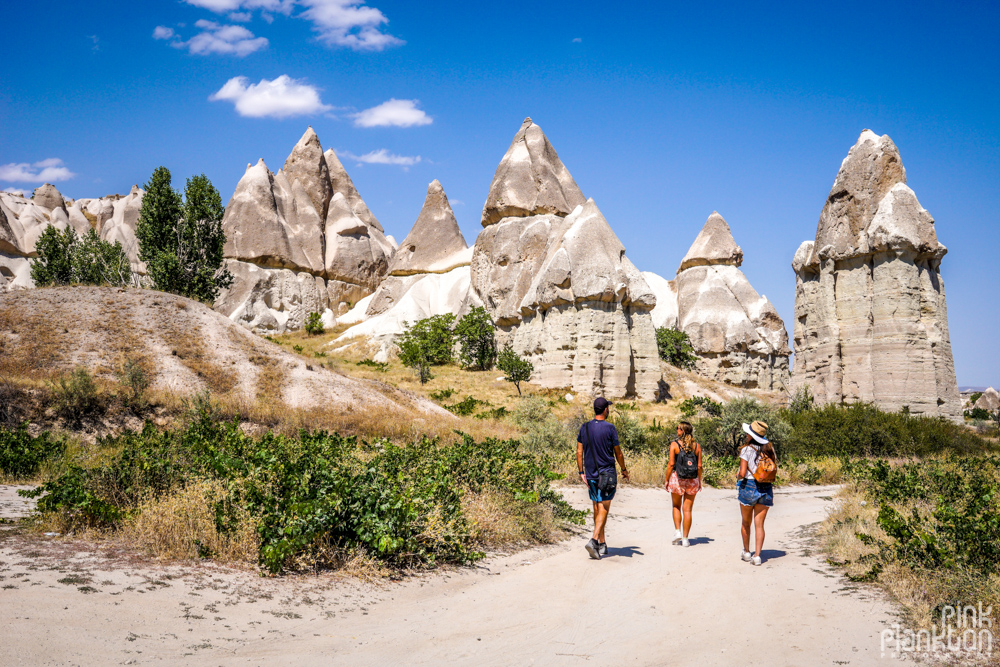 This was my most favorite hike I've ever done!  It's a 11km loop trail from Goreme, which takes you through a few other spectacular valleys in the area.  The trail starts off looking a bit like this.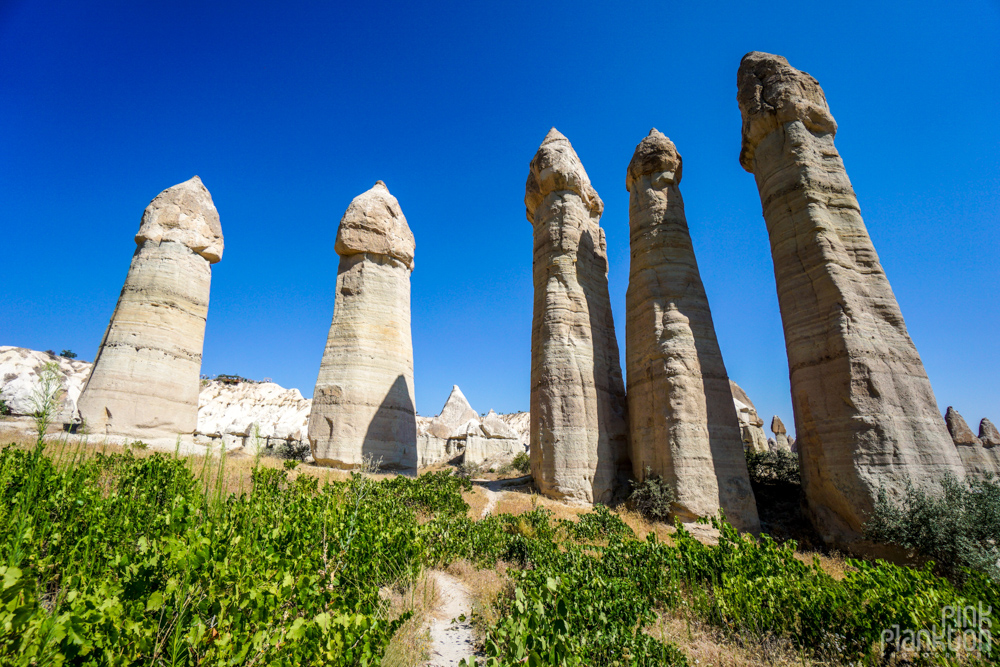 And then you enter the appropriately-named Love Valley.  So many giant penises!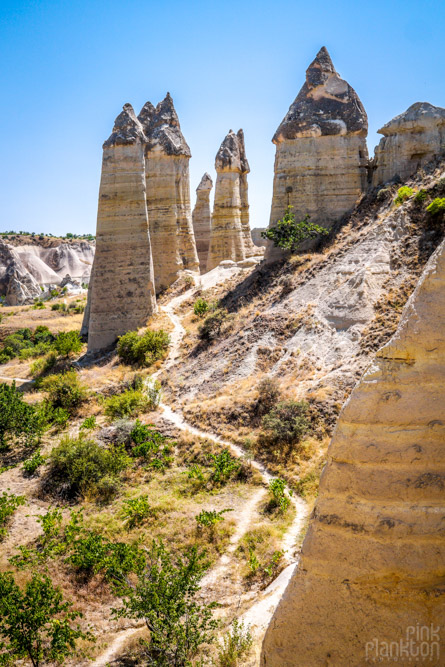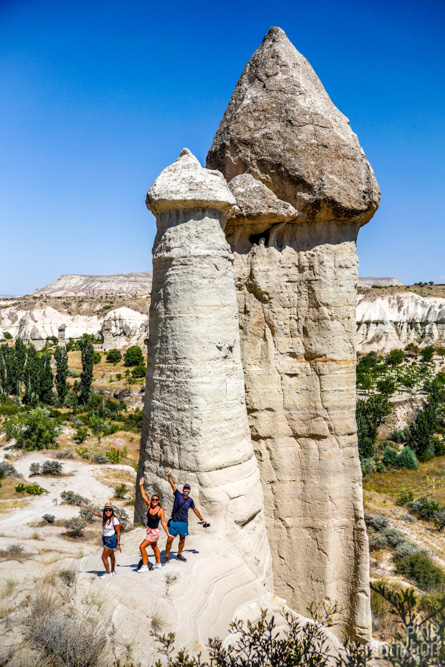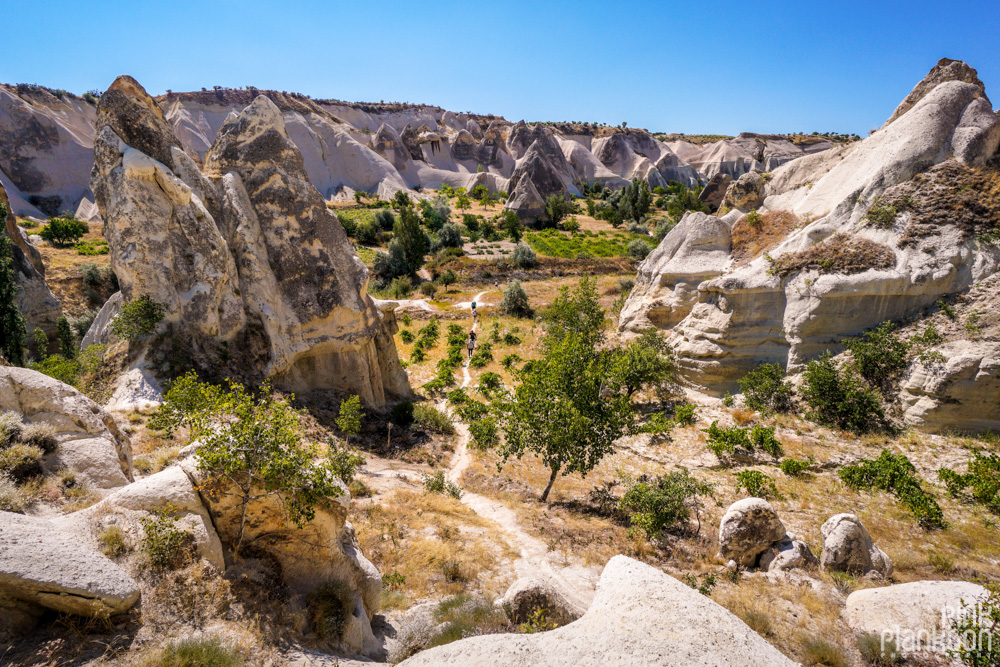 As you continue on the trail you enter White Valley.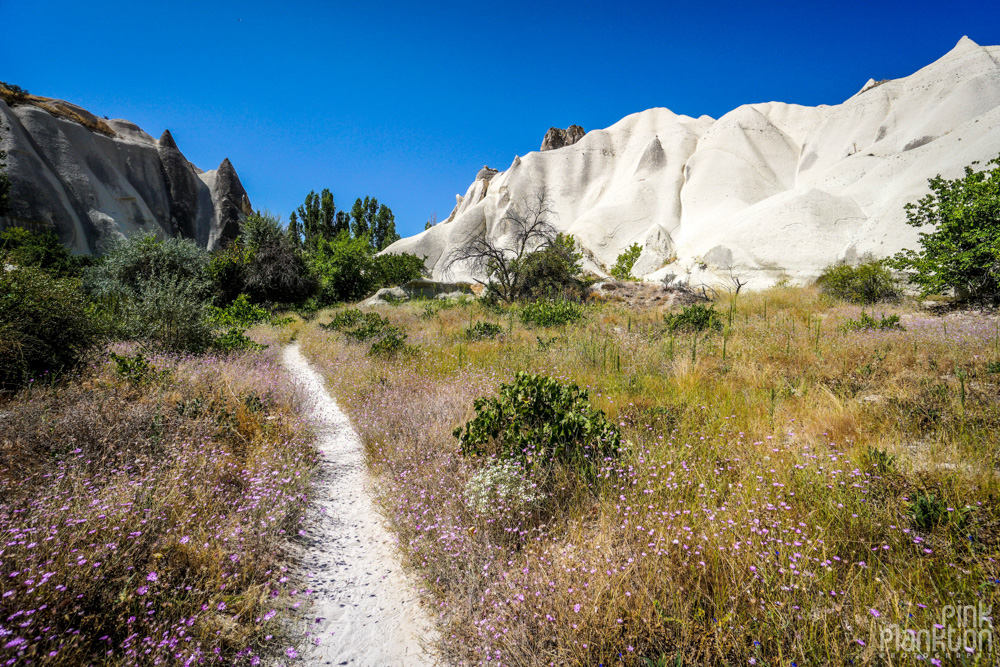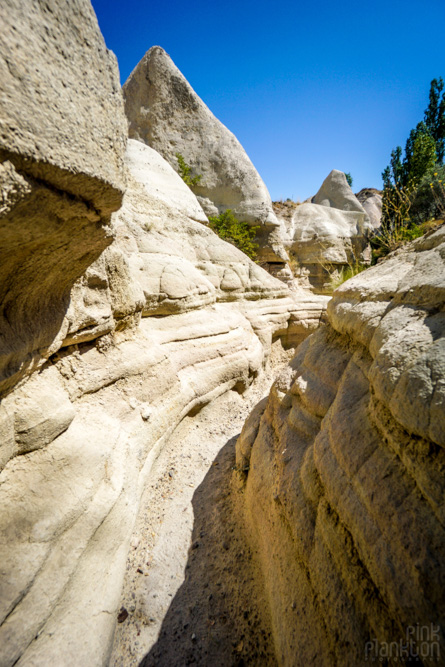 The trail leads you right through the rocks at some points.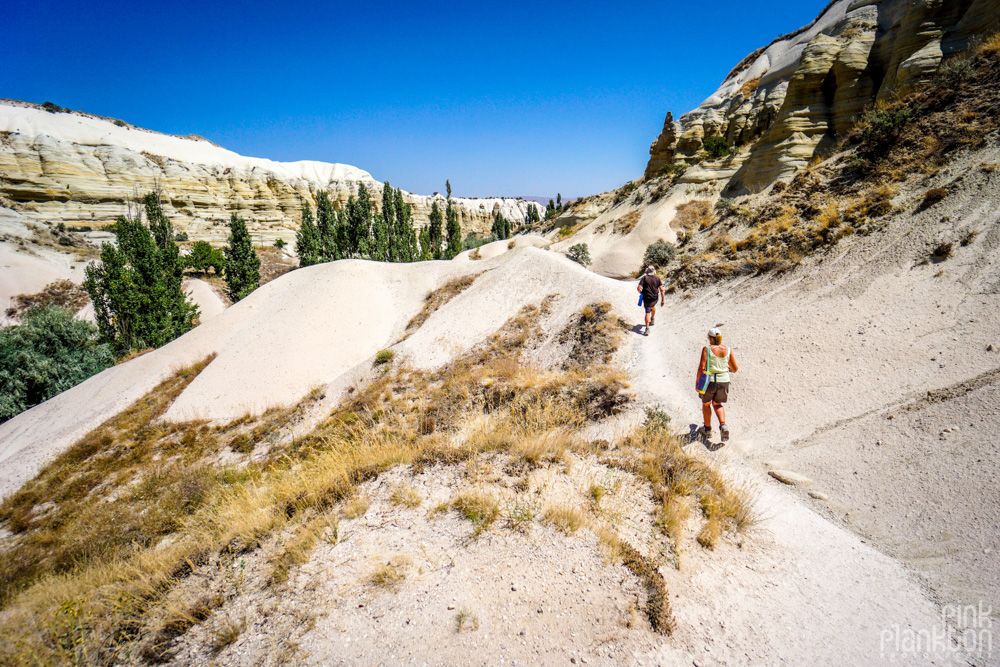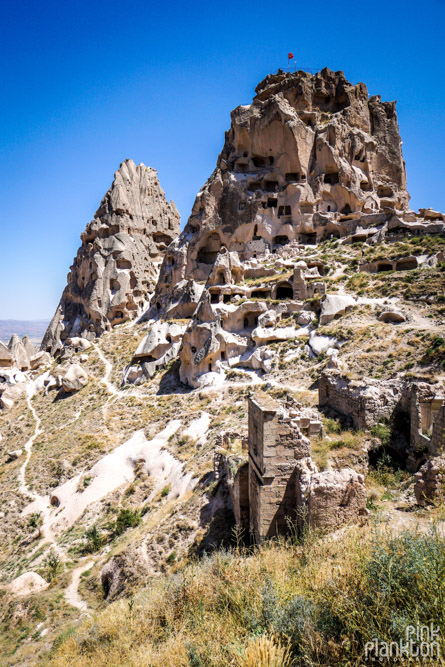 Eventually you reach Uchisar Castle.  The castle was carved into this giant natural rock and served as a fortress and shelter for local inhabitants during times of war and invasion.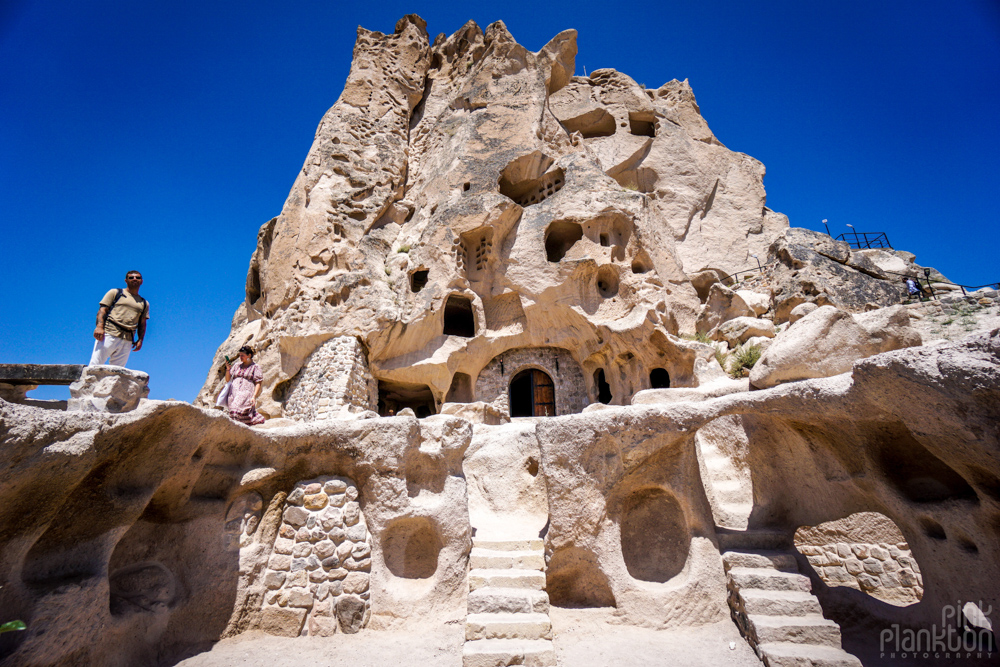 The castle up close.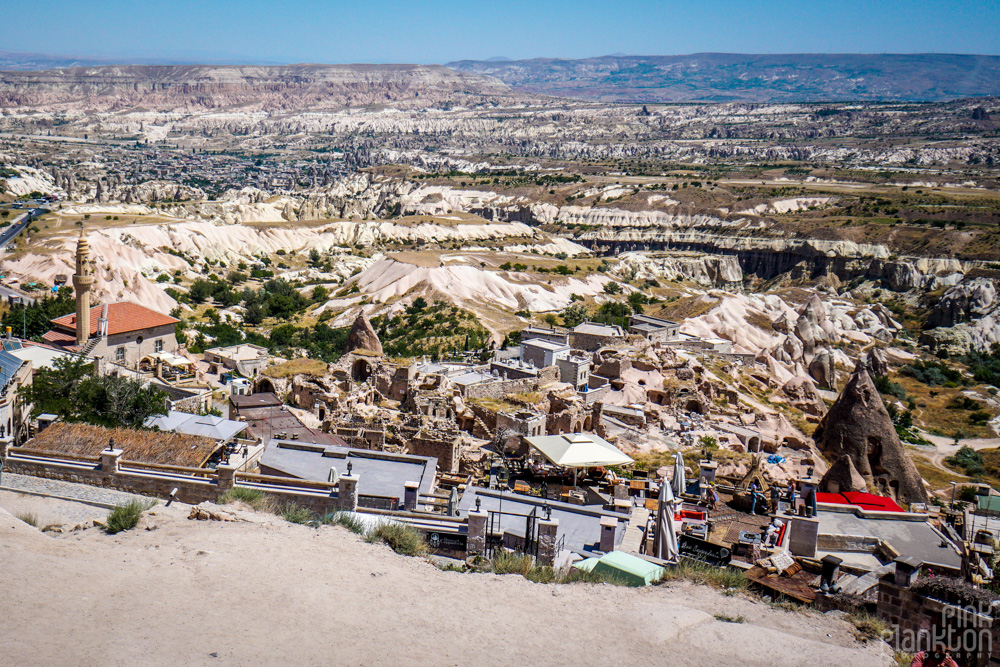 From up top you can get an amazing panoramic views of the surrounding landscape.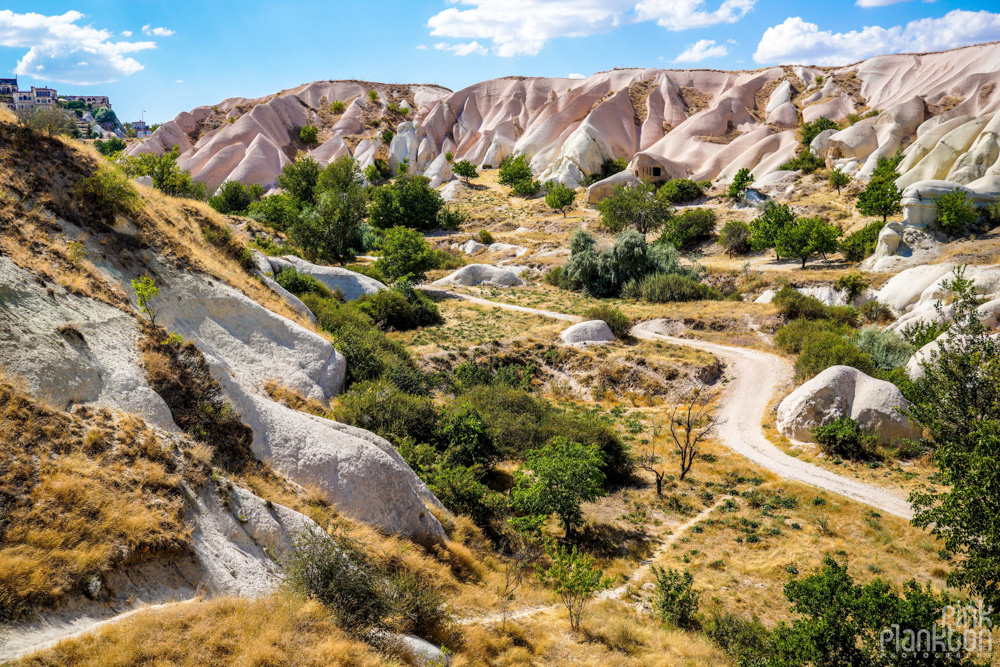 Afterwards you head back down into Pigeon Valley.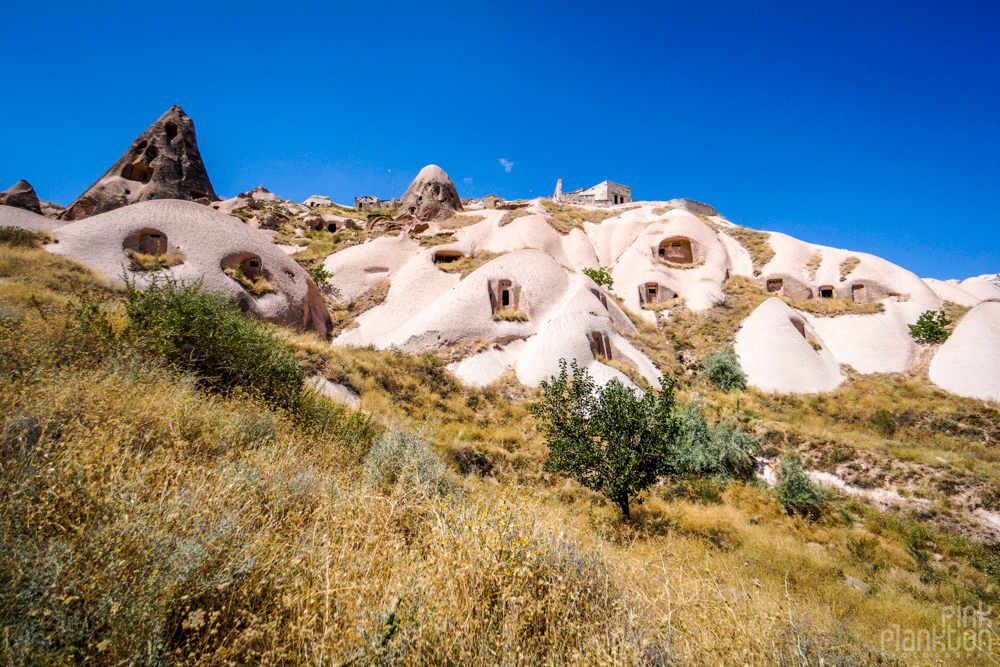 I tried to climb inside some of these houses and although it looks super easy, it's actually not!  I consider myself a good climber, but the entrances are super high up and with nothing to grip onto.  I have no idea how people used to get into them.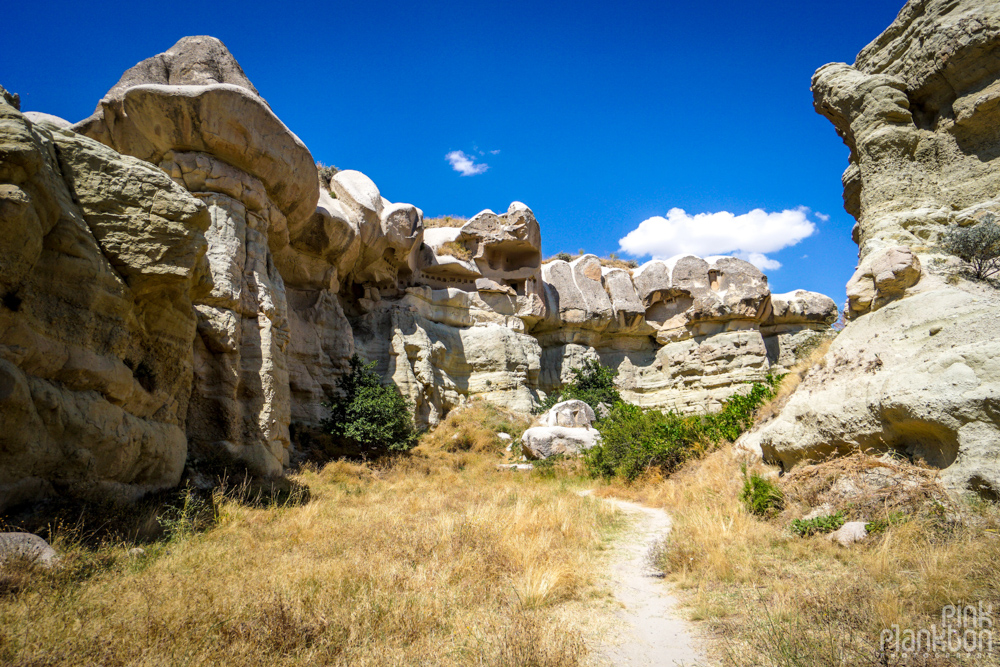 Pigeon valley is named after the thousands of pigeon houses or carved into the rock formations. These little houses were used as a way to collect pigeon droppings, which were a valuable fertilizer for the agricultural fields. Additionally, the pigeons themselves were used for their meat and eggs.  You can see the pigeon houses a bit in the photo above.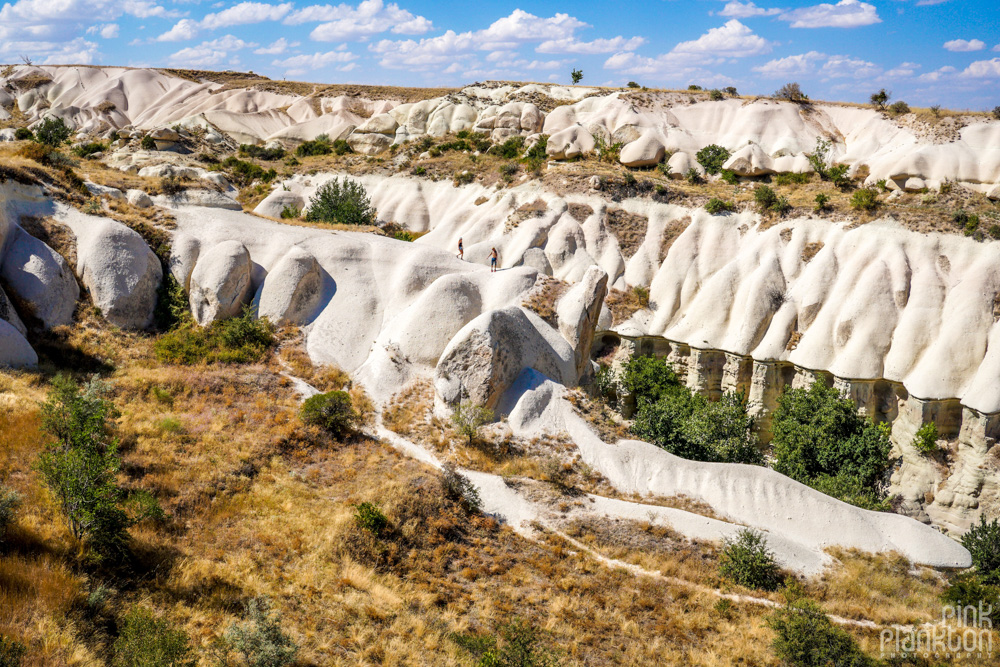 I really liked these particular rock formations.  If you look closely there are 2 people in the photo above, so you can really notice the scale of these.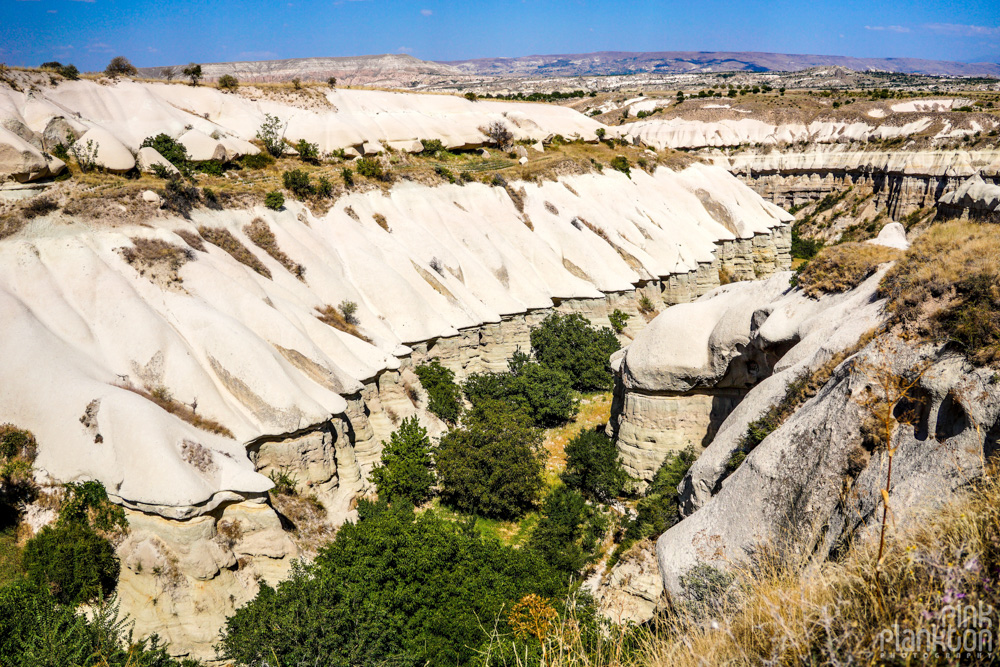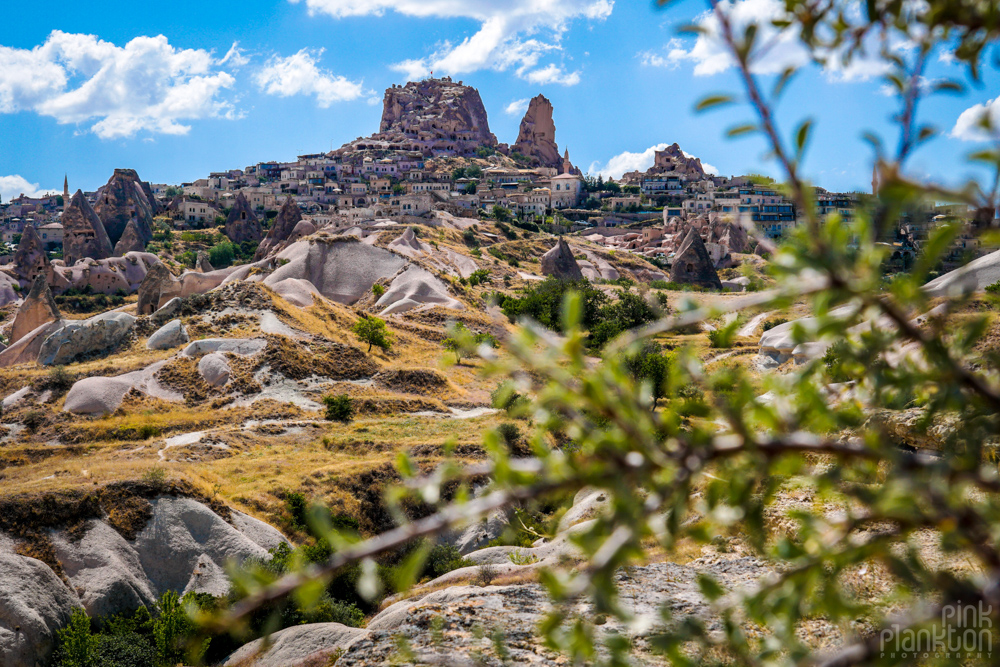 View of Uchisar Castle from afar.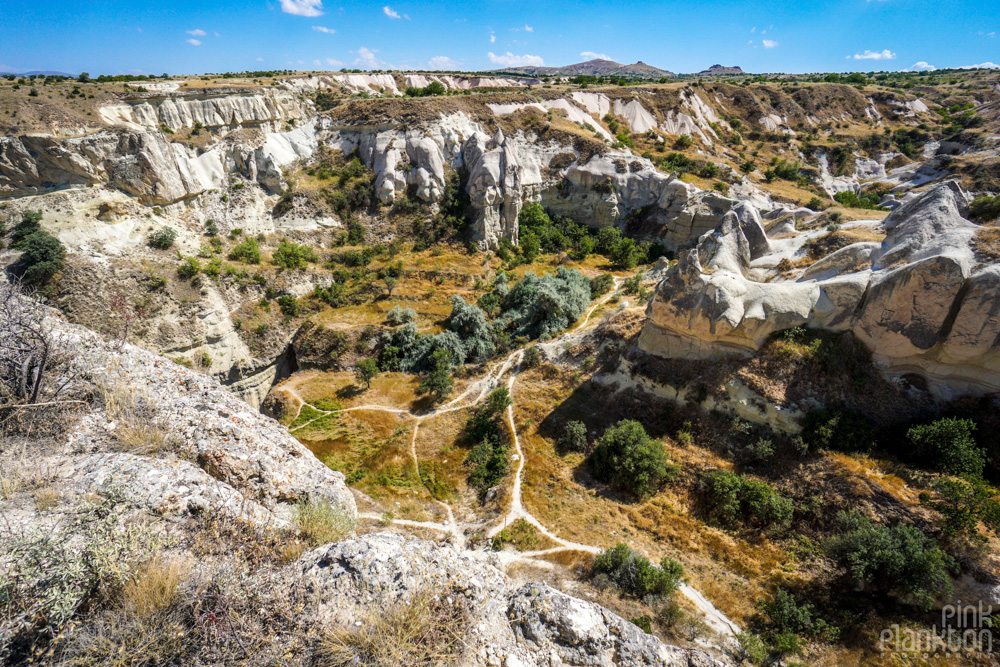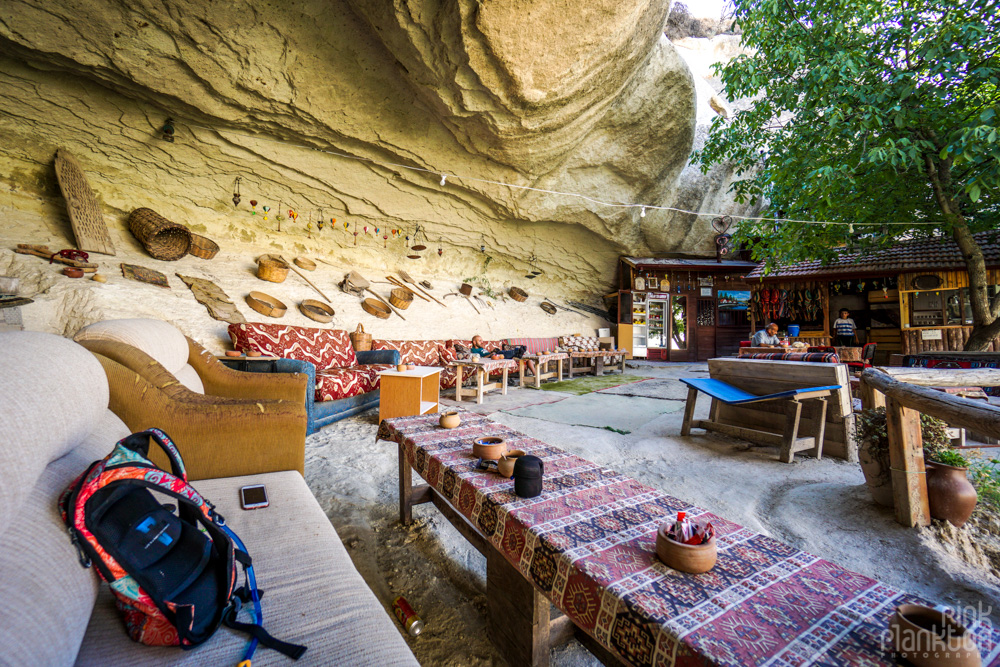 I came across another cafe built right into the cave.  The owner was super nice, he's been running this cafe for 10 years!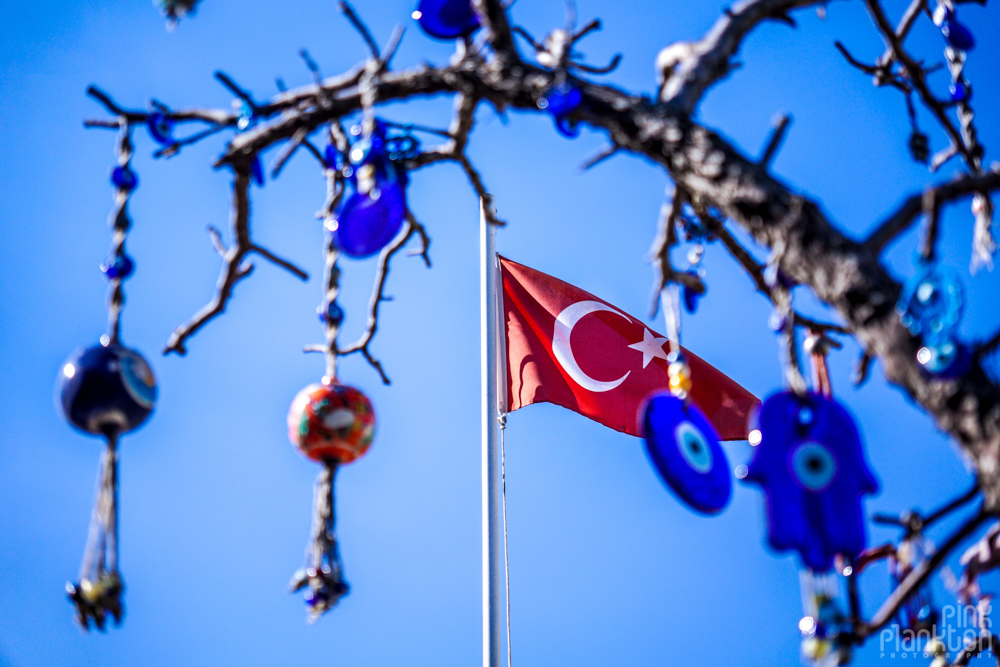 A beautiful display of nazar boncuks or the blue evil eye hanging out in front of the cafe.  You will see these everywhere in Turkey.  They protect against evil.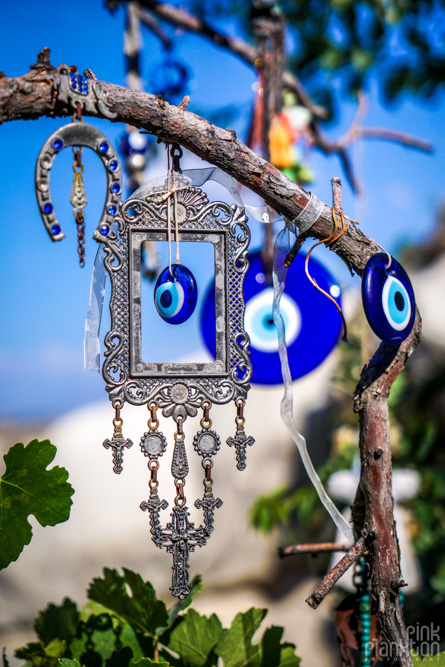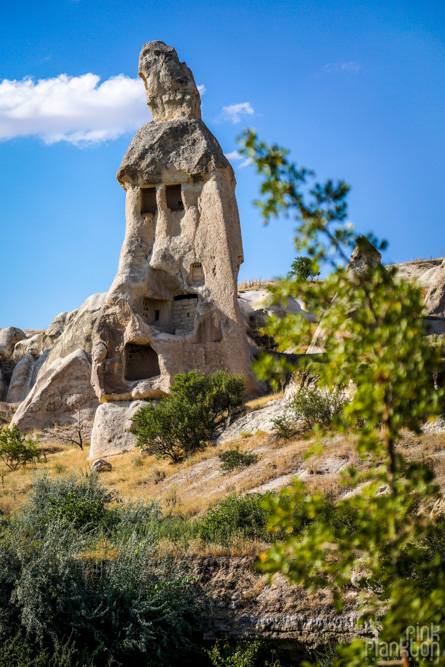 Zelve Open Air Museum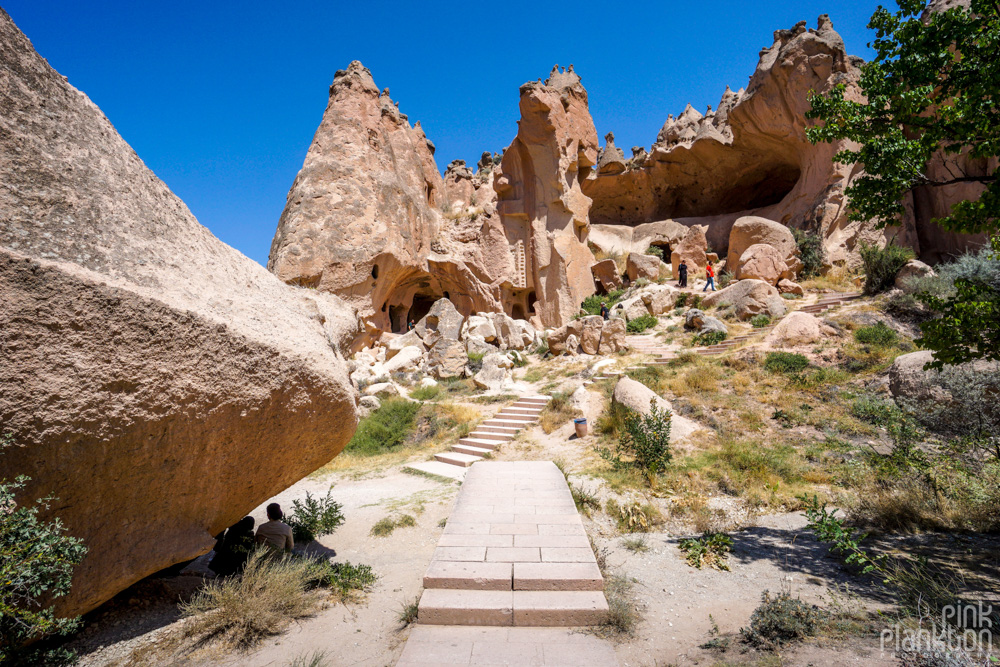 The Zelve Open Air Museum is a fascinating historical site that showcases the unique rock-cut architecture and daily life of the region's former inhabitants.  As it is a museum, you will come across many other people here, and there are some restricted areas, but it's still pretty cool to check out and explore.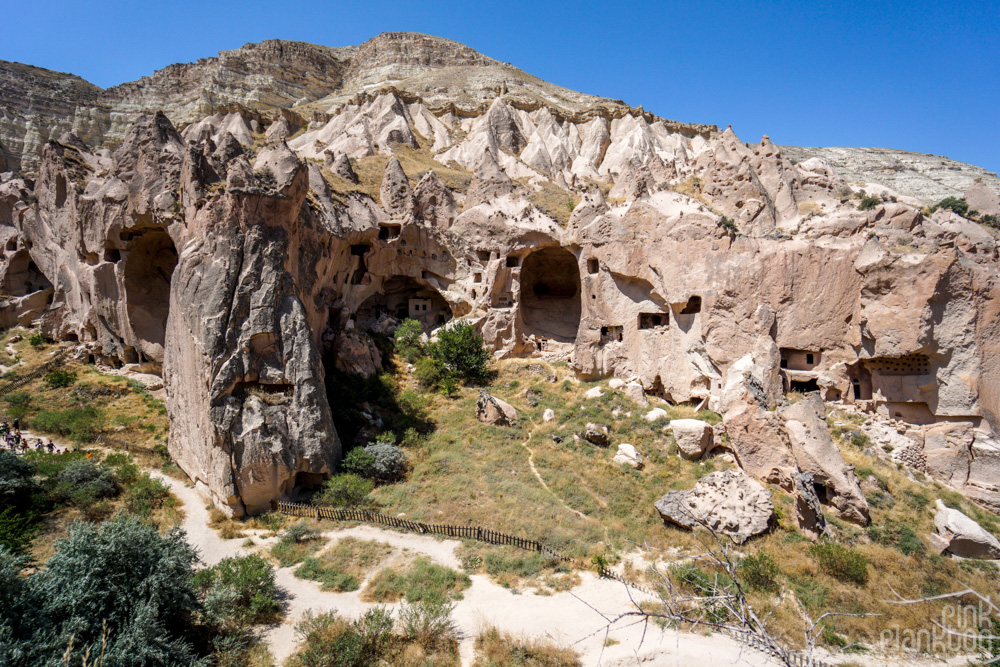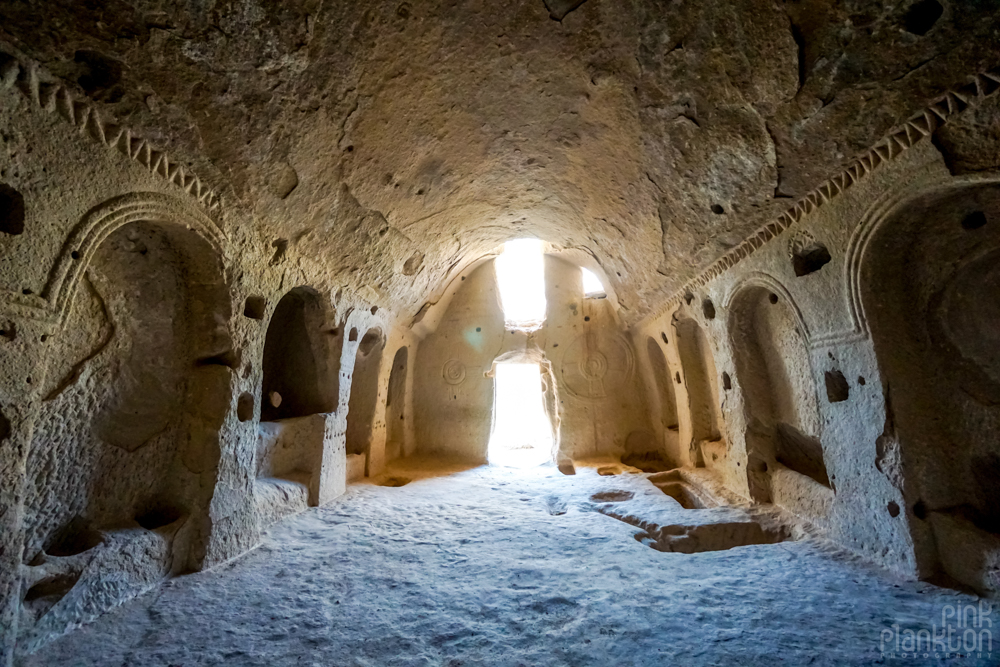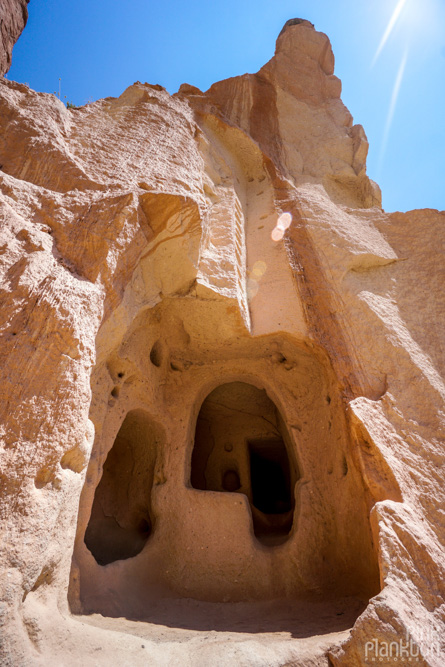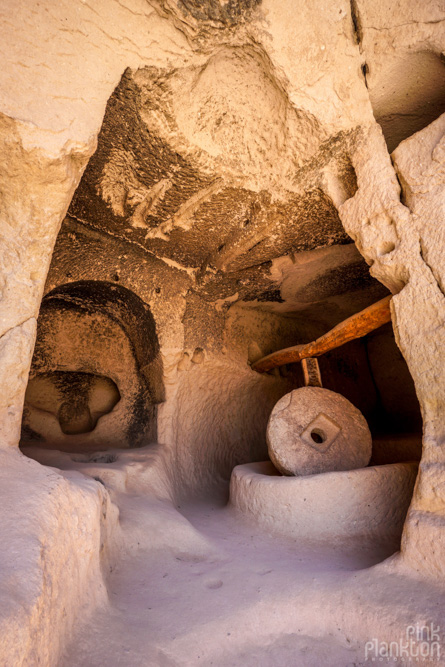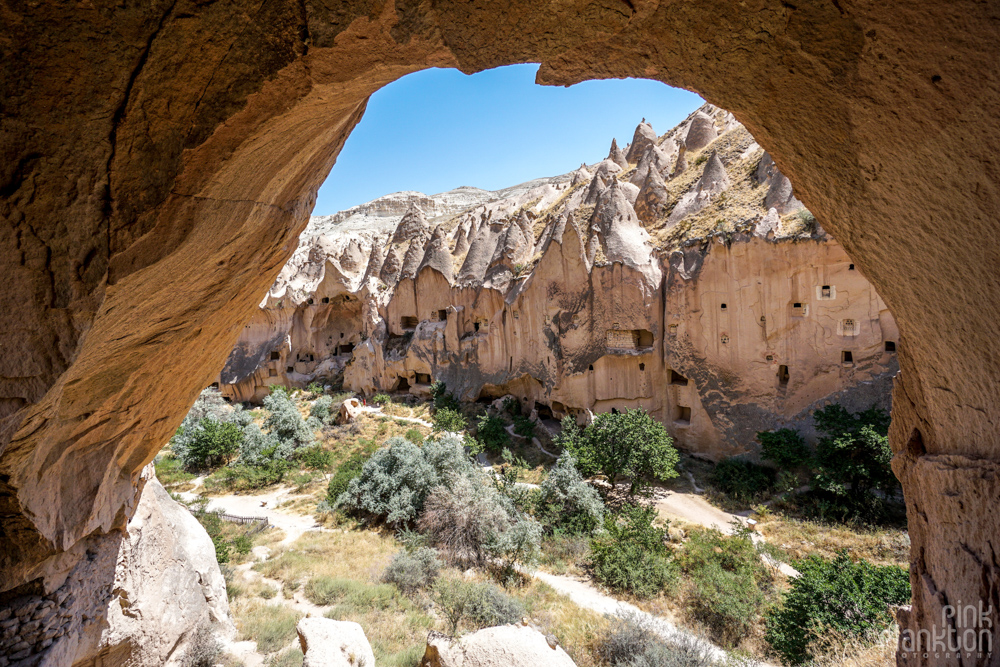 Goreme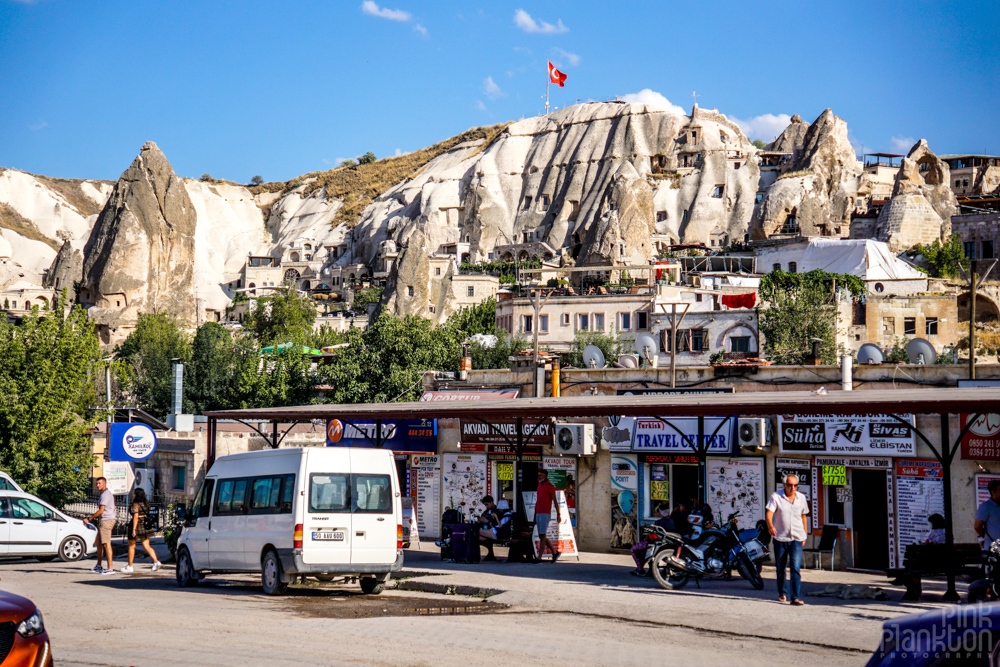 Goreme is the main town where most people stay when visiting Cappadocia. The town is built literally right into the landscape. I found it cool just to walk around and observe how different hotels, restaurants, and other businesses have integrated the caves and rock formations into their architecture.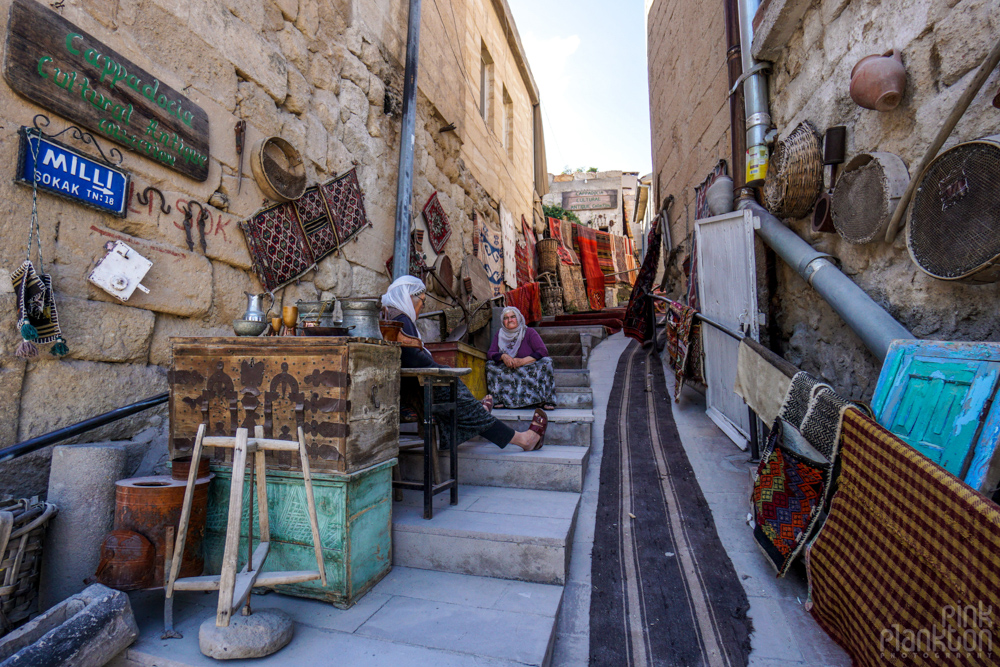 I stumbled upon this amazing hidden gem of an antique store.  It's called the Cappadocia Cultural Antique Collection.  It's not marked on Google Maps but if you walk down this decorated small alley called Milli Sk. you will find it.  The owner Mustafa is super friendly and has had a pretty interesting life and some awesome stories to share.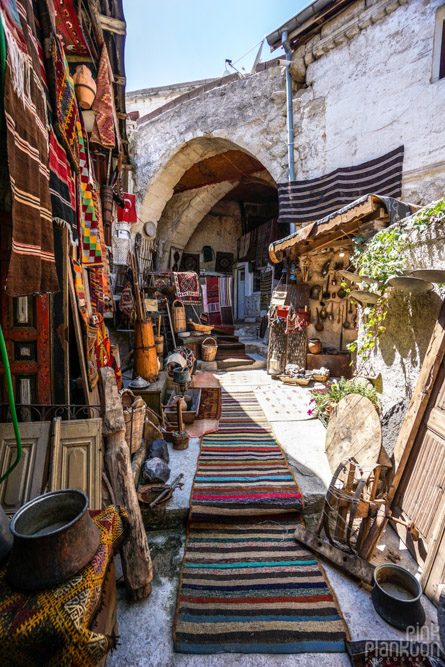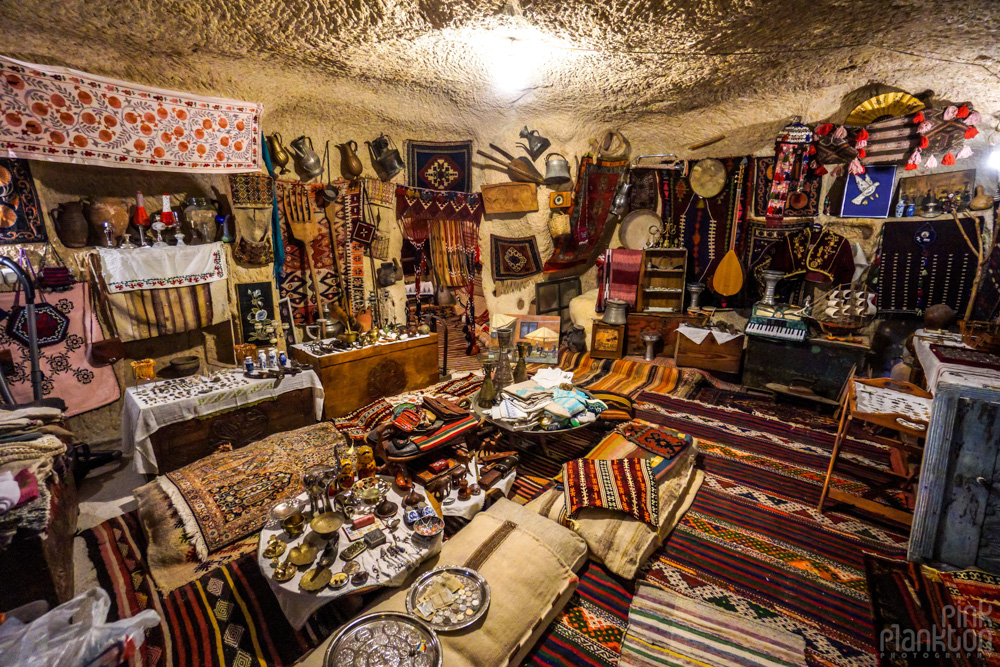 There are many rooms to explore and tons of interesting artifacts.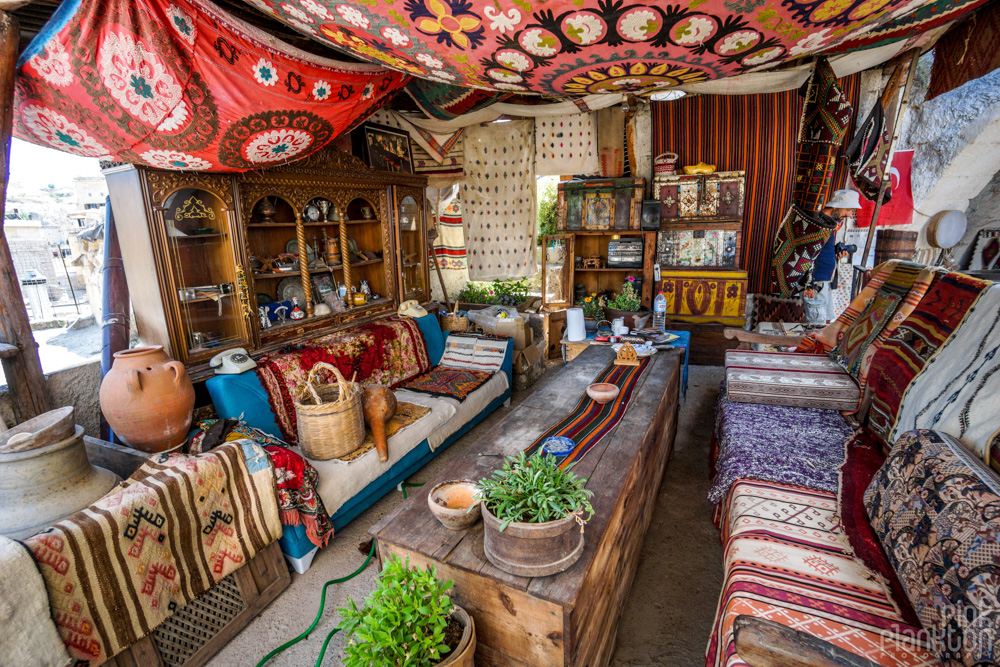 There is a lovely rooftop where you can come chill out and chat with Mustafa and his friends.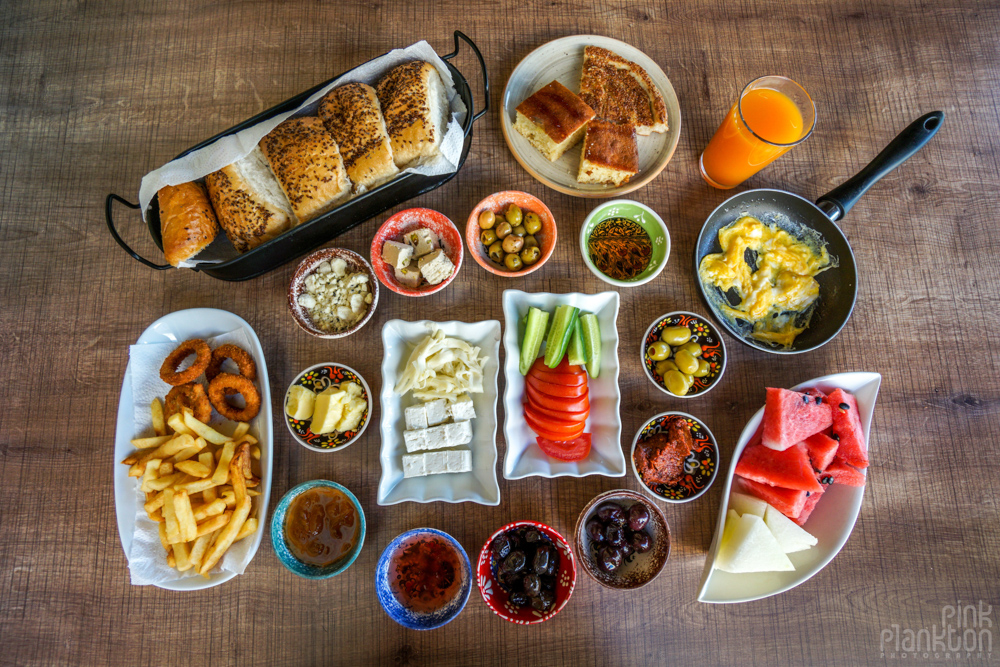 Lastly, the best breakfast I had in Turkey was my free hotel breakfast every morning at Azalea Terrace Hotel. It's a nice, small, family-run hotel.  I had a great stay there and would highly recommend it. 
---