South Korea is just full of things that make you smile, sometimes in a confusing manner.  Here is a photographic journey of some of the random, strange, quirky, weird, odd, or just plain cool things I saw when I visited in 2018:
1. Glass Museum
The Jeju Glass Castle Theme Park is more of a sculpture park or museum, per se.  You can spend an hour walking around the interesting glass objects they have arranged in peculiar ways.  Jeju Island has over 100 very randomly themed parks and attractions.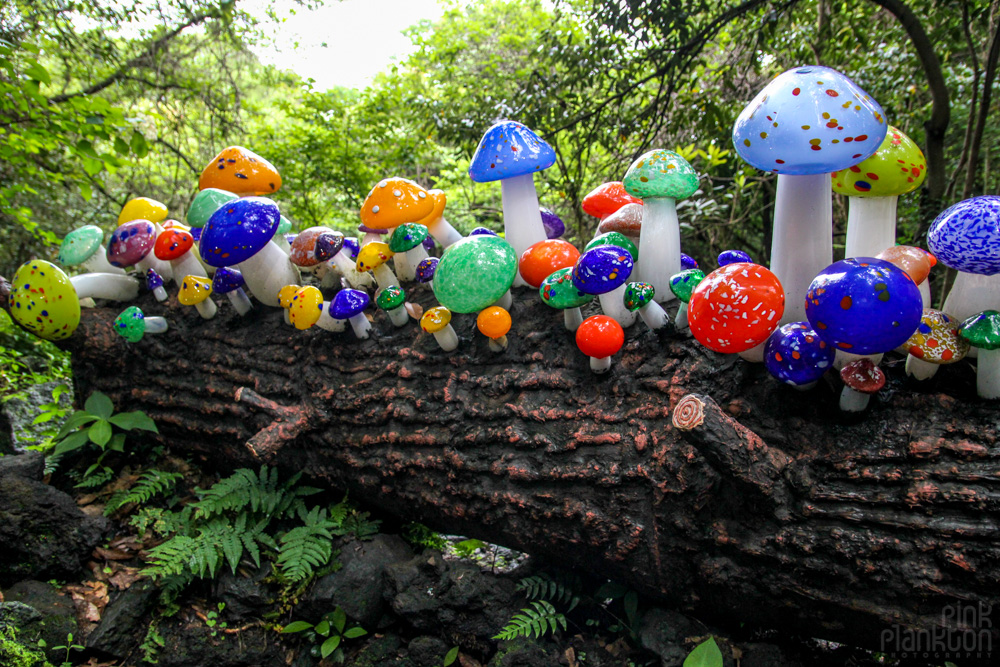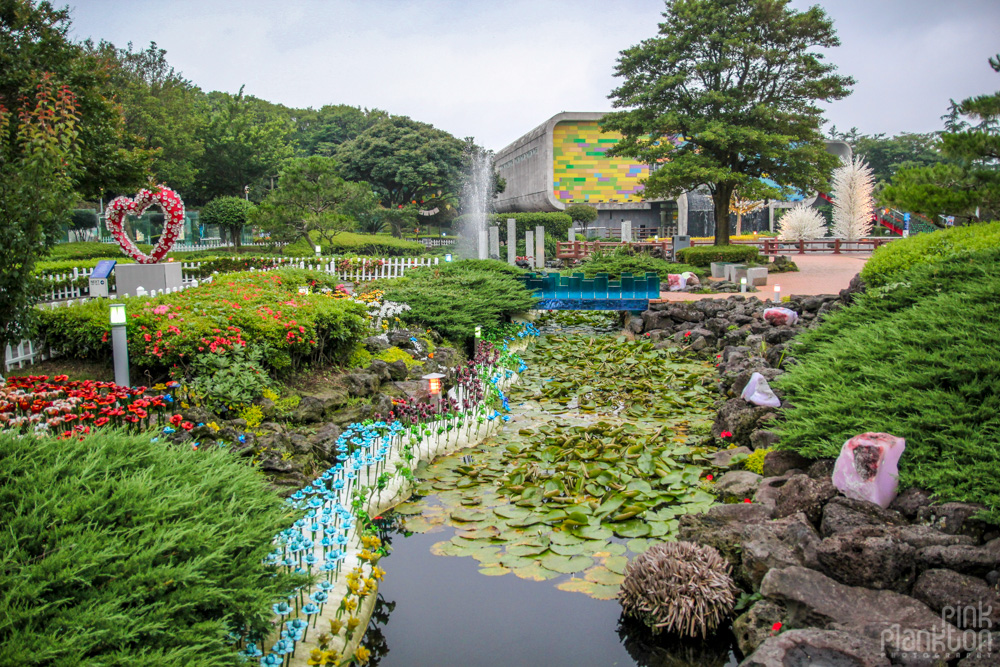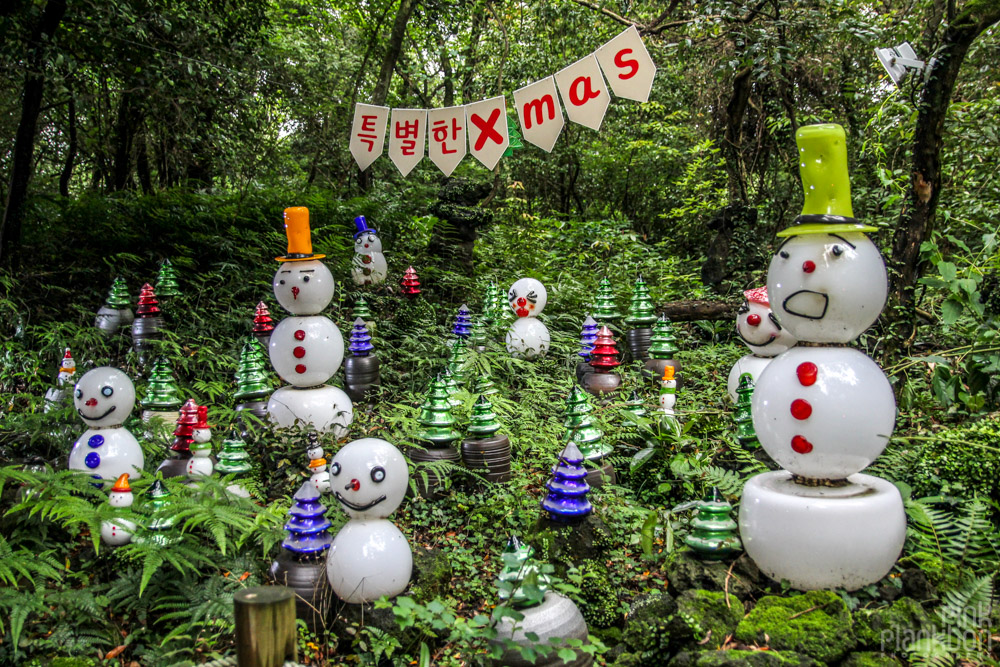 2. Poop Cafe
South Korea has many themed cafes and poop is one of them.  It's located in the Insadong area of Seoul.  Everything from the decor to the food and drinks is poop-themed.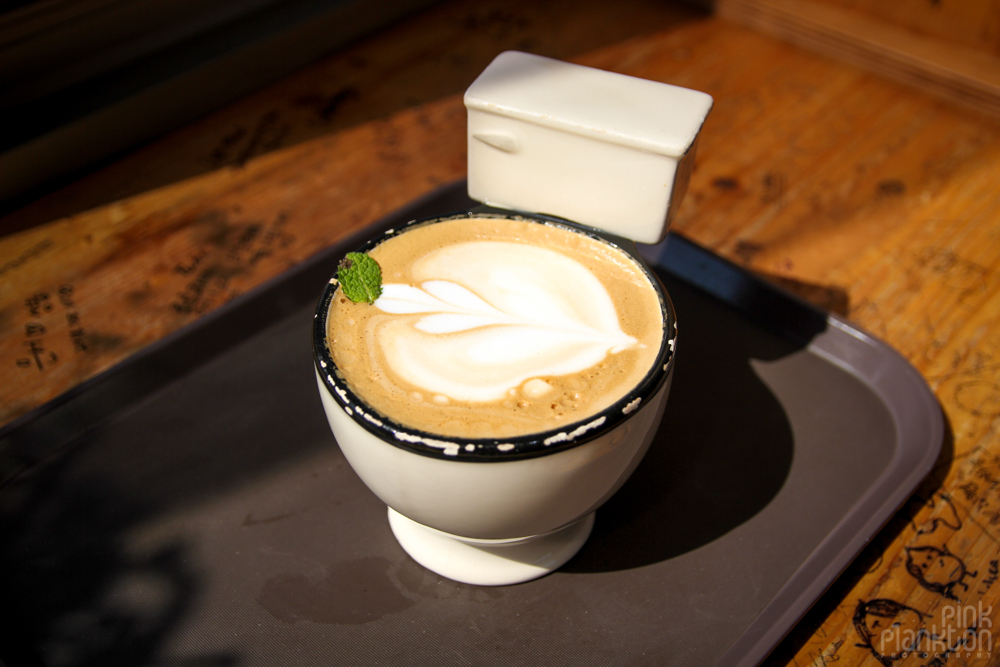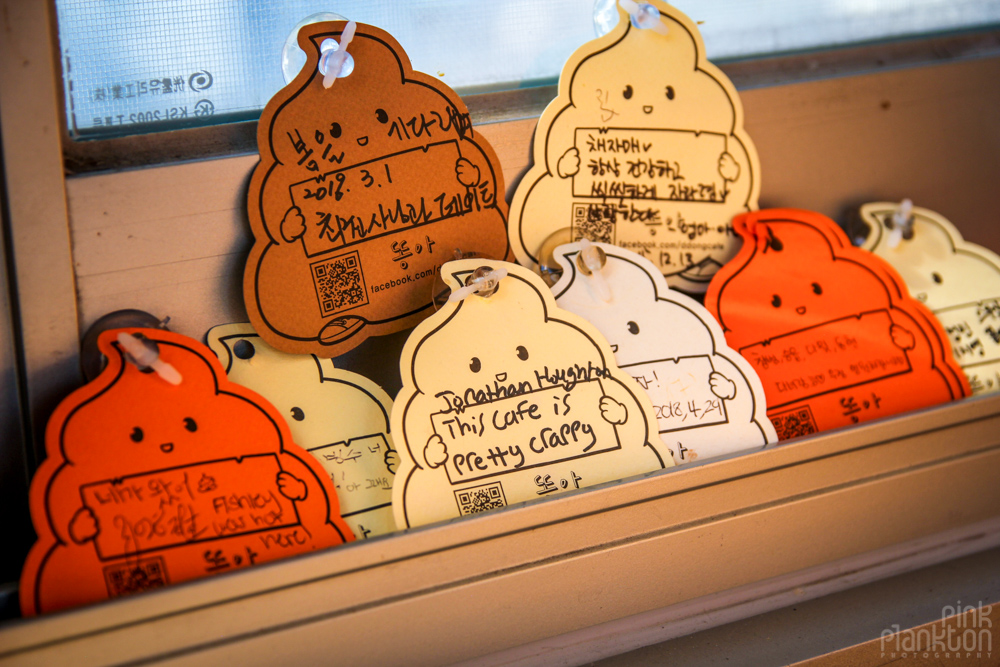 There is a stall just outside the cafe that sells poop-shaped choco-bread.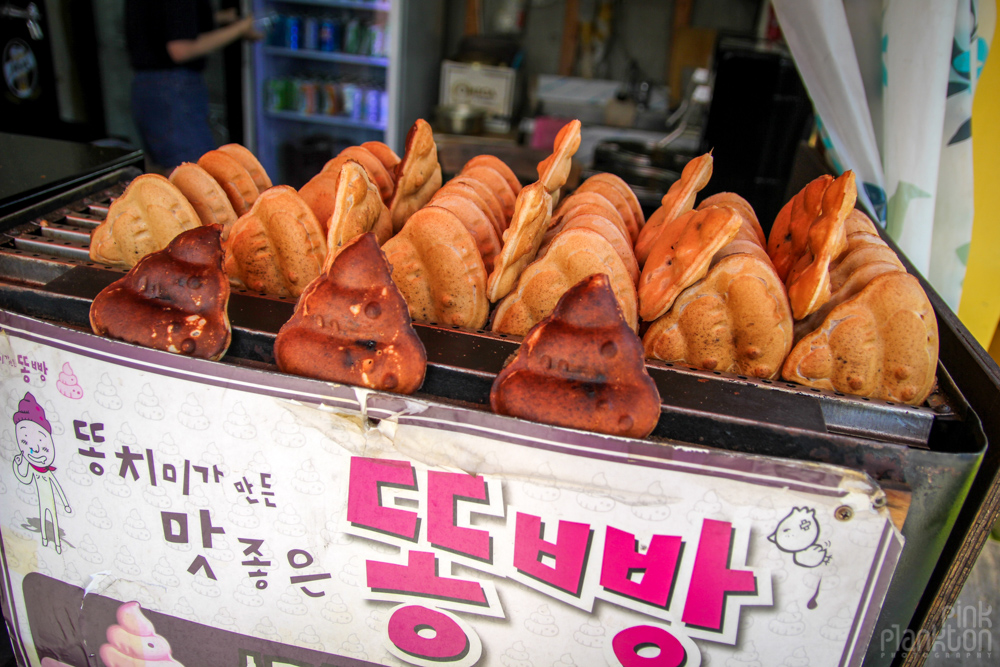 3. Sex Theme Park
Love Land is another one of Jeju Island's interesting "theme parks" (which are more like sculpture parks).  It was definitely one of the most unique experienced I had in this country.  Here are just a couple photos, but I highly recommend you check out my full post on Love Land for more!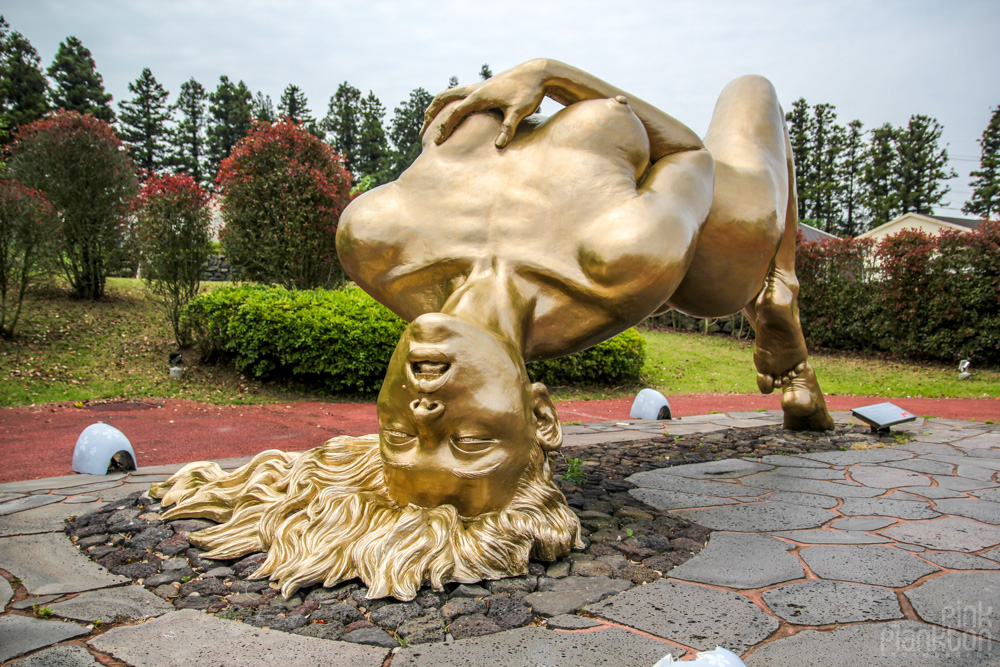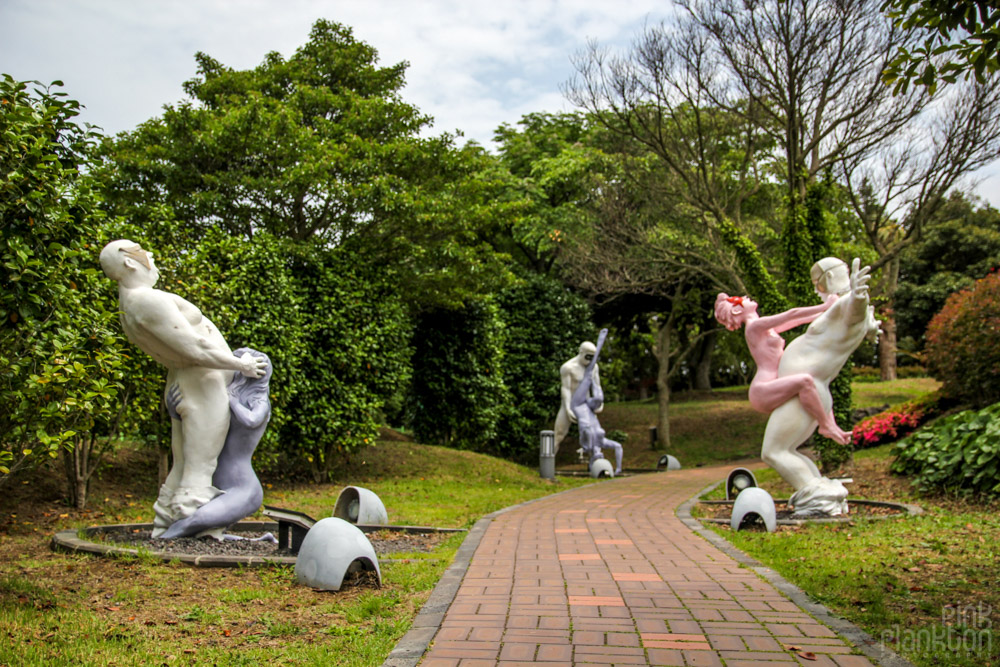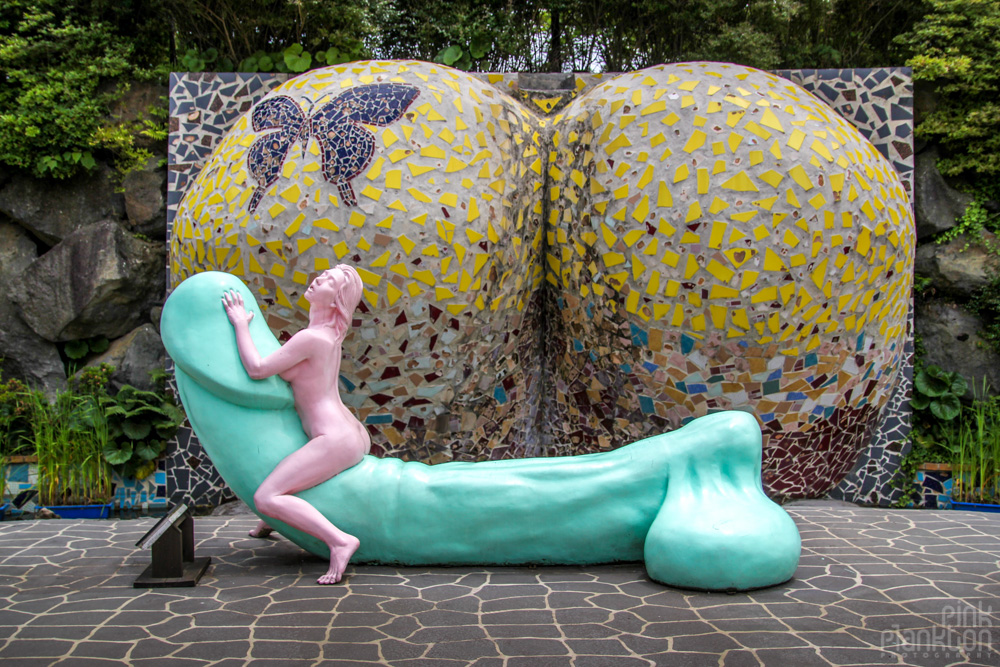 4. Ramen Garbage
This garbage is for ramen soup and nothing more.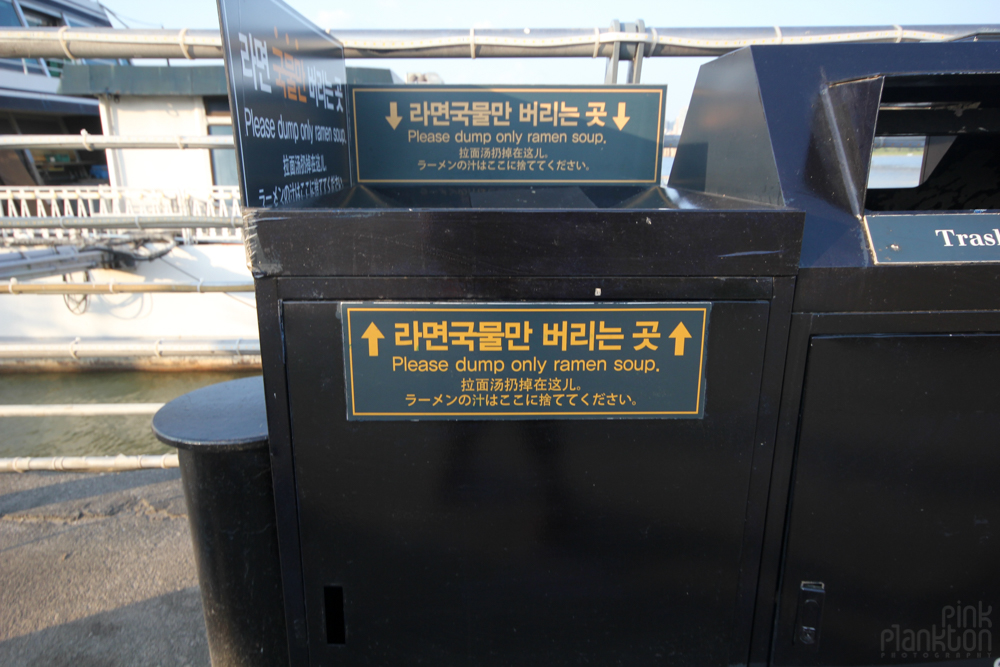 5. Rainbow Village
Gamcheon Culture Village is located in Busan. It's a beautiful, colorful little village on a mountainside that you can meander throughout and get lost in.  It used to be a shanty town, until the government recently decided to give it a face lift and turn it into a tourist attraction.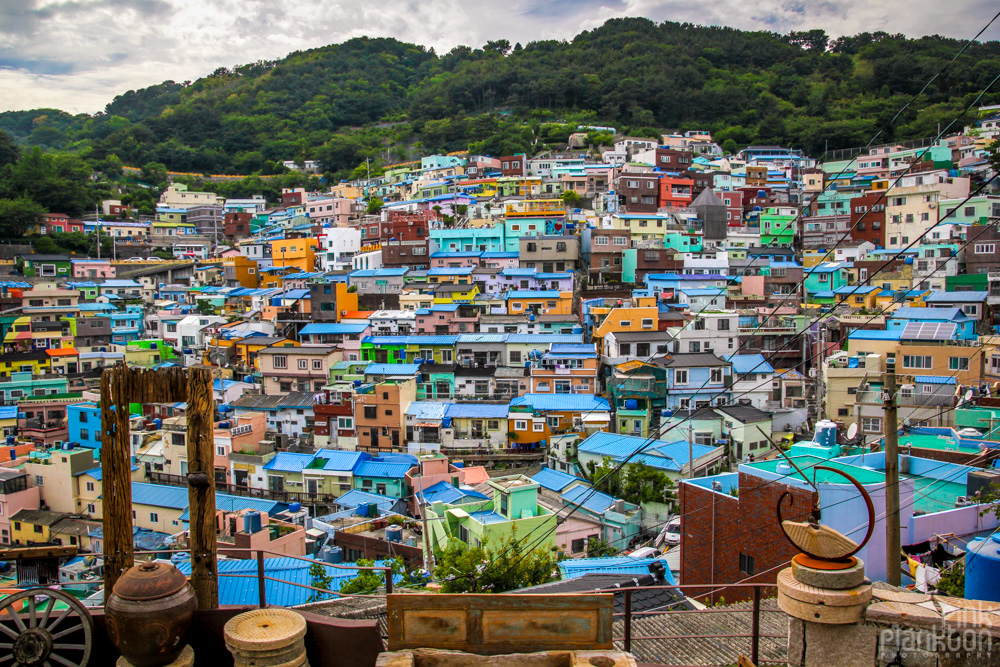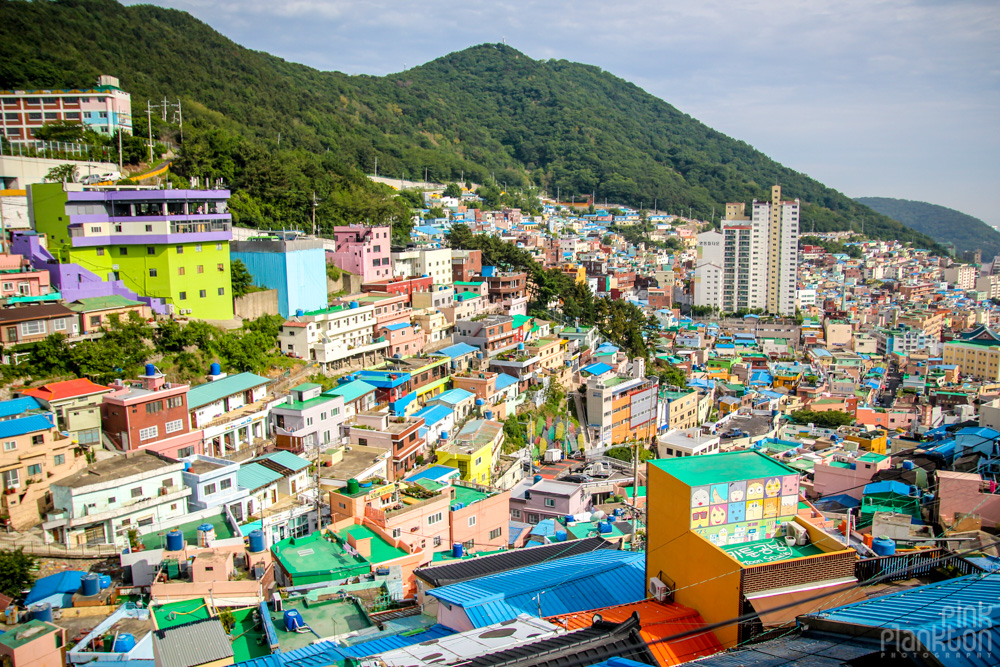 6. Gangnam Style
Gangnam is actually an area of Seoul, known for being a bit "posh".  They have a little tribute to Psy on one of the main intersections.  Tourist pose photo is an absolute must.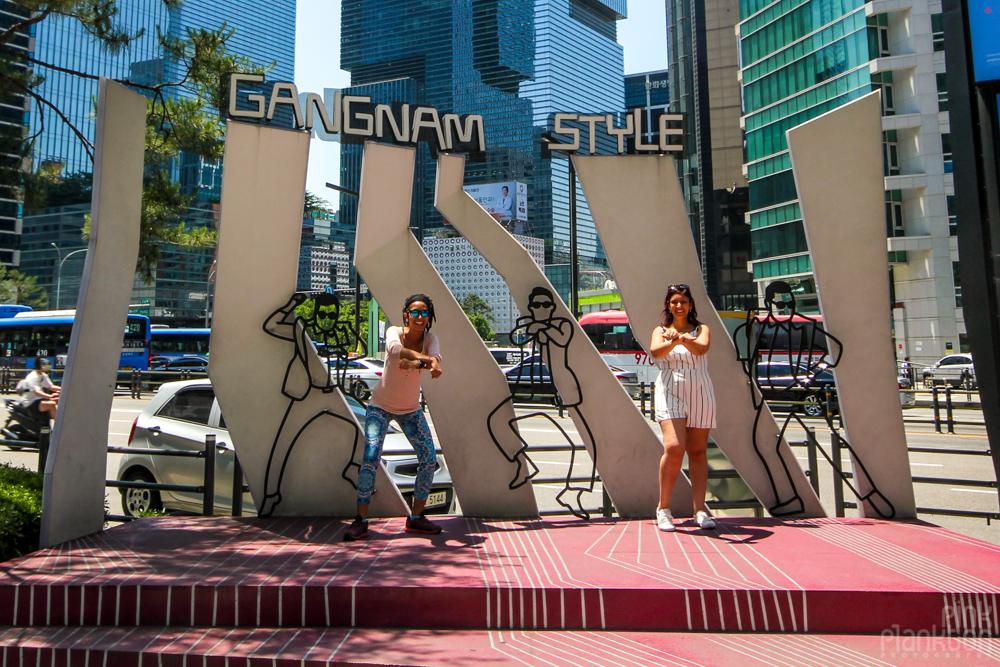 7. Seaweed
Who knew there were so many types of seaweed.  This was taken at a market in Seoul.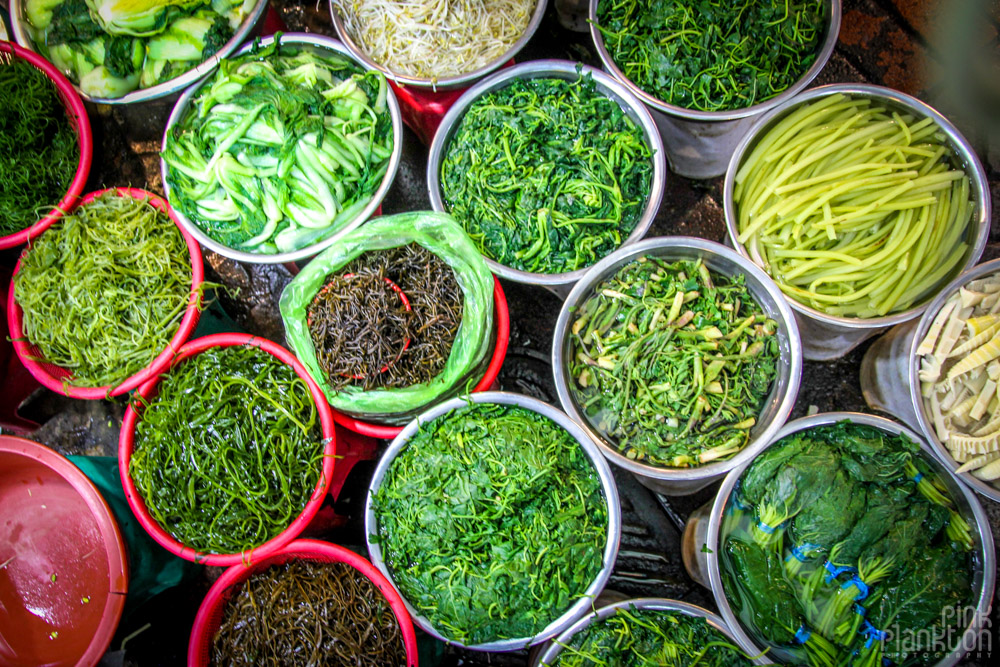 This is seaweed drying.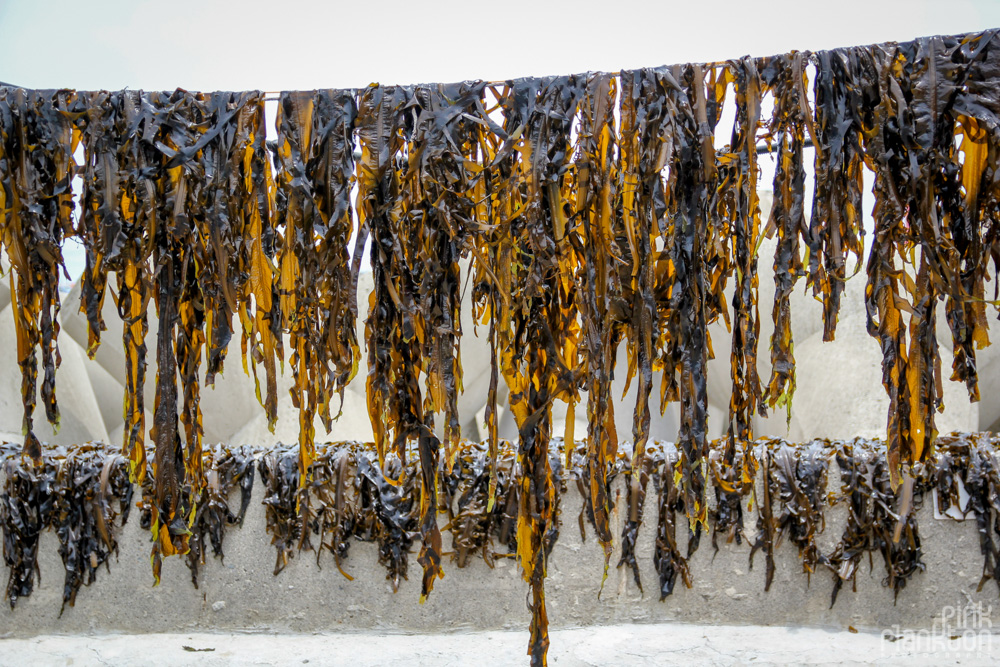 8. Colorful Lanterns
These were taken at the Jogyesa Temple in Seoul.  They are so pretty!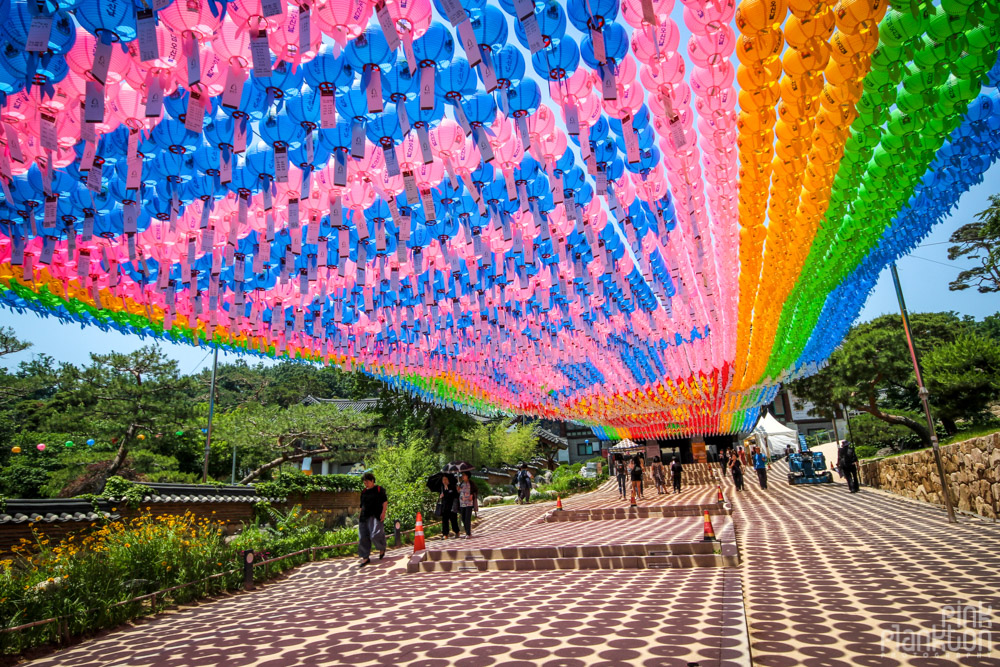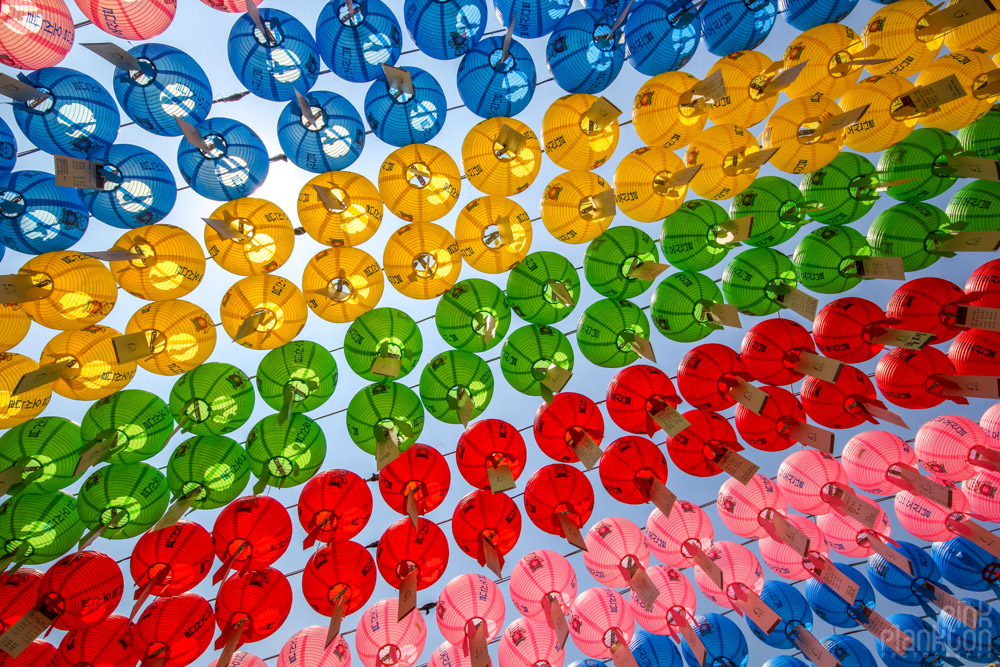 9. Crab Mailbox
Just plain cute.  This was found on Jeju Island.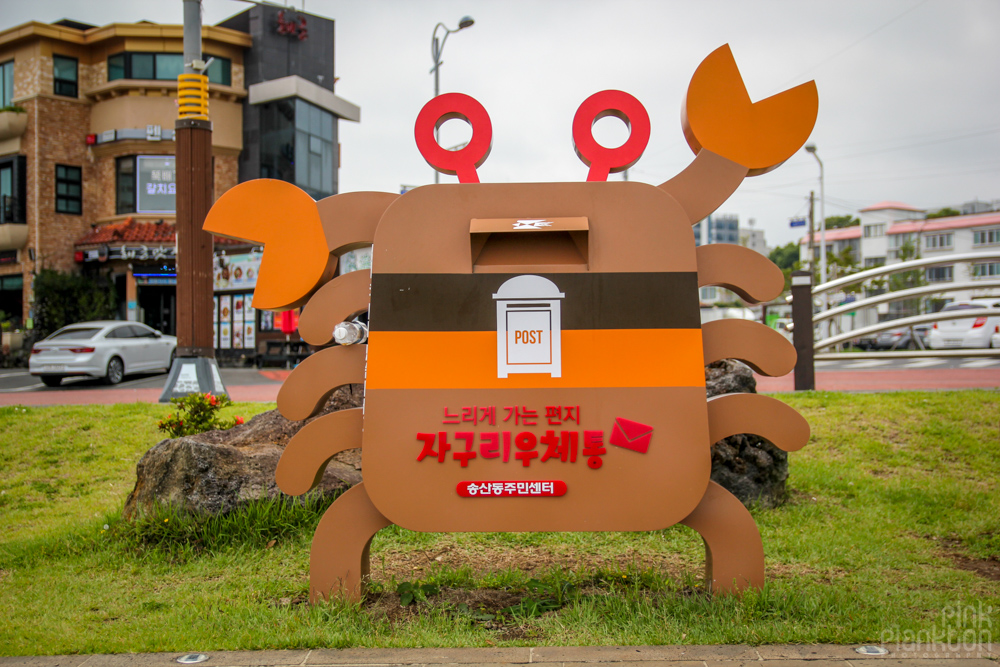 10. Photo Shoots
We all know Asians love taking photos (I am Asian, so I'm allowed to say this non-offensively), but Koreans take it to the next level.  They really LOVE their photo shoots.  At the temples you can rent out a hanbok or other traditional dress to take photos in.  It's sometimes quite entertaining to watch people take a bagillion photos of themselves.  This particular photo was taken at Changdeokgung Temple in Seoul.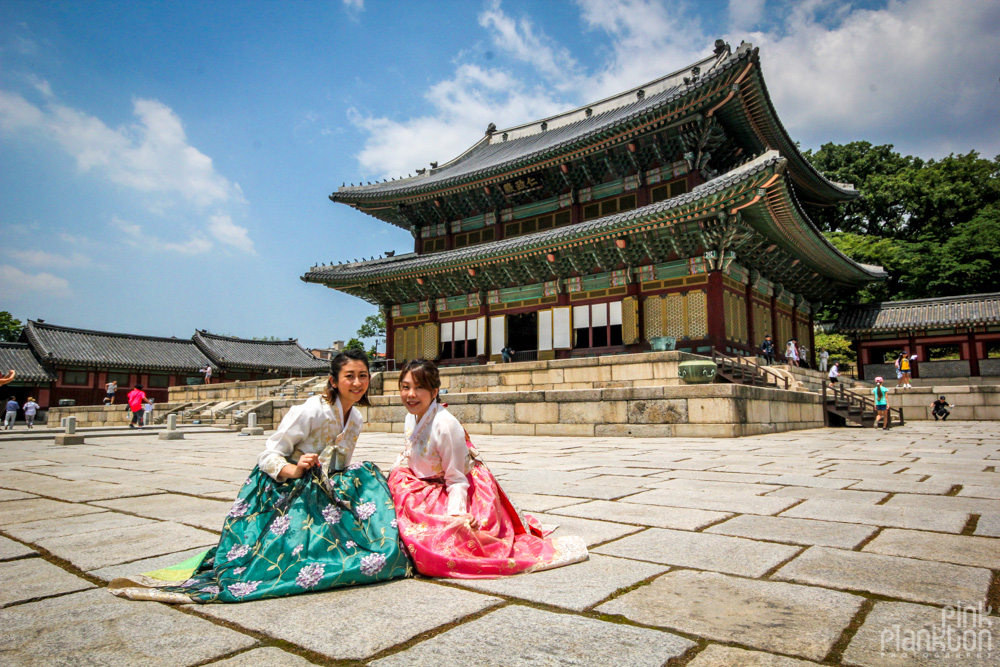 11. Abandoned Theme Park
Yongma Land in Seoul has been closed since 2011, but the defunct park remains.  Unlike most abandoned sites, this one is quite easy to access.  A man at the gate charges the equivalent of about $5 for entrance.  It's also quite a popular attraction with the locals. The day I went, there were at least 20 others in the park, many of whom were there solely for the purpose of taking photos of themselves.  Koreans take their photo shoots seriously.  They come with costume changes, props,  accessories, and selfie sticks, all ready to go.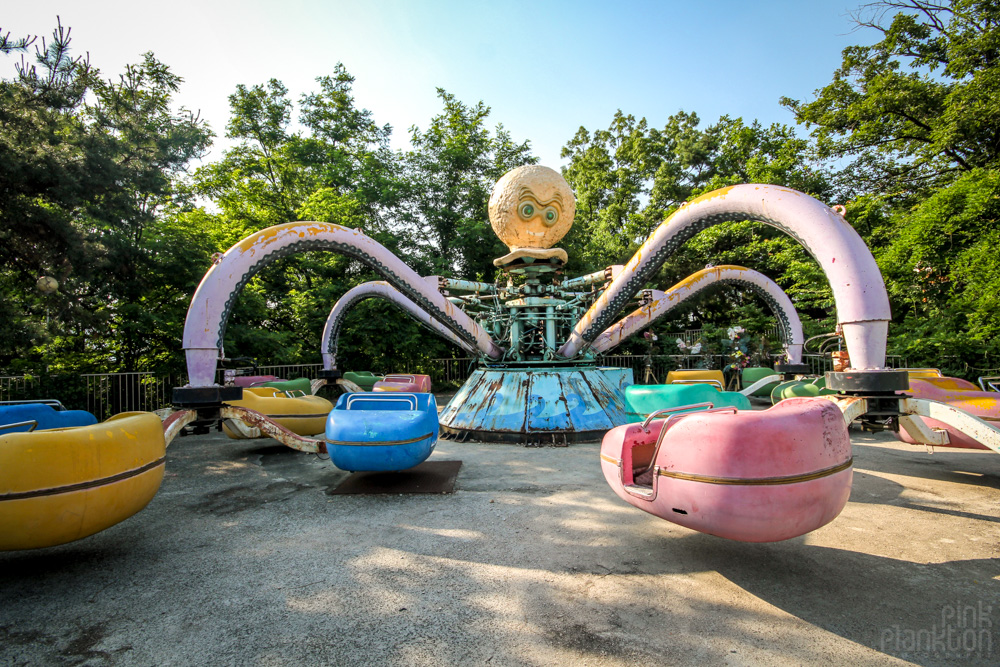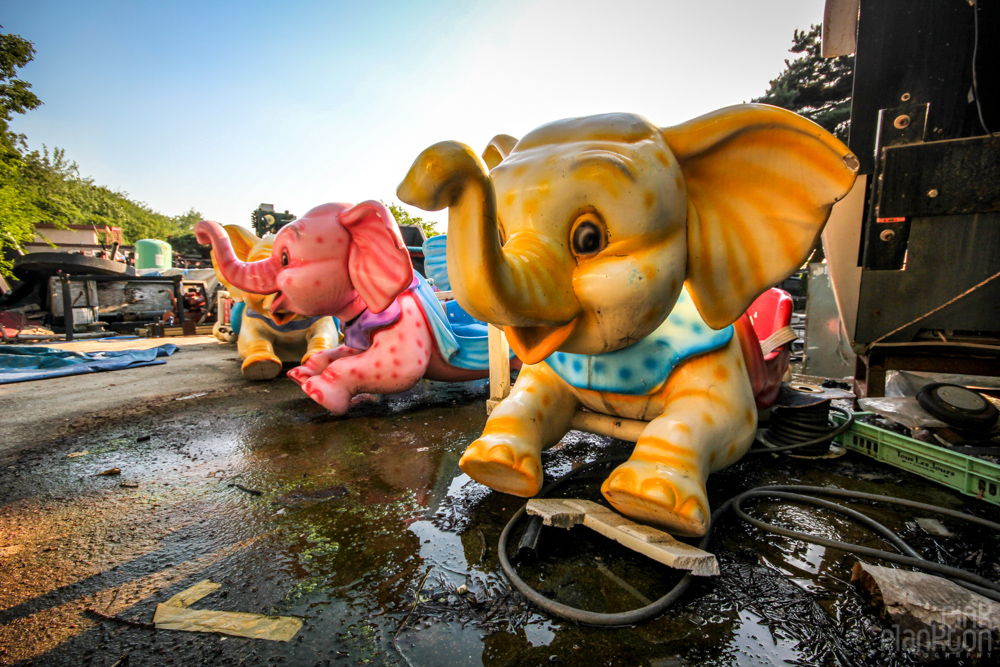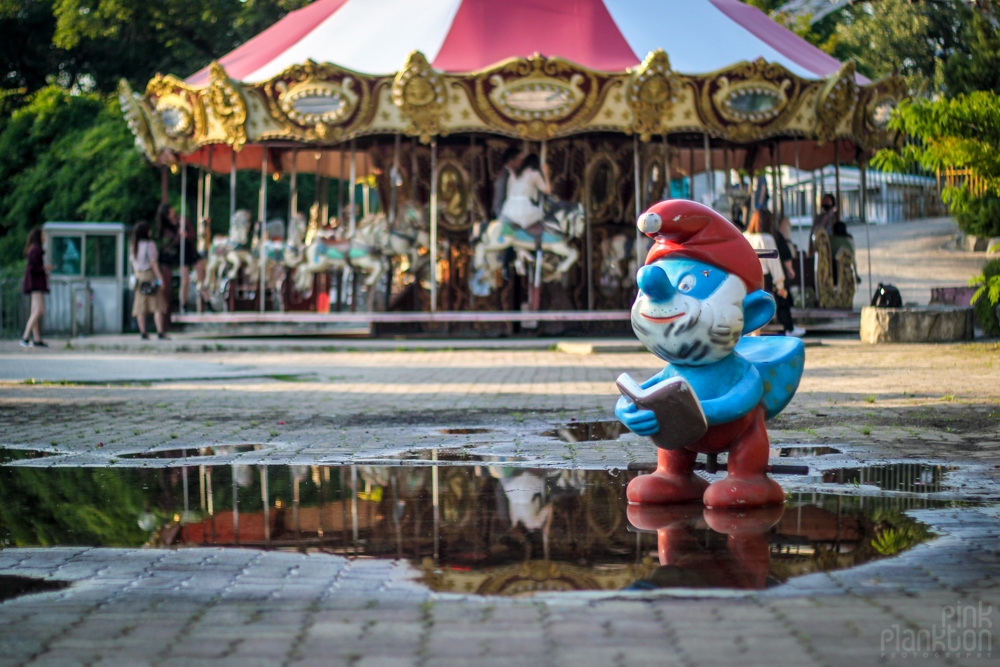 12. Huge Sandcastles
While we were in Busan the annual Haeundae Sand Festival was happening.  Some of these sand sculptures were huge!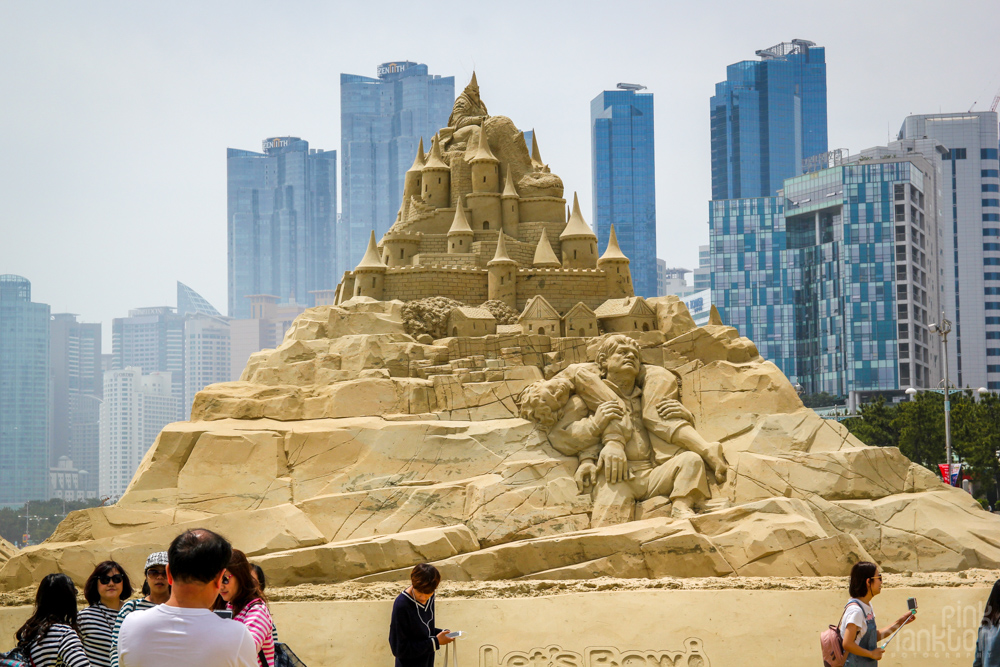 13. Fish
I love markets and I thought the fish market in Seoul was very interesting.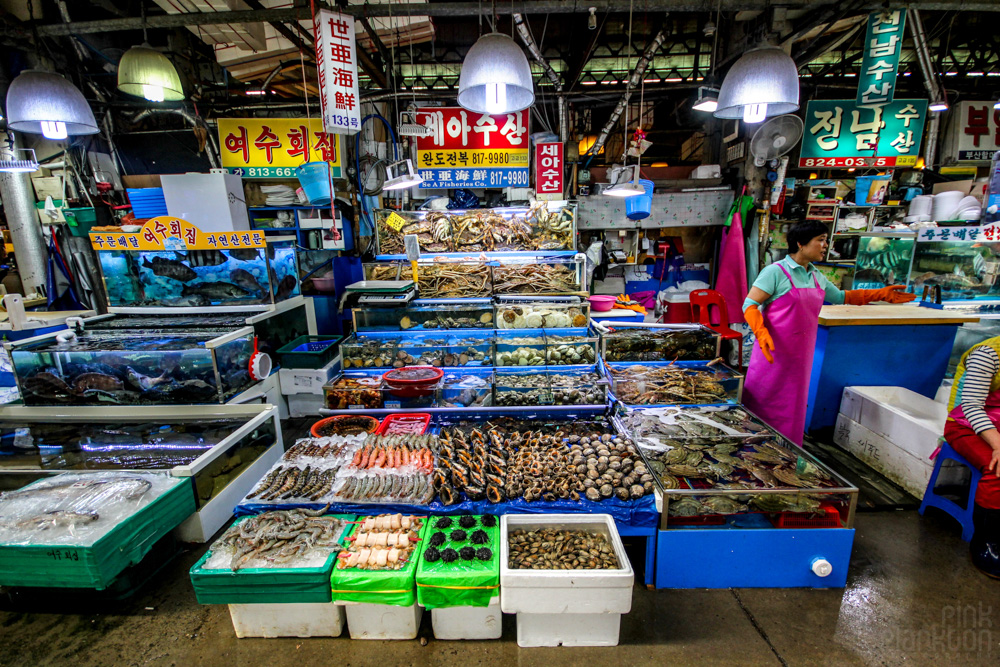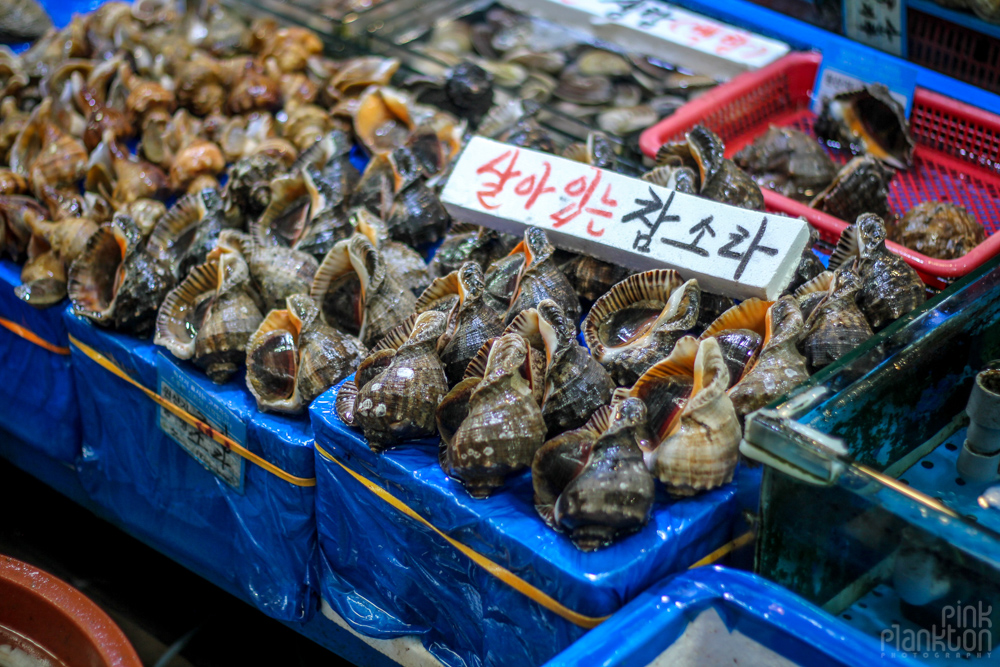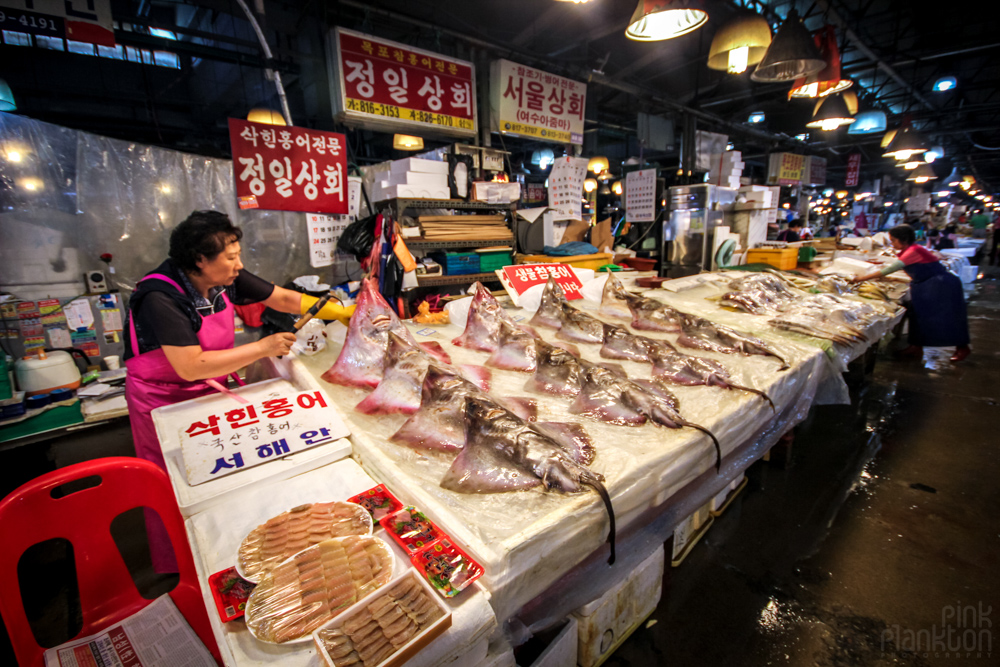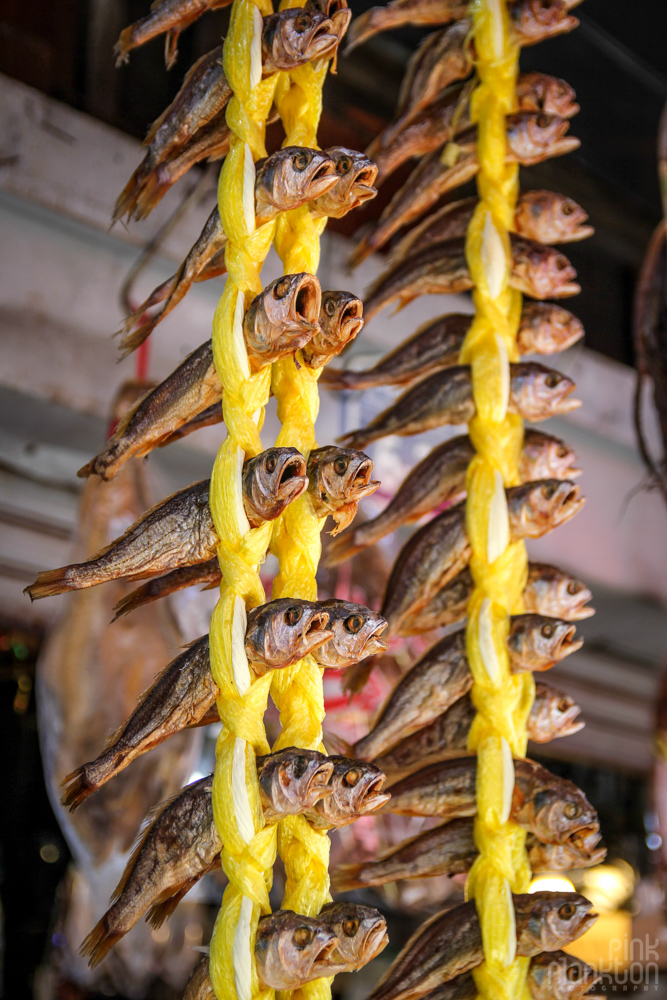 This fresh sashimi was sooo delicious and the equivalent of about $10. Amazing!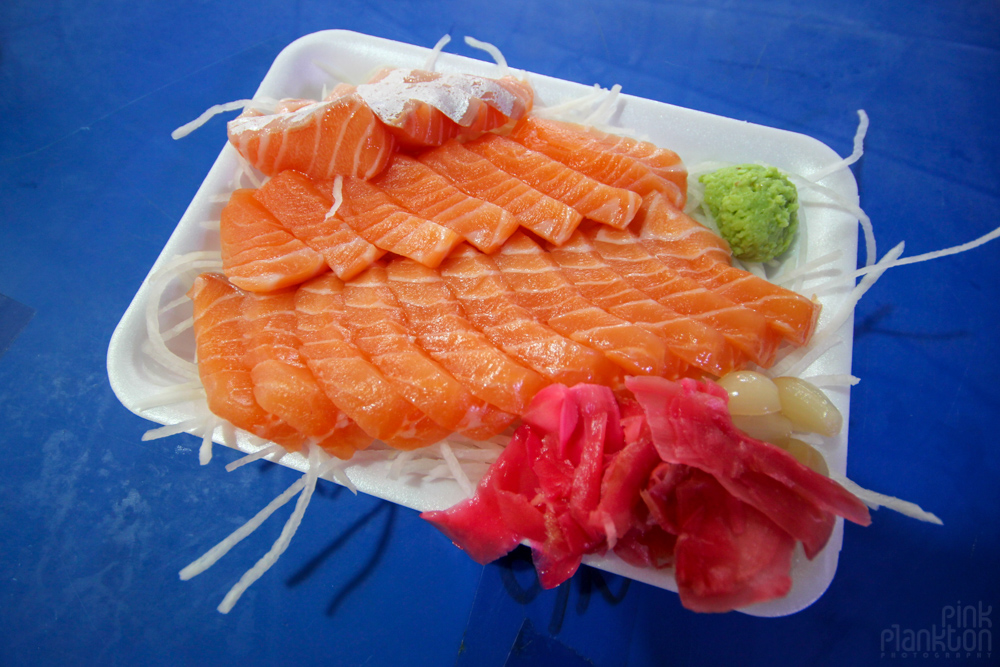 14. Random creature
We found this guy in Yeouido Hangang Park in Seoul.  I think the sign said he's from some movie.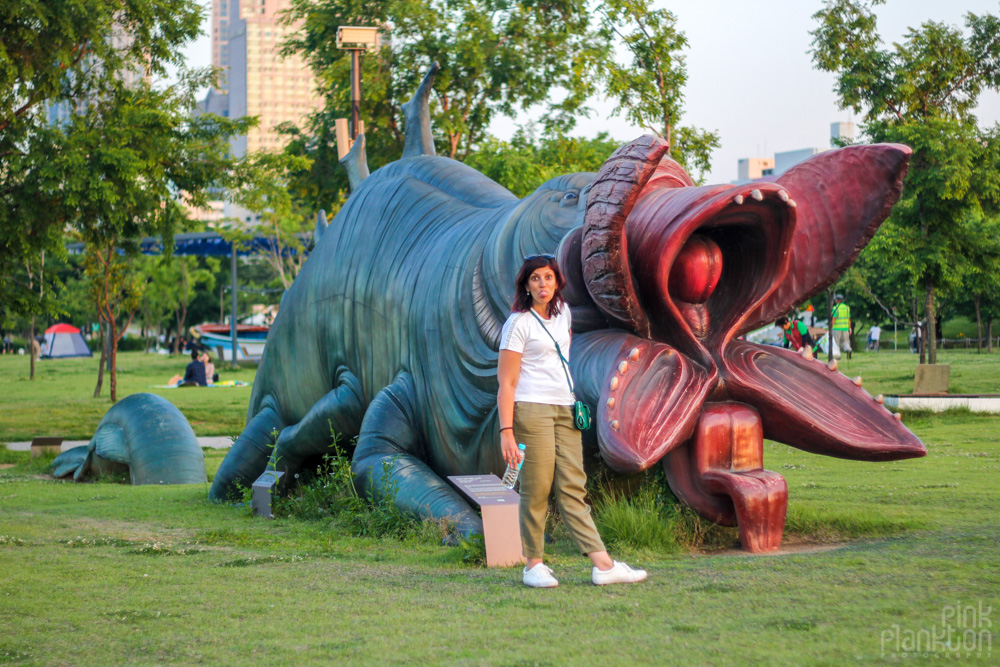 15. Shell Museum
If you like seashells, you will love the World Seashell Museum.  It's another one of Jeju Island's random attractions.  The 2 level museum is filled with interestingly arranged seashell exhibits.  It's kind of weird to have an entire museum on seashells, but I like it.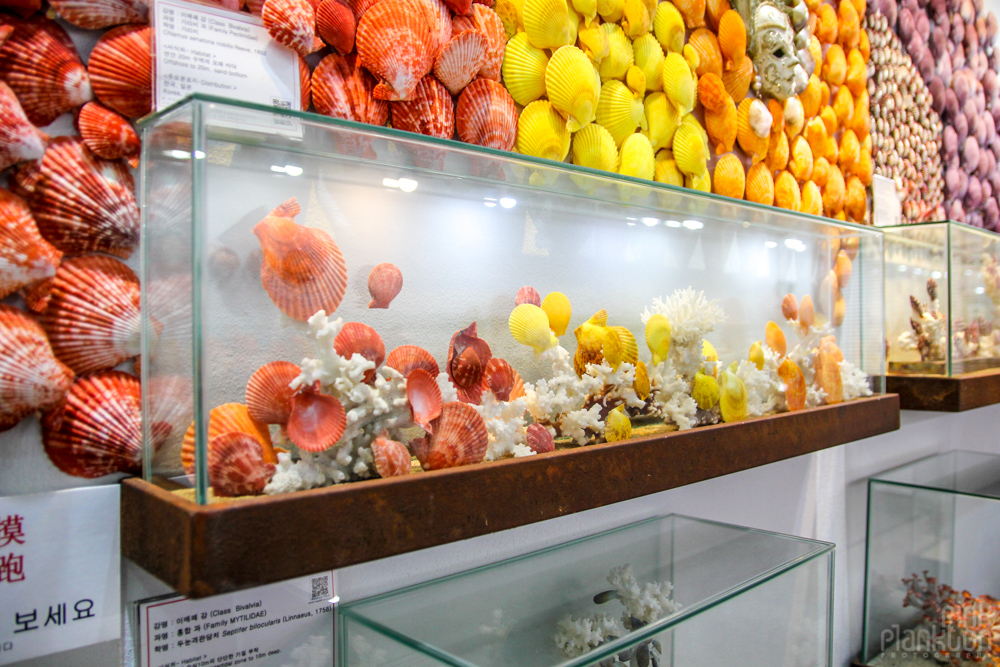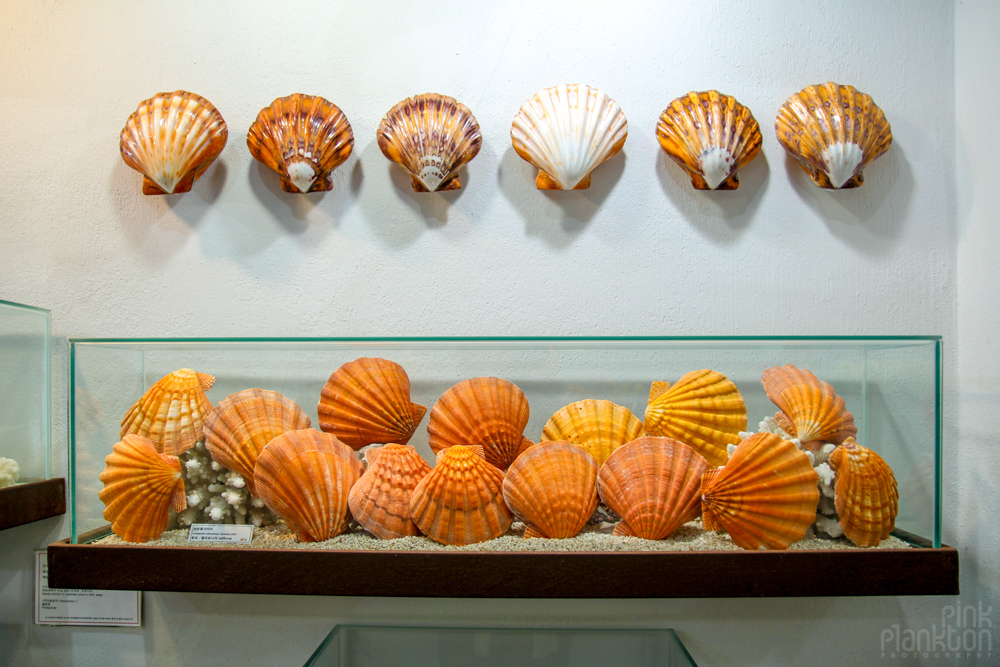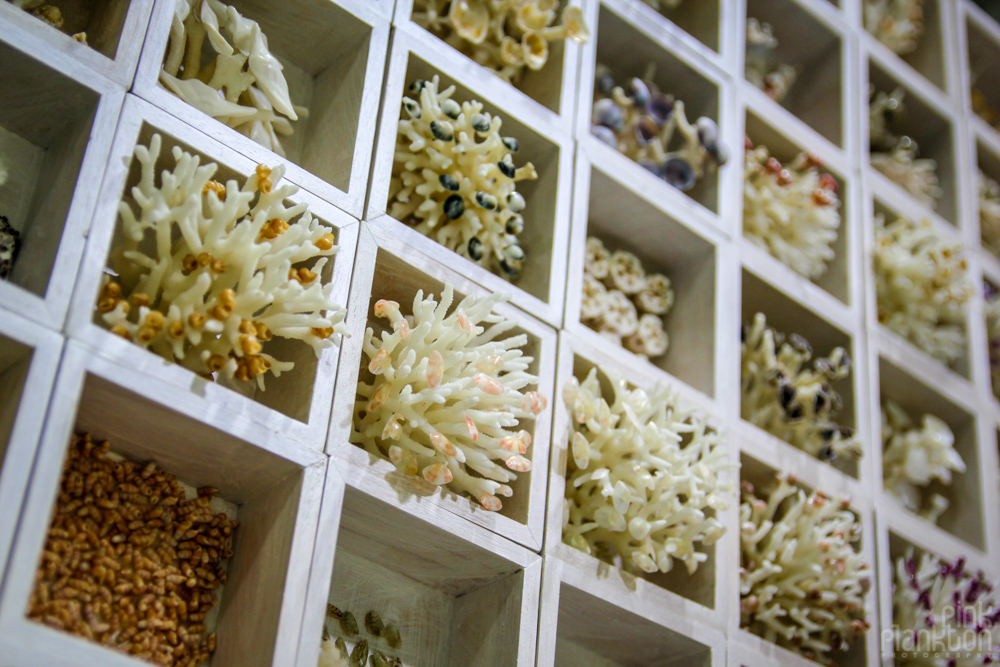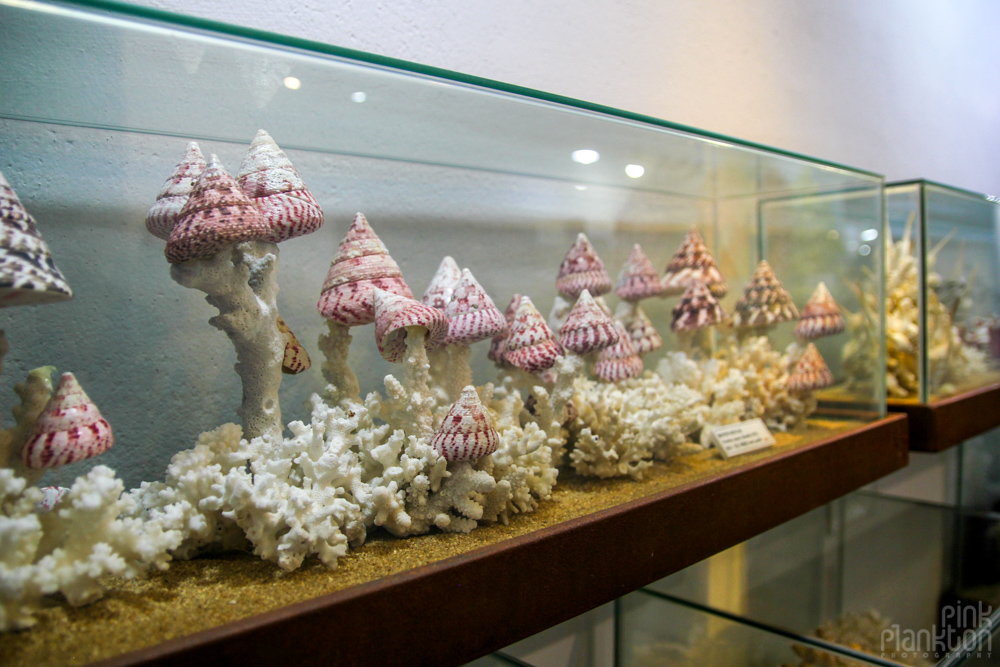 16. Mickey Mouse labels
No idea what kind of drink it is, but just thought the labels were cute.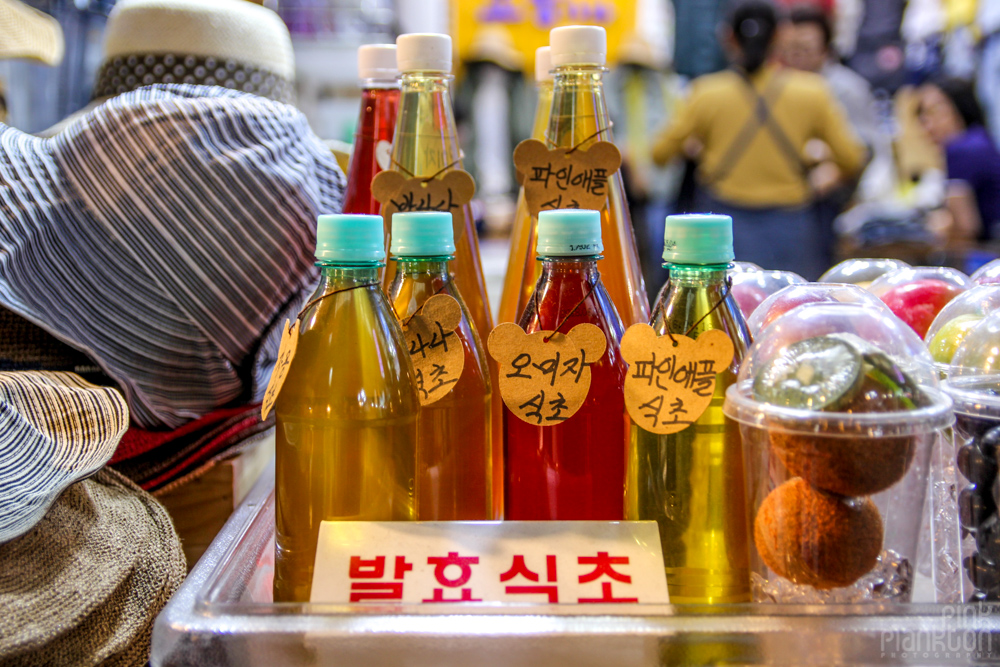 17. So Much Kimchi
Never have I ever seen so much kimchi.  This was taken at a local market in Seoul.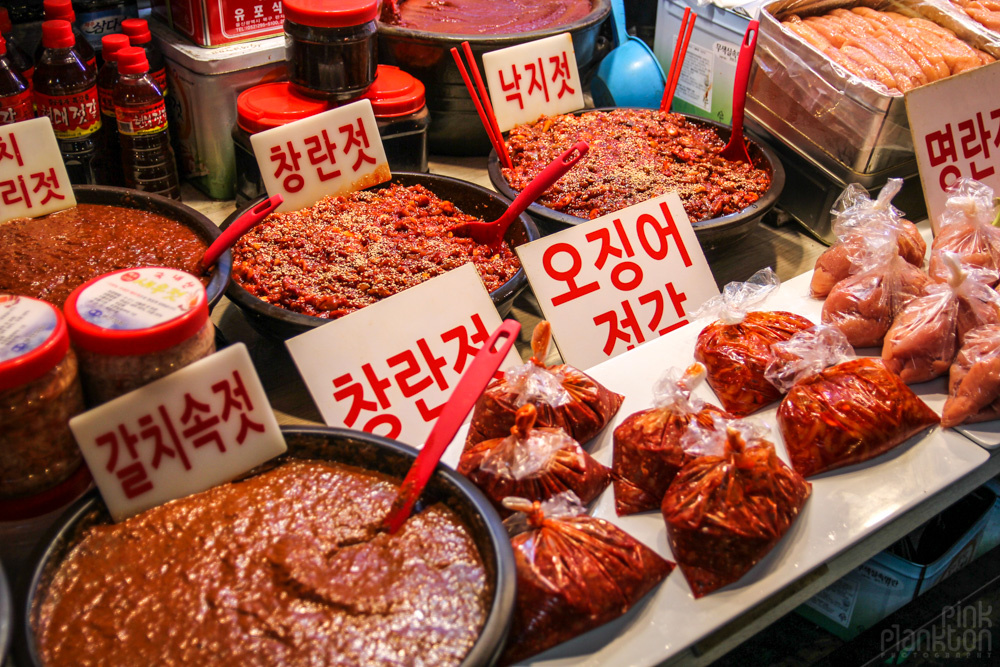 18. Seaside Temple
Nothing weird about this, just a beautiful temple!  This is Haedong Yonggung Temple in Busan.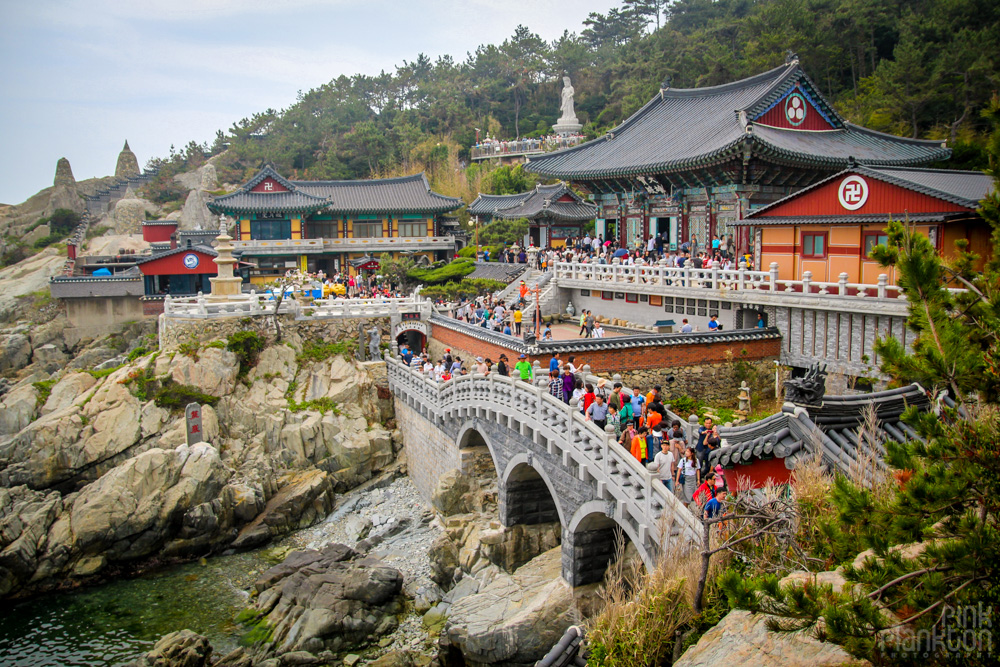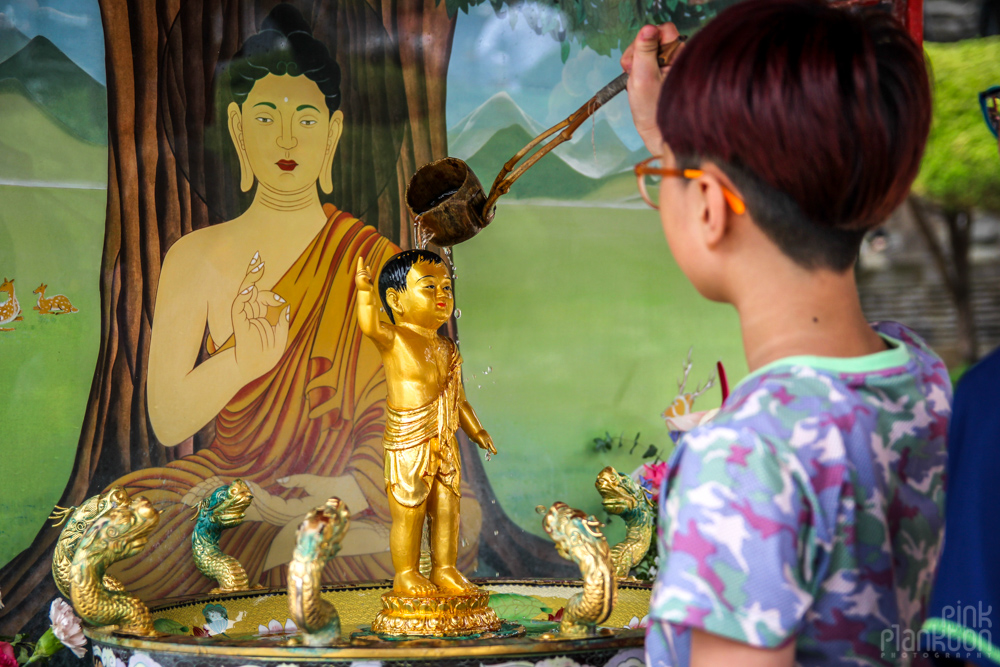 There were these cute little figurine scenes scattered around the temple.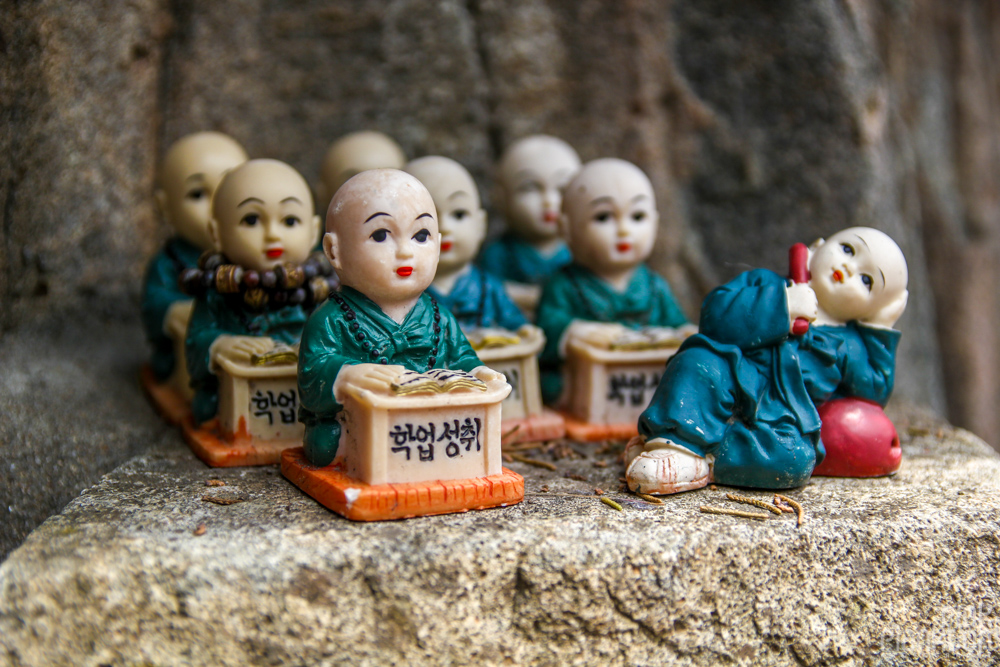 19. Block Burger
A delicious lego-shaped burger in the Hongdae area of Seoul.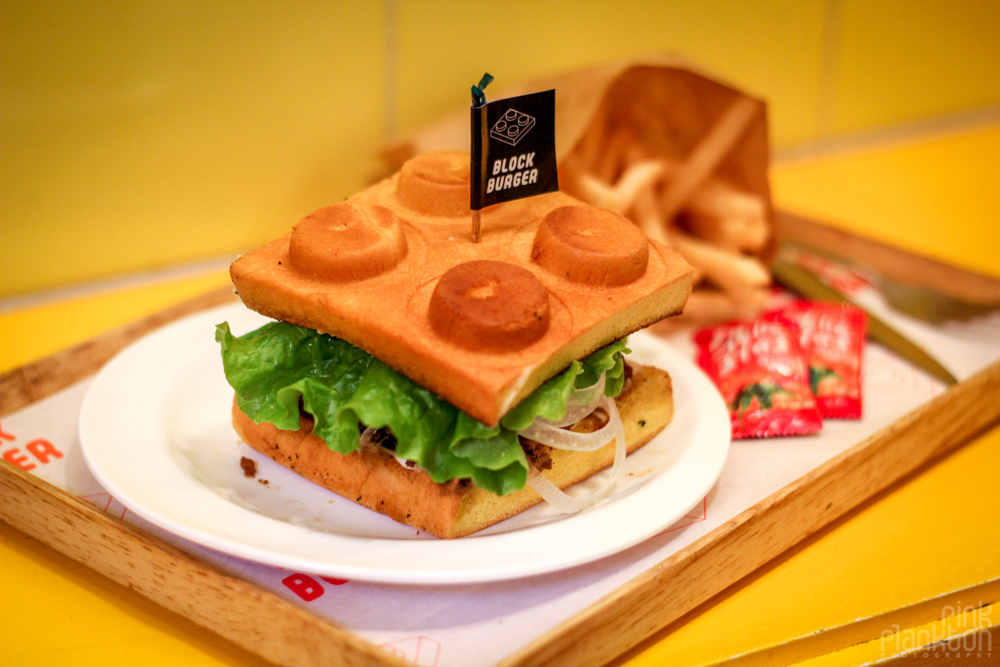 20. Mural Village
Mullaedong, or Mullae Art Village, is an interesting little neighborhood in Seoul.  Judging from the name, I was expecting beautiful mural pieces on all the walls.  There are some and they are okay, but I found the little details in the sculpture street art most fascinating.  See what I mean below.  The area is full of cafes and artsy shops that make it quite cool to wander around.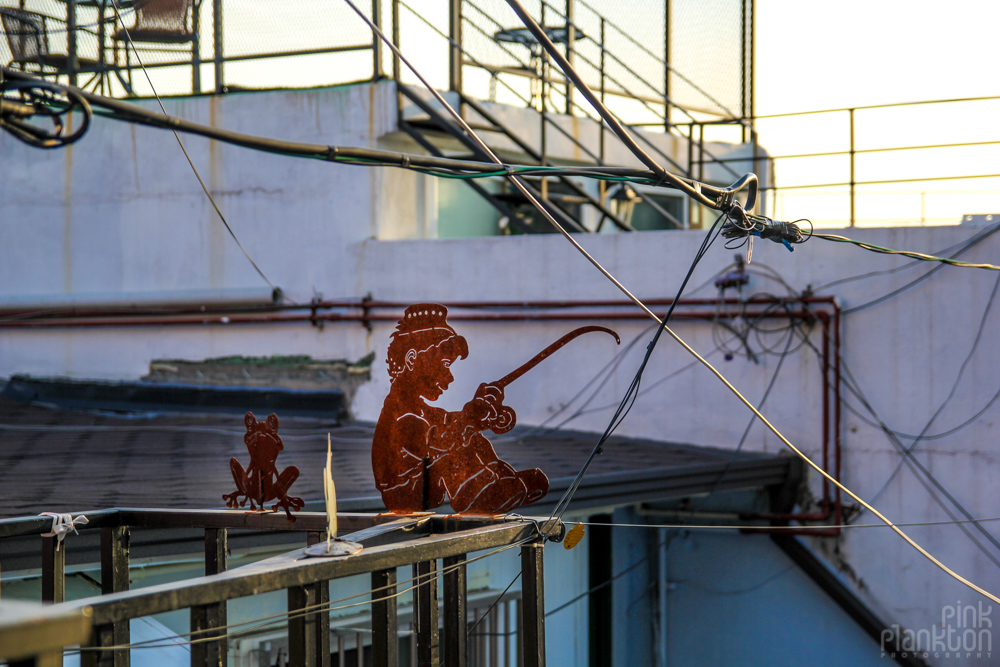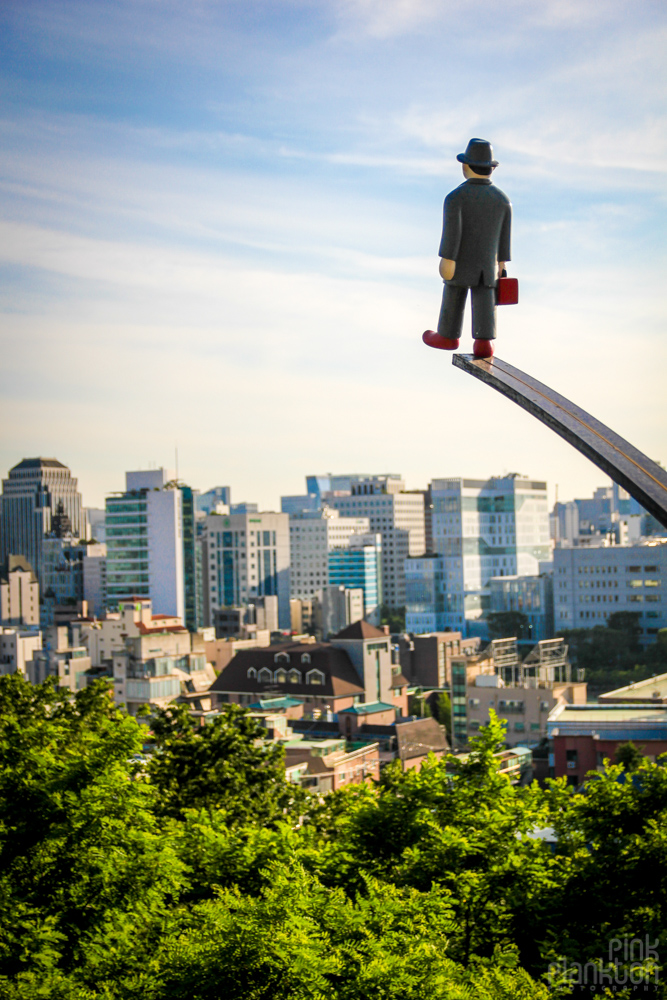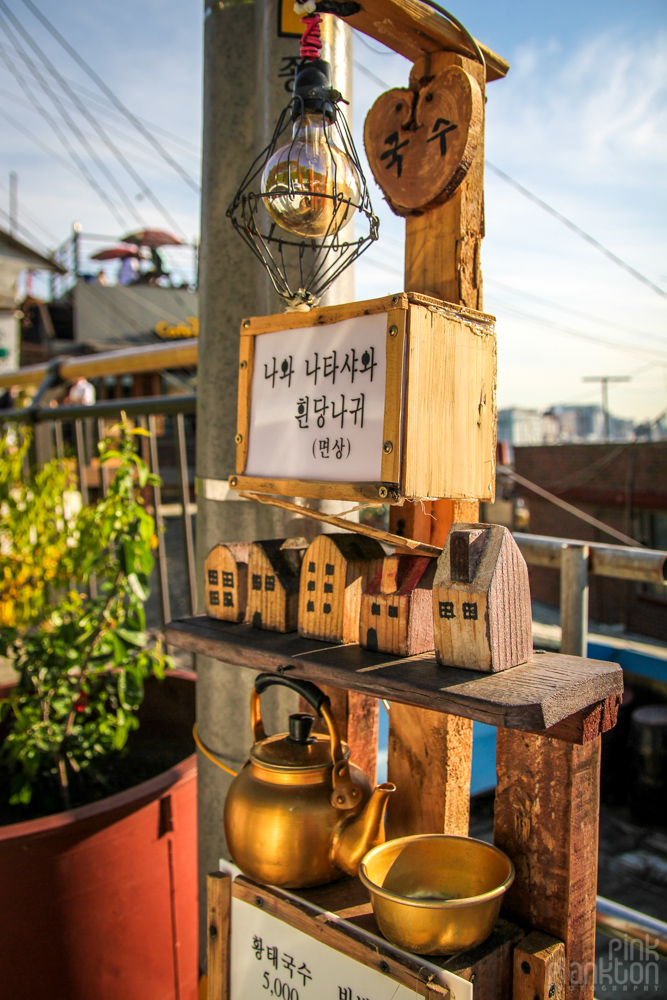 As mentioned, South Koreans love photo shoots.  Here is a couple in costume posing.  I saw many girls dragging around the boyfriends for photos in the area.  It's quite funny!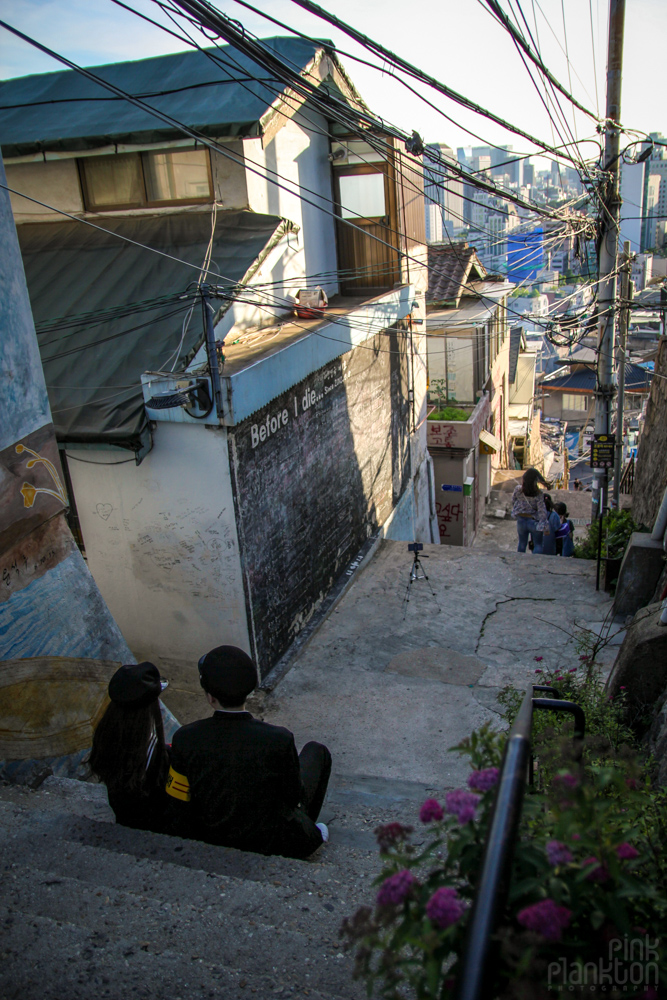 21. Cotton Candy with Face
I'd seen these cotton candy sculptures previously online, but watching this kid eat it was a whole new level of cute.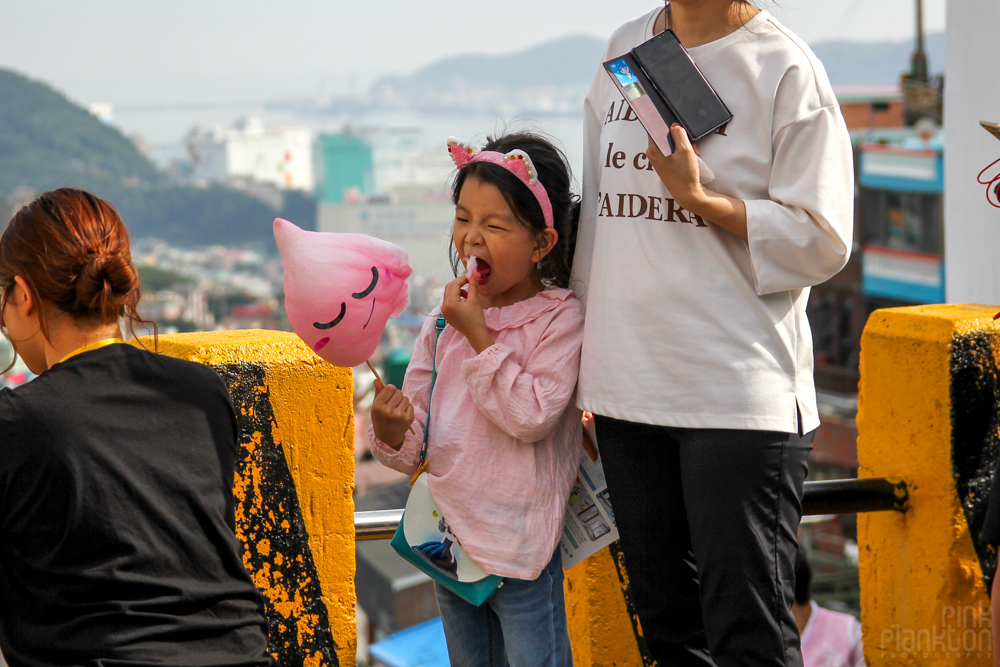 22. Cute Volcanic Stone Statues
These guys are known as dol hareubang and they can be found on Jeju Island.  They are carved out of volcanic rock and are meant to be guardians of the island.  How nice!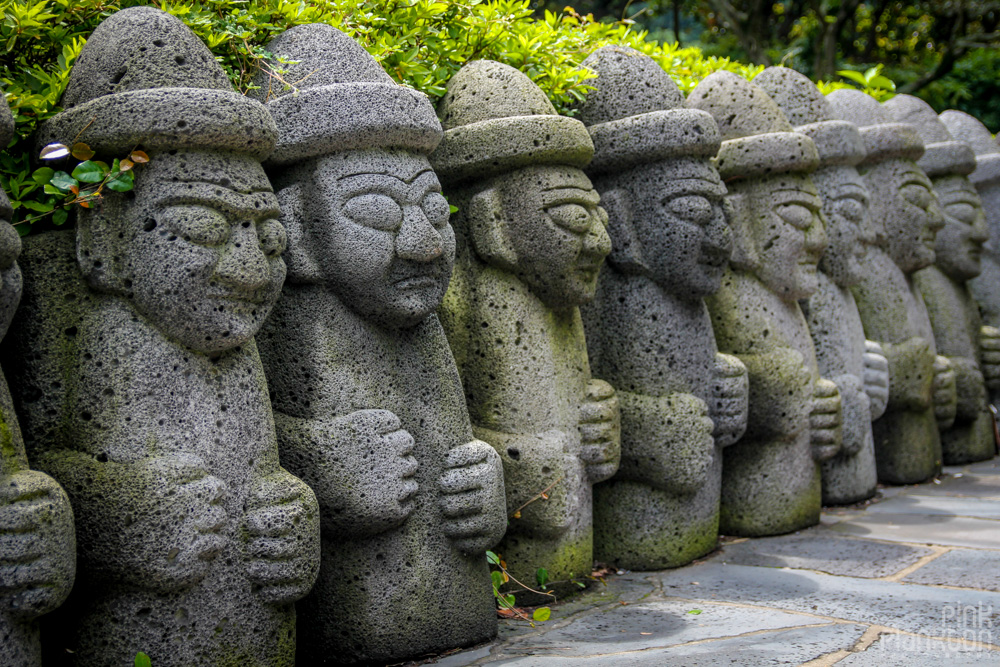 23. Hostel with personal computer bunk bed
I just find it so interesting that at the Incheon Airport Transfer Guesthouse each dorm bed comes with it's own personal desktop computer underneath. That's somethin' you don't see everyday at your average hostel!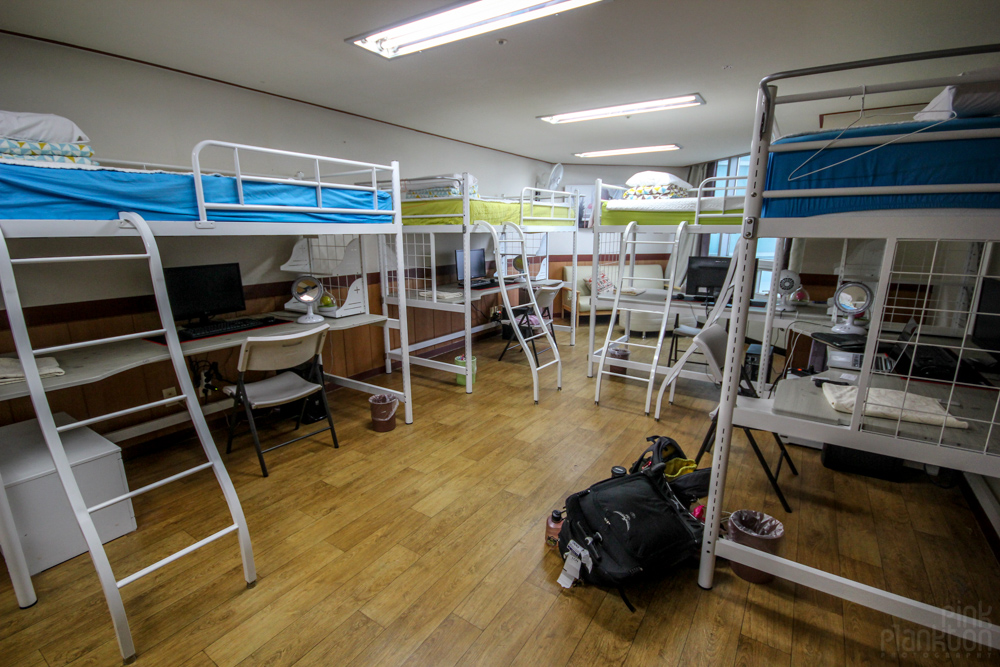 24. Message in a Bottle Lightbulb
This is just a nice photo I didn't want to leave out. It was found at Yeouido Hangang Park in Seoul.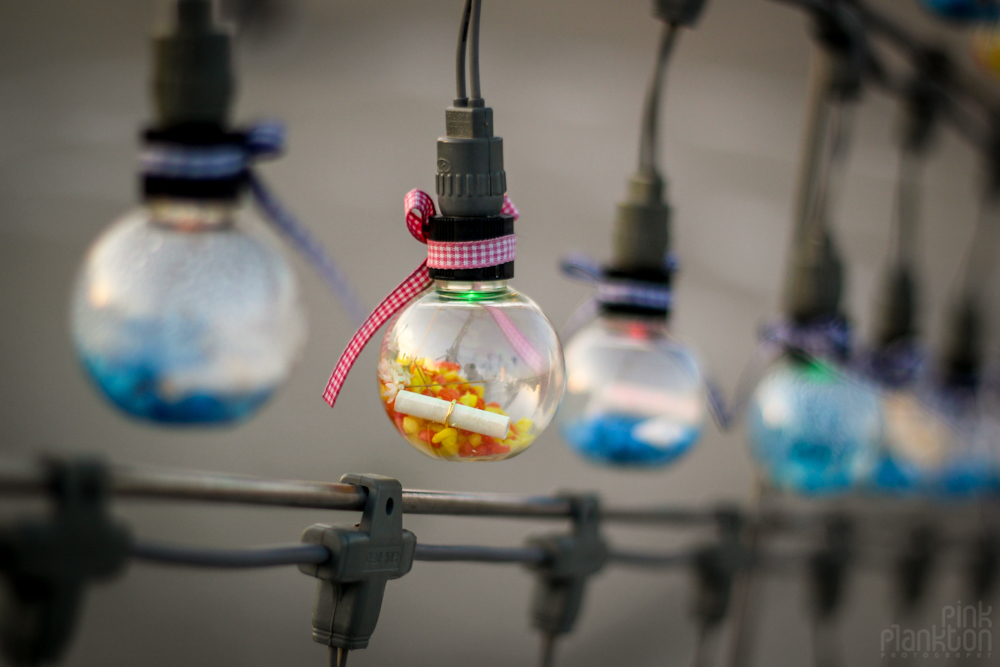 ---